These Chocolate Walnut Clouds with Cocoa Nibs are simply delightful. All the cookies I've been making lately using egg whites turned absolutely divine. Here I am not talking about macarons which are for me the greatest egg white dessert of all egg white-based desserts. These meringue clouds like Chocolate Crinkle Cookies are as delightful and totally melt in your mouth. They are crispy on the outside but still with a soft crispy texture inside, I must say I fall in love immediately. They almost taste like delicious macarons just that you don't have to wait a day or two to be ready to serve. Once cooled you can enjoy these marvels and delight your taste buds.
A friend of mine told me I should try this recipe as it's her favorite cookie recipe and I finally did it. I agree with her, combining a meringue with dark chocolate, walnuts and cocoa nibs makes it totally irresistible. I am not much of a fan of classic meringues but these are totally different. Airy and light, with texture and flavor, a perfect treat for whenever you are in the mood for something sweet and quick.
You can always change the ingredients and spices used like using cardamom, espresso powder, almond extract, walnuts, or hazelnuts, and make each time a different dessert. I could say they taste much better than they look.  I am sure you will think the same.
Hope you will try these amazing Chocolate Walnut Clouds. Tag me on Instagram if you do and enjoy!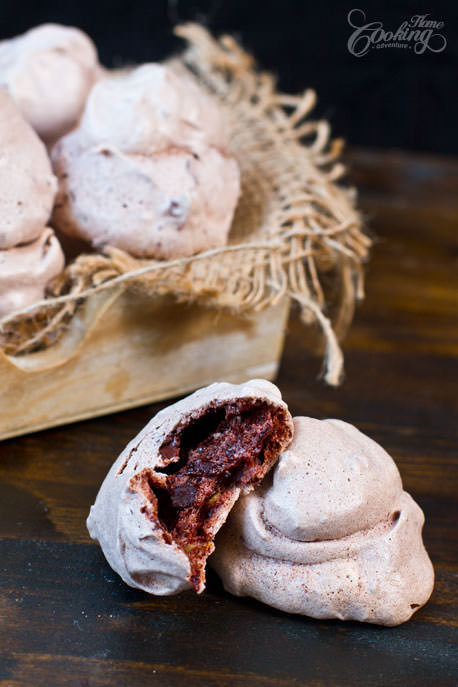 RELATED POSTS:
Chocolate Macarons with Salted Caramel Filling
Peach Chocolate Pavlova
Soft Meringue Cookies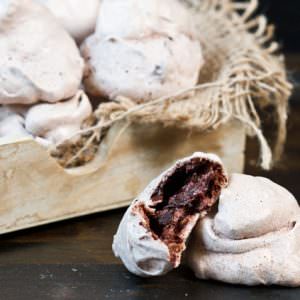 Chocolate Walnut Clouds with Cocoa Nibs
Chocolate Walnut Clouds with Cocoa Nibs are a type of meringue cookies crispy on the outside but still have a soft crispy texture inside, totally irresistible.
Ingredients
1/4

cup

walnuts

, toasted and chopped

1

tbsp

unsweetened cocoa powder

2

tsp

cornstarch

1 ½

tsp

cocoa nibs

2

oz

(60g ) bittersweet chocolate

, finely chopped

3

large egg whites

pinch of salt

3/4

cup

sugar

1/2

tsp

vanilla extract

extra flavors: almond extract

, cardamom
Instructions
1. Preheat the oven to 300F (150C). Line 2 baking sheets with parchment paper.

Toast the walnuts using a dry non stick pan. Let them cool slightly and chop. Place them in a medium bowl.

Finely chop the chocolate and add over the walnuts. Add cornstarch, cocoa powder, cocoa nibs, cardamom or any other spice you may want to use and stir to combine.

Beat the egg whites with salt until soft peaks form. Gradually add the sugar and continue beating until the whites are stiff and glossy. Beat in the vanilla extract.

Fold in the dry ingredients. Using an ice cream scoop make 8 mounds of the meringue onto each baking sheet. Scoop the remaining meringue on top of the existing mounds, like forming little snowmen.

Bake the cookies in the upper and lower thirds of the oven for about 30-40 minutes, until firm when tapped; shift the sheets halfway through baking. Transfer the sheets to racks and let the cookies cool before serving.
Nutrition
Serving:
1
g
Calories:
72
kcal
Carbohydrates:
12.2
g
Protein:
1.5
g
Fat:
2.3
g
Saturated Fat:
0.8
g
Cholesterol:
1
mg
Sugar:
11.3
g