I've made some ice cream recipes that are using eggs, either raw or partially cooked but for those who want to try an eggless ice cream, a really really easy recipe for no churn ice cream this Strawberry Condensed Milk Ice Cream is the WINNER.. for sure.
If you have a quick look to my blog there will be no doubt I love ice cream. I made a lot of variations of ice cream all without using an ice cream machine. I still don't see the need for buying one, as I can make so many delicious ice creams without it. Some ice creams I did never got the chance to a photo shoot but hopefully will be able to post more ice cream recipes soon enough.
This ice cream secret ingredient is sweetened condensed milk. With only 2 ingredients, sweetened condensed milk and heavy cream,  you can have one of the best ice creams ever, so easy and quick. This is simply the base, to which you can add various ingredients to make more ice cream options. Add vanilla for a simple vanilla ice cream, or add fruit jam, cookies for a bit of texture, chocolate and the list ca go on.
I must admit that after my Nutella Ice Cream this strawberry sweetened condensed milk ice cream is my favorite. Love the strawberry flavor and the cookies texture. One of the best no churn ice creams..no doubt of that.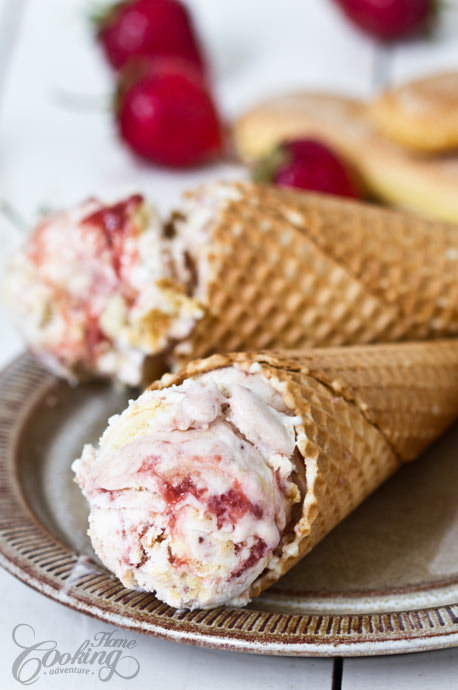 RELATED POSTS:
Marbled Strawberry Parfait
Strawberry Ice Cream
Strawberry Panna Cotta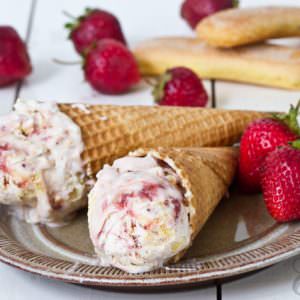 Strawberry Condensed Milk Ice Cream
Strawberry Condensed Milk Ice Cream, egg less, no churn ice cream, quick and easy, done in no more than 15 minutes. Perfect for summer.
Ingredients
1 can

(14

sweetened condensed milk

2 1/2

cups

(600 ml) heavy cream

1

tsp

vanilla extract

1

cup

strawberry jam

7

oz

(200 g) cookies

, ladyfingers- about 12 cookies
Instructions
In a large bowl whip the heavy cream with an electric mixer until stiff peaks form.

Add sweetened condensed milk and vanilla extract and mix for a couple of minutes more.

In a separate bowl  break  some ladyfingers into small pieces.

Add a layer of cream mixture and stir to combine.

Add strawberry jam and stir gently just to create some strawberry swirls. Repeat steps until all cream mixture is done.

Transfer in one large or 2 smaller covered storage container and place in the freezer. Freeze for at least 4 hours or overnight.
Video
Nutrition
Serving:
1
g
Calories:
266
kcal
Carbohydrates:
32.5
g
Protein:
3.2
g
Fat:
13.9
g
Saturated Fat:
8.4
g
Cholesterol:
71
mg
Sugar:
10.8
g