I have to admit I discovered Cheese Puffs Gougères only recently. I am not foreign of choux pastry but the only way of doing it was for this dessert Homemade Cream Puffs, which I am familiar with since childhood.
A friend of mine told me she made Gougères for dinner  and sent me some photos. That was the first time I actually heard the French name of these cheese puffs. Looked really good so I asked her the recipe. Once I tried them I fall in love with them immediately. A bit similar to another recipe I like to make, Cheese Balls but much more lighter and fluffy with an intense taste. They are amazingly delicious and were literally gone in a matter of minutes.
The first time I tried the recipe didn't came out perfect. Were very good but not perfect, they were a bit flat and didn't have that big hole inside. But after I have changed the temperature when baking everything turned great.
I chose this recipe to making a video as they are incredible easy and nobody should be scared to try them. Hope this video will actually convince you to try this easy recipe. They are great as an appetizer, served warm right out of the oven. The fact that I sprinkled some Parmesan cheese over the top made them even more delicious.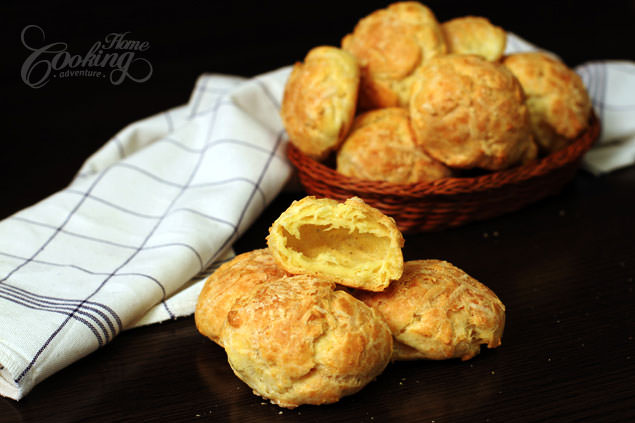 You can try different variations for these Cheese Puffs Gougères , by adding bacon or herbs like rosemary thyme, basil, oregano or even dill. As for the type of cheese used you can use from Gruyère to Parmesan or simply shredded Cheddar Cheese or various types of hard cheese with an intense taste and you can also make a combination of cheeses. I actually used a hard organic, sheep and buffalo cheese that worked perfect.
It happened that when making the video some friends just came over right before we took them out of the oven and were delighted of these French treats. I will definitely take in count this recipe on each occasion or holiday or any family gathering.
RELATED POSTS: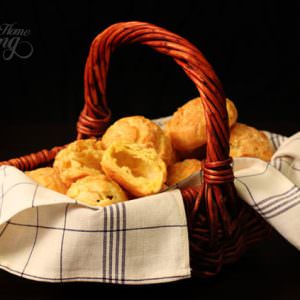 Cheese Puffs-Gougères
Cheese Puffs - Gougères - light and fluffy appetizer, big hole inside, intense cheese taste. They are amazingly delicious and will literally be gone in seconds.
Ingredients
3/4

cup

water

5

tbsp

(70g) butter

1/2

tsp

salt

1/4

tsp

paprika

Freshly ground black pepper

1

cup

flour

3/4

cup

grated cheese (hard

, sharp cheese)

4

eggs

1/2

cup

grated Parmesan
Instructions
Preheat the oven to 425°F (220C). Line 1 sheet pan with parchment paper.

Bring water, butter, salt, paprika and pepper to a boil in a medium saucepan, over high heat.

Add flour and stir until dough forms and cook for another 2 minutes to dry out the dough. 

Set aside to cool slightly. You can transfer it into a clean bowl and stir to fasten the cooling process.

Incorporate eggs one at a time and stir well until the dough becomes smooth. 

Add cheese and herbs if used. 

Using 2 tablespoons drop balls of dough into the prepared baking tray with distance between them. Sprinkle the Parmesan cheese over the top of each.

Bake for 10 minutes at 220 C (425F) and another 20-25 mins at 190 C (375F). Serve warm and enjoy. Cheese Puffs – Gougères – light and fluffy, big hole inside and with an intense cheese taste. They are amazingly delicious and will literally be gone in seconds.
Nutrition
Serving:
1
g
Calories:
104
kcal
Carbohydrates:
5.9
g
Protein:
4.5
g
Fat:
7
g
Saturated Fat:
4
g
Cholesterol:
55
mg