This Vanilla and Chocolate Pudding is a recipe I am doing quite often. The reason for that is my daughter of two and a half years old. She loves vanilla pudding, especially when combined with chocolate pudding. Most of the time after lunch she is asking for her delicious "surprise". She is so sweet that she can't even say the word right. When it happens the "surprise" is pudding, she is over-excited.
I don't like to give her the pudding bought from the store as those might contain ingredients I wouldn't like to use in my recipes like any artificial flavors or preservatives. So this motivated me to try making the perfect homemade pudding. I have to admit it didn't work right from the first time. It happened that I've made it too thick or too thin, or too sweet or with lumps.. such an easy recipe apparently, but it gave me some hard times until finally, I reached the desired consistency and taste.
What I love to about this dessert is that it is quick and can be served in various ways. Warm on a cold day or chilled on the summer days, with fruits or nuts or grated chocolate sprinkled on top. The pudding can also be a great option for filling fruit tarts and it can also be refrigerated for up to 3 days.
If you are a chocolate lover and want a richer chocolate pudding you might want to try this Creamy Chocolate Pudding recipe too, you will surely not regret.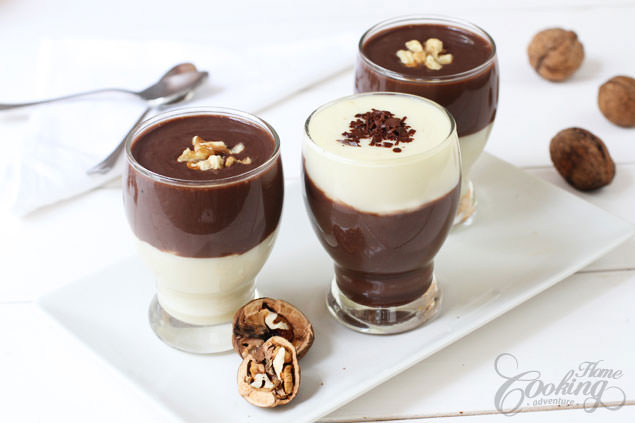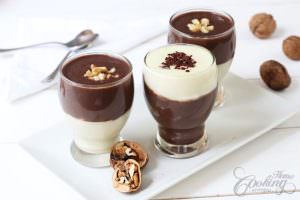 RELATED POSTS: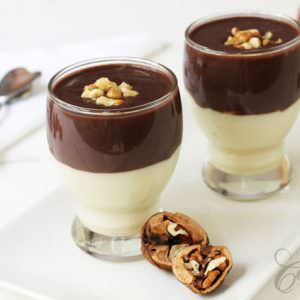 Vanilla and Chocolate Pudding
Vanilla and Chocolate Pudding - a quick pudding that can be served warm in cold days or chilled in the summer days, with fruits, nuts or grated chocolate on top.
Ingredients
Vanilla Pudding
1/3

cup

(70g) sugar

1/4

cup

(30g) cornstarch

1/4

tsp

(2g) salt

2 ⅔

cups

(640ml) milk

1

large egg

2

tsp

(10g) vanilla extract
Chocolate Pudding
1/2

cup

(100g) sugar

1/3

cup

(40g) cocoa powder

1/4

cup

(30g) cornstarch

1/4

tsp

(2g) salt

2 ⅔

cups

(640ml) milk

1

large egg

1

tsp

(5g) vanilla extract
Instructions
In a medium bowl mix together sugar, cornstarch and salt, If making chocolate pudding add the cocoa powder too. In another bowl beat egg and add 2/3 cup (160ml) milk and stir well. Gradually add milk mixture over the cornstarch mixture and whisk to dissolve well. Set aside while you heat the rest of the milk.

In a medium sized sauce pan bring the rest of the milk (2 cups-480ml) to a boil.

Remove from heat and gradually add the egg mixture over the hot milk whisking the whole time. Place it over medium heat and cook stirring constantly until the mixture thickens, about 3 minutes. Remove from heat and stir in vanilla extract. Only if needed you can strain it to be sure no lumps have formed. 

Repeat the step 2 with the chocolate pudding in case you make both. 

Pour the pudding into six serving dishes, place plastic wrap directly on surface of pudding and chill for at least 2 or 3 hours or serve warm. You can serve with nuts or grated chocolate or fresh fruits. 
Nutrition
Serving:
1
g
Calories:
311
kcal
Carbohydrates:
48
g
Protein:
10
g
Fat:
9.3
g
Saturated Fat:
4.9
g
Cholesterol:
84
mg
Sugar:
39.7
g