The first time I have ever served Paella was when I visited Barcelona. I have really enjoyed the dish and I have wanted to share a recipe with you ever since. I am not leaving close to the sea so instead of preparing a classic seafood paella I chose to make a chicken and chorizo paella, which is a great twist to the classic paella and really delicious.
The chicken and chorizo paella is a great and flavorful dish you can prepare for lunch or dinner. For this dish is best to have a paella pan called paellera but in case you don't have you can use a frying pan instead.
The recipe starts with making the sofrito, usually a tomato, onion, and garlic mixture. The vegetables are cooked until soften, the rice is added and cooked in a flavorful stock. Every recipe o paella uses saffron, which bring color and a specific flavor to the rice. The rice does not need to be stirred and it creates the caramelized crunchy crust at the bottom of the pan, called socarrat, which is one  of the best parts I enjoy to paella. It is best to use paella rice, a medium grain rice but Arborio rice is a good substitute in case you don't find the Spanish one.
This dish is usually served directly from the pan, to enjoy it at its best. Will definitely be a gathering favorite dish, so hope you will try it out.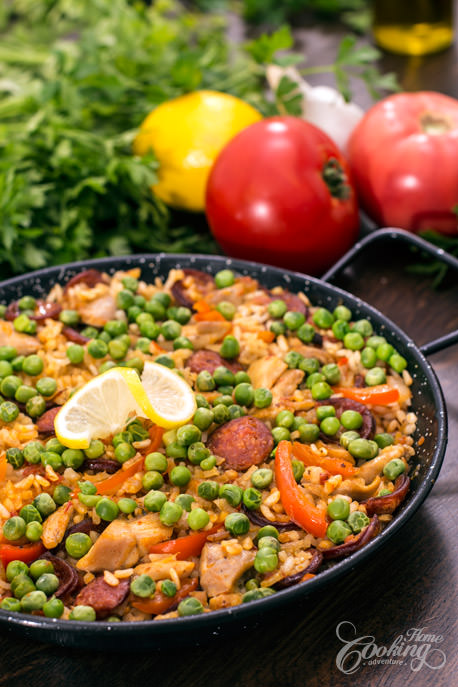 Related Posts
Rice Pudding
Shakshuka -Eggs in Tomato Sauce
Mushroom Risotto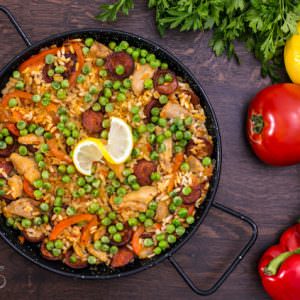 Chicken and Chorizo Paella
Chicken and chorizo paella - a great twist to the classic paella, really flavorful and makes a great dish for lunch or dinner.
Ingredients
9

0z

(250g) boneless

, skinless chicken thighs

3.5

oz

(100g) chorizo sausage

, thinly sliced

2

cups

(500ml) chicken stock

1/4

cup

(50ml) white wine

1

pinch

saffron threads

1

small yellow onion

, diced

1

clove garlic

1/2

tomato

, diced

1/4

red bell pepper

1/2

tsp

(1g) smoked paprika

7

0z

(200g) paella rice or arborio rice

1/2

cup

(60g) frozen peas

olive oil

salt and pepper to taste

Lemon slices (optional)
Instructions
Cut the chorizo in thin slices and cut the chicken into 1 inch (3cm) pieces.

In a small saucepan add the chicken stock, wine and saffron and bring to a boil over medium heat. Remove from heat and set aside.

Heat a 9 inch (23cm) paella pan over medium-high heat. Add the chorizo and cook for about 2 minutes until it releases its oils. Transfer to a plate. Add the chicken pieces to the pan, season with salt and pepper and cook for 2-3 minutes until slightly golden. Transfer to a plate.

Add the onion and garlic to the pan and cook for 5 minutes or until onion softens. Add the tomato, red pepper and paprika and cook for 2 -3 minutes more, until the water from the tomato has evaporated.

Return the chorizo and chicken to the pan and stir to combine.

Sprinkle the rice, stir and pour the chicken stock mixture. From this moment stir no more. Bring to a boil.

Reduce heat to low and cook, uncovered, for 15-20 minutes or until rice is tender and liquid is almost absorbed. If necessary add more stock.

Add the peas, cover, and cook for 5 minutes more.

Remove from heat and let paella covered to rest for 5 more minutes before serving.
Nutrition
Serving:
1
g
Calories:
579
kcal
Carbohydrates:
62.6
g
Protein:
37.9
g
Fat:
16.6
g
Saturated Fat:
4.9
g
Cholesterol:
103
mg
Sugar:
3.6
g