Everybody who follows me know I really love bread recipes, and I love being challenged trying new bread recipes. We collaborated with Olives from Spain to create one of the most amazing bread ever.  A flavorful olive bread made with good quality olives, fresh herbs, garlic and a hint of chilli.
I've made this recipe for several times by now and everybody was simply delighted of the outcome. A perfect crispy crust while the interior is soft, aromatic and slightly chewy. This bread will be a hit everywhere you serve it and it's perfect for appetizers, sandwiches and as a side dish.
The use of Olives from Spain not only add instant appetite appeal and color to this bread but brings an amazing flavor. With their sweet, salty, bitter and sour notes they complement really well the bread and it's a great way of introducing olives in your diet.
Olives are a naturally sugar-free food, containing the "good" kind of fat, which can improve cholesterol levels and reduce the risk of heart attacks and strokes.
I highly recommend you to try this easy olive bread recipe, I am sure you will be as delighted as we were.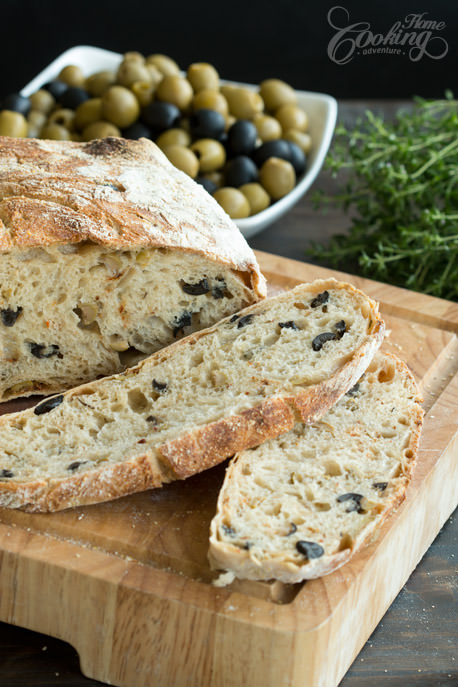 Related Posts:
Caramelized Onion Bread
Potato Bread
Easy Sourdough Bread – Vermont Bread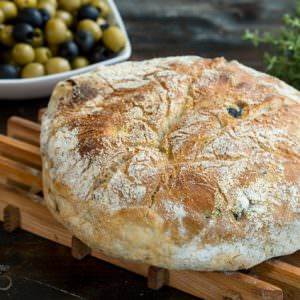 Olive Bread
Olive Bread - one of the most amazing breads ever. A flavorful olive bread made with good quality olives, fresh herbs, garlic and a hint of chilli.
Ingredients
2/3

cup

(92g) green olives

, pitted - drained and chopped

2/3

cup

black olives

, pitted - drained and chopped

4

cups

(500g) bread flour

1

tsp

(5g) salt

1/2

tsp

(2g) garlic powder

1

tsp

(1g) rosemary

1 ½

tsp

(3g) chili flakes

Fresh thyme leaves

25g

fresh yeast (or 2 1/4 tsp active dry yeast)

1 ½

cups

(360ml) water
Instructions
In a large bowl mix flour with salt, garlic powder, rosemary, chilli flakes and fresh thyme leaves.

Dissolve the fresh yeast in ½ cup (120ml) water and add to the flour mixture. Add the rest of 1 cup (240ml) water and start kneading the dough until pulls away from the sides of the bowl.

Add olives and knead a bit more until incorporated. Grease with olive oil a clean bowl, transfer the dough and cover with plastic wrap. Let it rest for 2.5 hours at room temperature until tripled in size.

On a floured surface flatten the dough into an oval shape and start rolling one edge inward it. Roll and turn upside down and shape it into a ball. Sprinkle flour and cornmeal over a clean towel, add the dough and cover. Let rise for another 30-45 minutes.

Meanwhile turn the oven to 470F (240C) and add a 9 inch (23cm) round iron cast pan inside without the lid. Leave it in the oven for about 30-45 minutes until the dough rise in the towel.

Remove the iron cast pan from the oven, turn the dough into the pan and put the lid on. Bake for 25-30 minutes at 470F (240C) with the lid on to create steam.

Remove the lid and bake for another 20 minutes at 440F (230C) to let the bread get some crispy golden brown crust.

Let it cool completely before cutting the bread.
Nutrition
Calories:
2.086
kcal
Carbohydrates:
404.6
g
Protein:
63.3
g
Fat:
22.5
g
Saturated Fat:
3.2
g
Sugar:
1.8
g
, pitted – drained and chopped