Ever since I saw this Pavlova on Jamie Oliver's show I knew I had to do it too. Now after I tasted it I am sorry I didn't do it earlier. I have replaced pears with peaches and I must say this Peach Chocolate Pavlova is indeed an outstanding decadent dessert, that melts in your mouth.
You might think it will get too sweet, (I was afraid of that) but it is not. The chocolate bitterness along with the sour fruits and sweet meringue make a perfect combination. You can use any fruit combination or use pistachios, almonds, or walnuts instead of hazelnuts. Feel free to create your topping but I suggest keeping the ginger chocolate sauce, it is amazing.
At first, it may seem like a complicated recipe, but once you understand what you have to do it is easy. The most important thing is to have good quality egg whites, so when you separate make sure no yolks get in the whites otherwise they won't whip well.
Once the meringue gets cold you just have to assemble everything and it's done in a matter of minutes. This is the kind of dessert perfect for a family reunion or friend gathering.
Everybody will enjoy this memorable dessert, that's for sure.
RELATED POSTS:
Soft Meringue Cookies
Coffee Cake with Meringue Topping
Peach Cake with Meringue Topping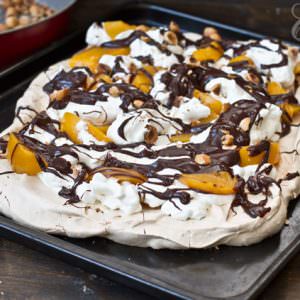 Peach Chocolate Pavlova
Peach Chocolate Pavlova Recipe - the chocolate bitterness along with the sour fruits and sweet meringue make a perfect combination. It is indeed an outstanding decadent dessert, that melts in your mouth.
Ingredients
Adapted after Jamie Oliver in Jamie at Home show.
4

large organic egg whites

1

cup

(200g) raw sugar

Pinch sea salt

3.5

oz

(100g) hazelnuts

, skins removed

2

(14-ounce-400g) cans halved peaches

, in syrup

1

tsp

grated fresh ginger (about 1/2 inch (1 cm) ginger)

7

ounces

(200g) bittersweet chocolate

1 ½

cups

(about 400g) heavy cream

3

tbsp

(45 g) icing sugar

, sifted

1

vanilla bean

, halved and seeds scraped out or 1 tsp vanilla extract

zest of 1 orange
Instructions
Preheat your oven to 300 F (150C) and line a large baking sheet with parchment paper.

Place the egg whites in a mixing bowl and start whipping at medium speed until firm peaks form. Gradually add sugar and pinch of salt. Using the mixer highest speed setting, whip for about 7-8 minutes until white and glossy.

Spoon the meringue out onto the prepared baking tray and using a spatula, shape it in form of an A4 size rectangle.

Bake for 1 hour or until crisp on the outside and soft and sticky inside. At the same time place the hazelnuts in a separate sheet and bake until golden brown.

Drain the cans of peaches reserving the syrup from 1 can. In case you bought a larger can reserve about 1/2 cup of syrup. Cut each peach half in 3 or 4 slices.

Pour the reserved peach syrup into a saucepan with ginger and warm until it starts to simmer. Take off the heat and add chocolate, stirring until all melted.

Take the meringue and hazelnuts out of the oven and leave to cool. Smash the toasted hazelnuts.

Whip the cream with the sifted icing sugar and the vanilla seeds or vanilla extract until it forms smooth, soft peaks.

Start assembling the meringue: 

Place the Meringue on your serving plate and sprinkle half of the toasted hazelnuts on top of it. Spoon half of the whipped cream over and then drizzle with some chocolate sauce. Place the peach slices over the top. Add the rest of the whipped cream and chocolate sauce. In the end sprinkle another round of hazelnuts and orange zest.

Serve immediately. It is amazing. Enjoy everybody.
Nutrition
Serving:
1
g
Calories:
454
kcal
Carbohydrates:
55.8
g
Protein:
7.2
g
Fat:
24.6
g
Saturated Fat:
11
g
Cholesterol:
37
mg
Sugar:
49.8
g