These Vegetable Zucchini Balls are delicious and healthy, a good way to have children eat vegetables. They are also great as appetizers or served for lunch or dinner alongside your favorite side dish.
These veggie balls go very well over rice, pasta dishes or mashed potatoes, or even in breakfast sandwiches too.
The recipe is easy and you can adapt it to your tastes, you can try other variations too for instance you can add some mashed chickpeas in combination with zucchinis to add some protein too. I am sure you will definitely enjoy these veggie balls.
These vegetable zucchini balls are great for parties too, I like to use these on skewers with some cheese and cherry tomatoes as they look wonderful.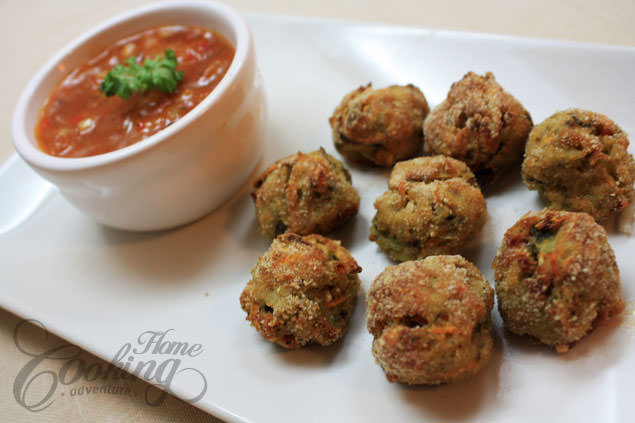 How to prepare vegetable zucchini balls
First, preheat your oven to 200°C (400°F) to make it nice and hot.
Now, it's time to prepare some delicious vegetable zucchini balls. Mix all the ingredients together in a bowl, adding seasonings to make it taste just right. Shape the mixture into small balls and place them on a baking tray that you've greased a little.
Let the balls bake for about 30 minutes. For an extra touch, switch on the grill function for the last few minutes to give them a lovely golden-brown color on the outside.
While those veggie balls are baking, let's make a delicious tomato sauce. Heat up some oil in a saucepan over high heat. Toss in some onion and garlic, cooking them until they turn a nice golden color, which takes about 5 minutes. Mix in red pepper and paprika for added flavor. Add tomatoes, chili pepper, bay leaves, basil leaves, and vegetable stock into the mix. Cover it up and let everything simmer, giving it a good stir every now and then. Wait until the vegetables become nice and tender, and the liquid starts to disappear. If it needs a bit more taste, add some salt, sugar, or pepper.
When everything is ready, it's time to enjoy your creation. Serve those yummy veggie balls as appetizers or as a part of the main course.
If you try them out, I out love to see how they turned out for you. Make sure to share the photos with me on Instagram. Enjoy!
YOU MAY ALSO LIKE:
Spaghetti with Baked Meatballs
Leftover Turkey Meatballs
Broccoli Cheese Balls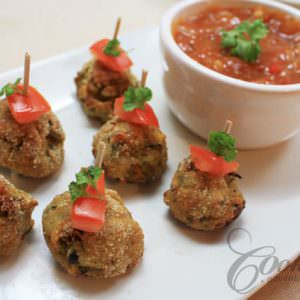 Vegetable Zucchini Balls
Delicious, healthy vegetable balls. A good way to have children eat vegetables. Great as appetizer or used on a main dish plate with rice, pasta or potatoes.
Ingredients
2

potatoes

, peeled and grated

1/2

zucchini

, grated

1

carrot

, grated

2 or 3

garlic cloves

, crushed

1

egg

, beaten

salt and freshly ground black pepper

2

tbsp

fresh chopped parsley

1

tbsp

fresh chopped dil

30

g

cheese

, grated

3

tbsp

breadcrumbs
Red Sauce
2

tbsp

olive oil

2

onions

, chopped

1

garlic clove

, chopped

2

red bell pepper

, sliced

2

big tomatoes

, puree

1

small red chili pepper

,, optional

1

tsp

paprika

500

ml

vegetable stock

2

bay leaves

1

tsp sugar

salt and pepper to taste
Instructions
Preheat the oven to 200C (400F).
Prepare the vegetable zucchini balls.
Combine all the ingredients together, season to taste then form into small sized balls and place them on a greased baking tray. Bake for 30 minutes and use grill function for the last few  minutes until they are a little golden brown on the outside.
Prepare the tomato sauce.
Heat the oil in a sauce pan over high heat. Cook onion and garlic, for about 5 minutes until golden. Stir in red pepper and paprika. Add tomatoes, chili pepper, bay leaves, basil leaves and vegetable stock. Cover and let it simmer,stirring now and then until all vegetables are tender and liquid has evaporated. Add salt, sugar and pepper if needed.

Serve them as appetizers or as part of the main dish.
Nutrition
Serving:
1
zucchini ball
Calories:
23
kcal
Carbohydrates:
3.5
g
Protein:
1
g
Fat:
0.7
g
Cholesterol:
9
mg