I definitely love ice cream and I find it hard to resist it, who doesn't? So, a while ago I have decided to make homemade ice cream as much as possible,  as it is a healthier alternative to the store-bought ones. It is a decision I took especially since I have children. So here I come, with a delicious refined sugar free Blueberry and Strawberry Yogurt Ice Cream. My daughters simply love it.
Only recently I have discovered frozen yogurt. I like it so much that I am determined to try as many variations as possible during this summer. This combination of fruits and yogurt is absolutely delightful.  This frozen yogurt, served into waffle cones makes an amazing ice cream. What ice cream can be healthier than that?  When my little daughter is asking for my pink ice cream in a cone, I am not feeling guilty about it, not even a bit. This ice cream it is sweetened with only bananas and honey, so it is really a kid friendly recipe.
I am so glad I've discovered this blueberry and strawberry yogurt ice cream, as it is simply awesome. We love it so much that I could hardly keep some for a photo session. I consider it a very easy recipe and the best part is  that you don't need an ice cream maker for that. While freezing, you will need to stir at 30 minutes intervals, to break the ice crystals. You will need to do that for about 3 times in order to get the best results.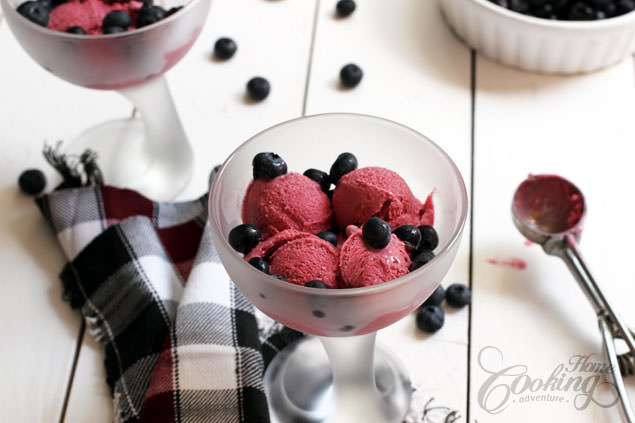 You might also like these fruit ice creams ideas I've shared here on my blog like this Blackberry Swirl Yogurt Ice Cream in waffle cups or this flavorful Melon Ice Cream and this amazing Coconut Mango Ice Cream. 
RELATED POSTS: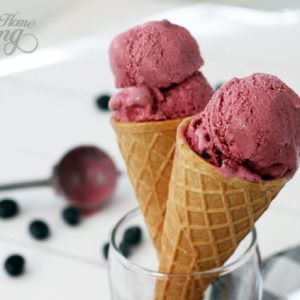 Blueberry and Strawberry Yogurt Ice Cream
This refined sugar free Blueberry and Strawberry Yogurt Ice Cream is just great. It has fruits, yogurt and some honey. What ice cream can be healthier than that? No ice cream machine needed either.
Ingredients
850

g

plain yogurt (Greek yogurt)

1

cup

frozen strawberries

1/2

cup

frozen blueberries

1

banana

4

tbsp

honey
Instructions
Place a cheesecloth over a sieve. Put the sieve over a bowl, pour the yogurt in the prepared sieve and refrigerate for about 3 to 4 hours to drain. 

Put the strained yogurt in the bowl of the blender, add the rest of the ingredients and blend until smooth. 

Pour the yogurt mixture in a covered storage container and place in the freezer. After an half an hour stir again to break up the ice crystals. Stir every 30 minutes for two or three times more or until it reaches the desired consistency. 

Serve in bowl or waffle cones and sprinkle with fresh blueberries.
Nutrition
Serving:
1
g
Calories:
176
kcal
Carbohydrates:
29.9
g
Protein:
8.4
g
Fat:
1.8
g
Saturated Fat:
1.4
g
Cholesterol:
9
mg
Sugar:
26.6
g