This recipe for Chocolate Caramel Bars is for all those who love chocolate and soft caramel over a shortbread crust.. similar to a Twix Bar but let's say "healthier" .. as it is homemade and no other preservative or additives are used. I saw that similar recipes are actually using caramel candies that are melted, but I wanted to make this recipe from scratch and that include the caramel as well.
It is very simple and the result is as expected, delicious, soft and chewy caramel that can be perfectly cut into small serving bars. Don't know why many are so scared of making caramel at home.. it's quick and easy and I didn't even use a candy thermometer for this recipe. And I've done this caramel for so many times and it always gets perfect.
For the shortbread crust I added some ground almonds for a bit of texture and it is wonderful. These chocolate caramel bars are definitely one of the best candy bars I've ever made. I was so pleased with the final result. It is a great recipe for whenever you need to prepare something for a gathering, it is easy to transport and as holidays are approaching it may be a wonderful homemade gift idea.
Everybody love this combination, and what is not to love about. Layers of goodness one upon another.. amazing chewy caramel over the crusty cookie layer and  topped with a chocolate layer.. I am telling you guys…they can be pretty addictive… so make sure you are sharing this Chocolate Caramel Bars with somebody otherwise you will end up eating them all by yourself.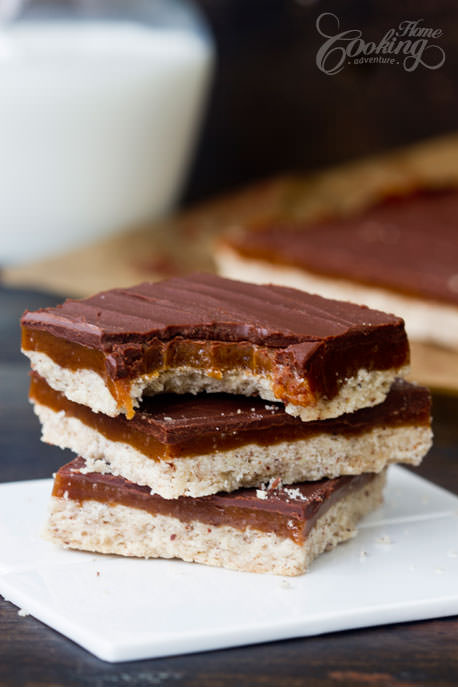 RELATED POSTS:
Caramel Apple Cheesecake Bars
Walnut Caramel Mini Tarts
Chocolate Salted Caramel Tart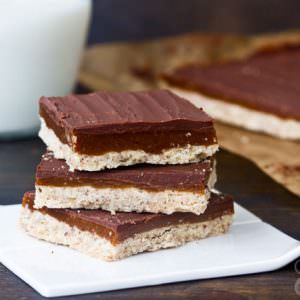 Chocolate Caramel Bars
Chocolate Caramel Bars - addictive layered bars with a crusty shortbread followed by a chewy homemade caramel and topped with chocolate. Simply divine.
Ingredients
Shortbread Crust
1 ¾

sticks

(200 g) butter

1 ½

cup

flour

1/2

cup

ground almonds

1/2

cup

sugar

1/4

tsp

salt
Caramel Filling
1

cup

sugar

1/4

cup

water

1 ¾

sticks

(200 g) butter

1

tsp

salt

4

egg yolks

2/3

cup

sugar

, for mixing with egg yolks

1

tsp

vanilla extract
Chocolate Topping
8

oz

bittersweet chocolate and milk chocolate

, a combination or only one type

1

tbsp

butter
Instructions
Preheat oven to 350 F (180 C). Grease with butter a 9 X 13 inches baking dish. Line with parchment paper.

Prepare the crust.

In a large bowl combine flour, ground almonds, sugar and salt. Add the butter and using a pastry blender or simply a fork cut in the butter until crumbles are formed.

Press the mixture onto the bottom of the prepared baking dish and bake for about 15-20 minutes until lightly golden brown. Set aside and let cool slightly.

Prepare the caramel

. Mix egg yolks with sugar and vanilla extract until thick, creamy and pale yellow colored.

In a medium sauce pan heat the sugar and water until turns golden brown. Immediately add butter and salt and mix well. After butter has melted remove from heat and incorporate the egg yolks mixture. Return to heat, stir continuously and simmer until thick.

Remove from heat, continue stirring for few seconds and pour the caramel over the prepared crust. Using a rubber spatula spread it evenly over the crust. Set aside while you prepare the chocolate.

Add chocolate and butter in a bowl and melt over bain-marie. When melted pour over the caramel and spread it evenly. Set aside to chill, refrigerate until ready to serve.

7. Cut into large or smaller bars and serve. Enjoy!
Nutrition
Serving:
1
g
Calories:
92
kcal
Carbohydrates:
12.1
g
Protein:
1
g
Fat:
4.7
g
Saturated Fat:
2.7
g
Cholesterol:
22
mg
Sugar:
9.2
g