Fish is one of my family's favorite type of meat, we cook with fish more than twice a week. It's light, healthy, full of vitamins and minerals, and omega-3 fatty acids. My daughters enjoy fish meals, especially like this oven grilled fish, served with sour cream and garlic sauce or with my homemade lemon sauce.
We usually like fresh waters fish, like trout, zander or bass, but we cook salmon and other types of fish as well. For whenever grilling outside is not possible, this method is one of the easiest way to grill fish indoors. This Oven Grilled Fish is healthy, quick and delicious, making a great meal.
We like to make some scores into the surface of the fish so all the good flavors combine. You can do that for either a whole fish or fish fillet.
These days we bought a wild captured zander,  one of our favorites, as the meat is very firm, white, the flavor is very delicate and the bones are easy to remove. If zander is not available in your area use this method presented here for any other type of firm fish. It will work as well.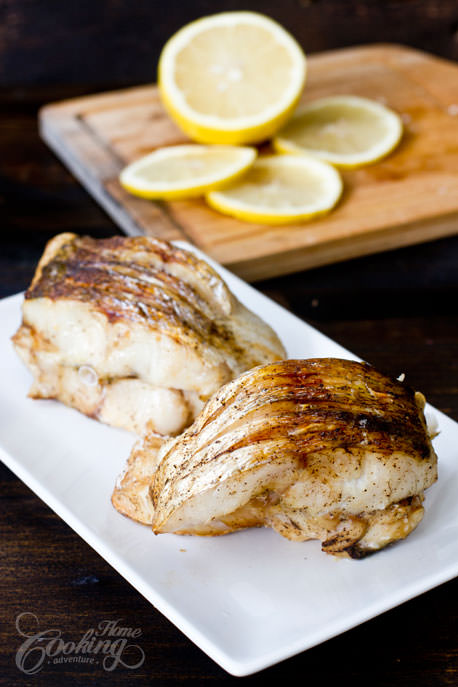 RELATED POSTS:
Grilled Salmon
Fish Fillet Soup
Potato Tuna Patties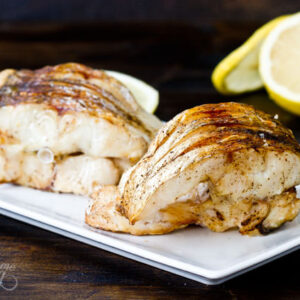 Oven Grilled Fish
Oven grilled fish - This method is one of the easiest, for whenever grilling fish outside is not possible this oven method is healthy, quick and delicious.
Ingredients
1

pound

fish

Salt and freshly ground black pepper

ground lemongrass

, optional

herbs

, like thyme

1

tbsp

olive oil or butter
For Serving
1/4

cup

sour cream

2

cloves

garlic

, minced

salt

lemon sauce or lemon slices
Instructions
Score the surface of the fish with a sharp knife in 3 or 4 places, to help the flavors penetrate better. Sprinkle with salt, pepper, lemongrass and herbs if used, on all the sides of the fish as well in the inside. Place them into a bowl, cover with foil and refrigerate overnight.

Preheat oven to 450 F (230 C), grill function.

Place the fish over the rack of the oven and place the rack on a baking tray lined with parchment paper or aluminum foil, so all the grease can drip there. Sprinkle a little butter or vegetable oil over the fish. Place in the preheated oven.

Let the fish cook for about 20-30 minutes or until the skin is crispy and a bit golden. Make sure you keep an eye on it as you don't want to let it burn.

Meanwhile prepare the sour cream mixture, by combining sour cream with minced garlic and salt.

Remove the fish form the oven and serve with the sour cream mixture, some

lemon sauce

or simply some lemon slices alongside you favorite side dish.
Nutrition
Serving:
1
g
Calories:
465
kcal
Carbohydrates:
1
g
Protein:
60.6
g
Fat:
22.6
g
Saturated Fat:
4
g
Cholesterol:
168
mg