Did you know that you can make muffins using heavy cream as an ingredient? I discovered only recently, and that by mistake, I could say.
One day, I was a bit in a hurry, just returned from a grocery store, bought some heavy cream, and decided all of a sudden to make ice cream. Forgot for the moment that for the heavy cream to whip well it needs to be cold, to stay at least one day in the fridge.
I started whipping the heavy cream and of course.. it didn't whip very well, didn't get as stiff as I would have needed for the ice cream. My eggs were already beaten with the sugar so what could I do. As I didn't want to use that whipped heavy cream in an ice cream recipe I finally decided that I will make some muffins and see how it works.
Added quickly some cocoa powder into the heavy cream and then combined it with the beaten eggs. I added flour and the rest of the ingredients… and guess what: one of the most delicious chocolate muffins were about to come out of the oven. The smell while baking was incredible. I could hardly wait to cool a bit so I can devour them. My daughters were thrilled… their happiest moment of the day:)
The heavy cream muffins were amazing. They don't need any additional butter or oil, the fat in heavy cream is enough to create one of the most moist muffins ever. Combine this with chocolate and you are in Chocolate Heaven. The muffins don't stick to the muffin's paper cups at all, they remove very easily. So, by a simple mistake I discovered my favorite double chocolate muffin recipe. Give it a try, it is easy, quick and I am sure you will love it too.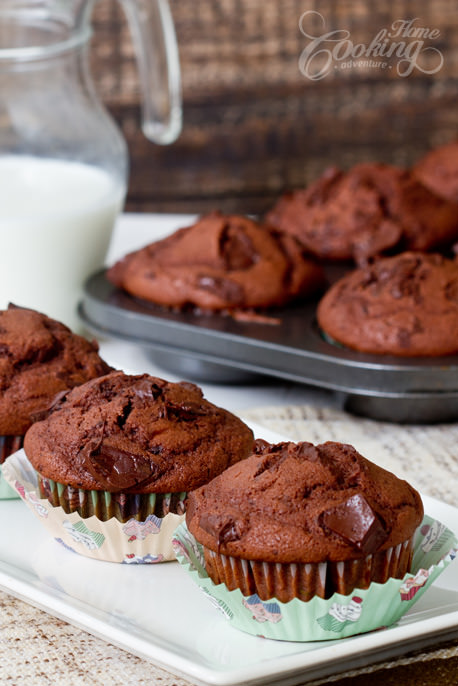 RELATED POSTS:
Chocolate Cream Cheese Muffins
Chocolate Coconut Muffins
Pumpkin Muffins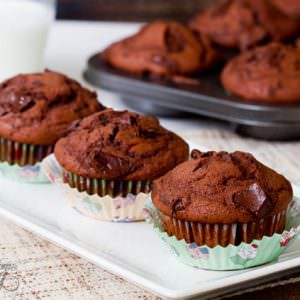 Double Chocolate Muffins
Easy, quick recipe for amazing Double Chocolate Muffins made with heavy cream and a lot of chocolate. They don't need any additional butter or oil.
Ingredients
3

eggs

2/3

cup

(135g) sugar

1/2

tsp

salt

1

tsp

vanilla extract

1

cup

(250 g) heavy cream

1/3

cup

(40g) cocoa powder

2

tsp

baking powder

1

2/3

(210g) cups flour

4

oz

(120 g) bittersweet chocolate
Instructions
Preheat the oven to 180C (350F). Line the muffin tins with paper cups. Cut the chocolate in small chunks.

In a large bowl place the eggs, sugar, salts and vanilla extract. Mix well until thick, creamy and pale yellow colored. Whip heavy cream until stiff peaks form.

Add cocoa powder over the whipped heavy cream and mix to combine.

Add whipped cream to eggs mixture and mix well.

Add baking powder and flour and mix to combine.

Fold in the chocolate chunks and keep about 2 tbsp of chocolate for topping.

Spoon mixture into the muffin cups. Add the remained chocolate chunks on top of them.

Bake for about 25 minutes until a toothpick inserted in the center comes out clean. Allow to cool a bit over a wire rack before serving. If the chocolate on top melted entirely add some more chunks while they are still warm to get a nice look on top.
Nutrition
Serving:
1
g
Calories:
213
kcal
Carbohydrates:
32.1
g
Protein:
4.5
g
Fat:
8.1
g
Saturated Fat:
4.8
g
Cholesterol:
57
mg
Sugar:
16.2
g