If you love making bread recipes you should definitely try this easy recipe for crusty golden homemade baguettes.
Why am I saying easy even though it may seem it requires some steps and quite a lot of time until they are finally baked? It is because I have tried to simplify the steps as much as possible. For instance, for this recipe there is no need to have a baguette couche while they rise, no need to have special utensils to transfer the baguettes into the preheated oven, no need especially for a baking stone and can bake them directly on the baking sheet they raised on.  (but if you do have a baking stone you can definitely use it).
The recipe requires few ingredients and it's simply amazing what you can achieve with only some flour, water and some yeast. The smell of these homemade baguettes while they bake and the crispy crust and its soft crumb makes them hard to resist. Hope you will give this recipe a try and enjoy!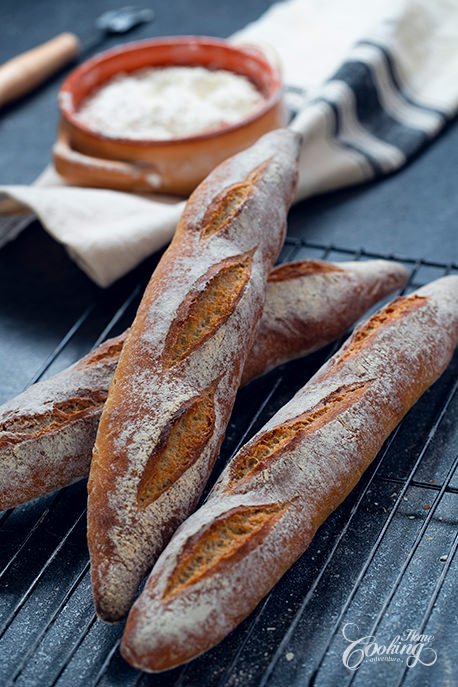 RELATED POSTS:
Easy Homemade Bread
Olive Bread
No knead Cheese Bread
Easy Sourdough Bread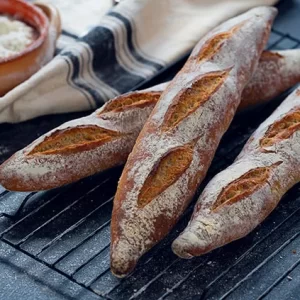 Homemade Baguettes
If you love making bread recipes you should definitely try this easy recipe for crusty golden homemade baguettes.
Ingredients
Overnight Starter
1 ¼

cup

(160g) all purpose flour (type 55)

2/3

cup

(160ml) water

0.6g

fresh yeast (pinch of instant/active dry yeast)
Final Dough
2 ⅔

cups

(330g) all purpose flour (type 55)

7

g

fresh yeast ( 1/2 tsp (2g) instant or active dry yeast)

1/2

tsp

(2.5g) sugar

overnight starter

3/4 cup

+1 tbsp

(190ml) water

1 ½

tsp

(8g) salt
Instructions
First prepare the overnight starter. In a medium bowl dissolve yeast in water and then add flour. Mix to combine. Cover and let rise for 12-14 hours at room temperature until raised in volume and bubbly.

Prepare the final dough. In a small bowl add the fresh yeast and sugar and mix until it liquefies. Dissolve in ¼ cup (60ml) water. (If using dried yeast simply mix the yeast with the flour).

In a large bowl add flour, the dissolved yeast, remaining ½ cup+ 1 tbsp (130ml) water and the overnight starter. Mix to combine. Cover and let the dough rest for 15 minutes.

Add salt and with wet hands incorporate the salt into the dough. Knead the dough until it pulls away from the sides of the bowl.

Transfer the dough to an oiled bowl and let rise for 2 hours,stretching and folding on 4 sides, every 40 minutes, using wet hands.

Turn the dough out onto a floured surface. Divide it in four pieces. Shape them into small logs. Sprinkle the logs with flour and let rest for 10-15 minutes.

Finally shape each piece into a baguette. Take a piece of dough and flatten slightly.

Fold the top third into the centre and press to seal, using your fingers.

Rotate 180 degrees and fold the other third. Seal the edges with your fingers or with the heel of your hand.

Slightly roll the dough starting from the center to the edges, to elongate the dough and pressing on the edges.

Transfer the baguette to a floured parchment paper lined baking sheet.

Repeat with the remaining pieces of dough.

Sprinkle the baguettes with flour and create a little border by lifting the parchment paper between baguettes.

After all four baguettes are on the baking sheet, add a rolled kitchen towel to help the baguettes keep their shape. Cover with a kitchen towel.

Let the baguettes rest for 40-45 minutes.

Meanwhile, preheat the oven to 470°F (240°C) and place a baking tray on the bottom of the oven.

Straighten the parchment paper and slash the tops several times with a bread lame or sharp knife. Spray the baguettes with water.

Transfer to the oven and pour hot water on the preheated baking tray to create steam.

Bake the baguettes for 10 minutes with steam.

Remove the baking tray with remaining water.

Continue baking for 15-20 minutes more until deep golden brown and crisp.

Let cool slightly and enjoy!
Nutrition
Serving:
1
baguette
Calories:
454
kcal
Carbohydrates:
94.8
g
Protein:
13.4
g
Fat:
1.3
g
Saturated Fat:
0.2
g
Sugar:
1
g