Ever since I've started baking bread at home there is no bigger satisfaction than the results I get every time I bake sourdough bread. All the time invested in the process is really rewarded by this amazing bread. With its crispy crust and amazingly chewy and open crumb this easy bread is simply hard to resist.
When I make sourdough bread I usually like to try different types of flour, different hydration percentage or adding seeds for extra flavor…but whenever I want an easy recipe with best results I always get back to this recipe. Even if you don't understand the whole process of how it works I suggest simply follow the steps mentioned in the recipe description and it will work…it will work for sure.
Sometimes when you start reading about sourdough starter and making bread you may feel a bit overwhelmed about the amount of information and steps required. I tried to keep the steps and recipe as simple as possible and baking this bread is something you will never regret and you will keep wanting for more. Hope you will try this easy recipe guys, and enjoy!
YOU MAY ALSO LIKE:
Easy Sourdough Bread – Vermont Bread
50 Percent Whole-Wheat Sourdough Bread
Sourdough Barley Bread
Sourdough Starter from Scratch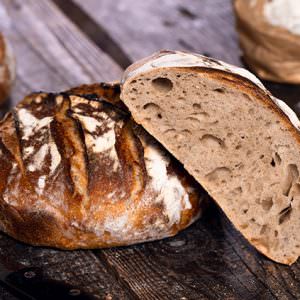 Easy Sourdough Bread
With its crispy crust and amazingly chewy and open crumb this sourdough bread is simply hard to resist.
Ingredients
Overnight Starter
33g

100% hydration sourdough starter

205

ml

water

, room temperature

165g

white bread flour
Final Formula
900g

white bread flour

120g

rye flour

560ml

water

, at room temperature

24g

salt

Overnight Starter
Instructions
The process of baking bread starts 2-3 days before, as you need to have an active sourdough starter. Feed your 100% hydration starter once or twice before preparing the overnight starter, if you keep your starter refrigerated. (I feed it twice, every 12 hours at a ratio of 1:3:3). (You can also consider taking some starter from a friend who has or buy from a specialized store or make your own starter from scratch,

see the steps here.

To make the overnight starter, in the evening stir down the 100% hydration sourdough starter, and remove 33 g in a bowl. First add the water and stir well. Add flour and stir. Cover with plastic wrap, and let it rest at room temperature for 12-14 hrs (overnight).

In the morning, in a large bowl mix the flours with water and the overnight starter until well combined. Let the dough rest (autolyse) for 30 minutes.

Add the salt and knead by hand for 5-8 minutes.

Wipe the inside of the bowl with a little vegetable oil. Place the dough into the bowl so the dough can be stretched and folded without removing it from the bowl. Cover with plastic wrap.

Let the dough ferment at room temperature for 2.5 hours, stretching and folding on 4 sides, every 50 minutes, using wet hands.

Turn the dough out onto a floured surface. Divide it in two pieces. Shape them in the form of a ball. Sprinkle the balls with flour, cover and let rest for 15 minutes.

Meanwhile prepare two round bowls with 2 kitchen towels, sprinkled with flour, or use bannetons if you have.  Add the dough balls seam-side-up, cover them with the edges of the towel, and proof for 2 or 2.5 hours at room temperature. You will know it's done when pressing the dough with the finger, it comes slowly back.

Turn the oven to 470°F (240°C) with either a baking stone or dutch oven or in case you don't have any, simply a baking sheet, and preheat for 45 minutes to 1 hour before baking.( If using the baking stone or the baking sheet place a small pot with water at the base of the oven to create steam, the dutch oven does not need as the lid will create enough steam.)

Turn the proofed loaves onto a parchment and score them using a bread lame or sharp knife. Carefully transfer it to the preheated dutch oven baking stone or back of the baking sheet.

Bake for 20 minutes with steam then remove the pot with water from the oven. When using dutch oven simply remove the lid.

Reduce oven temperature to 440°F (230°C) and bake for another 15- 20 minutes without steam.

Cool on a wire rack. Let them cool completely before cutting for at least 2 hrs.
Nutrition
Serving:
1
g
Calories:
2174
kcal
Protein:
64.9
g
Fat:
7.3
g
Saturated Fat:
1
g
Sugar:
2.7
g