These Mushroom Empanadas are a delightful treat that everybody will love. Empanada (from the word "Empanar") is a Spanish word generally meaning wrapped in bread. These pastries filled with seafood, meat, cheese, vegetables or fruit are wildly popular throughout Latin and South America. Empanadas can be baked or fried, in either way they are delicious. As I always like to choose the healthier way I prefer to bake them.
I've seen empanadas either in food magazines or TV shows and I've been wanting to make them for quite some time. Finally I did my own version of empanadas. I didn't want to make a heavy filling with meat, so I decided to use only vegetables and cheese and that lead me to mushroom empanadas. I've made these for three times now and each time were very appreciated.
You can make these mushroom empanadas in small sizes and serve them as appetizer, or make them bigger and serve them for lunch or dinner along a fresh salad or sauce. These empanadas can also be a great appetizer idea for Thanksgiving Day.
Either warm or cold, mushroom empanadas are delicious and can be a great way of giving vegetables to kids. My little daughter is very picky, it's pretty hard to convince her to eat vegetables by their own, so served this way turned to be a success. Even my husband like them so much that he suggested to make empanadas every week. 🙂
Now there is a video recipe for these, as I wanted you to see exactly how to make them and realize that it's not a complicated recipe and everyone should be able to make them. It is a recipe that can easily involve kids in the process of making and have fun in the kitchen.
I would be very glad to hear from you regarding your favorite empanada recipe.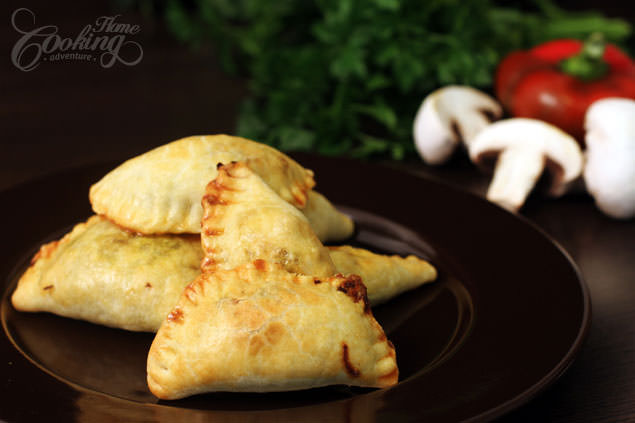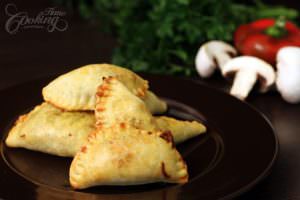 RELATED POSTS: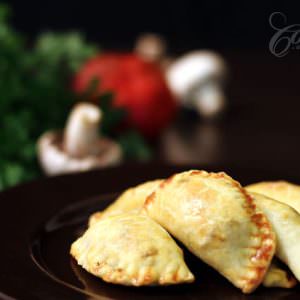 Mushroom Empanadas
Mushroom empanadas - pastries filled with a lot of vegetables and cheese, perfect for lunch or dinner or even as appetizer. Either warm or cold are delicious.
Ingredients
Empanada Dough
1 ¼

cup

(160g) flour

1/2

cup

(110g) cold unsalted butter

, cut into small (1/2-inch) cubes

1/2

tsp

(3g) salt

4 to 6

tbsp

ice water
Filling
2

tbsp

olive oil

1

onion

, chopped

1

medium carrot

, grated

4

garlic cloves

, chopped

4 or 5

medium mushrooms

, chopped

1/2

red pepper

Basil fresh leaves

, chopped

Fresh parsley

, chopped

2

tbsp

soy sauce

Salt and freshly ground black pepper

1/3

cup

cheese

, grated
Instructions
Prepare the dough. Sift the flour and mix flour with salt. Incorporate butter to the flour, using a pastry blender, a fork or a pastry processor, until crumbs are formed. Slowly add the water and stir until the water is incorporated. Wrap it with plastic, knead slowly to form a disc and refrigerate for at least 1 hour.

In a large frying pan heat oil over medium high heat.  Add onion and saute until soft. Add carrot, garlic,  red pepper, mushrooms and soy sauce and cook until any water evaporates.  Turn down heat and add basil, parsley, salt and pepper. Remove from heat and set aside to cool.

Preheat oven to 350F (180C). Line a baking tray with parchment paper.

On a floured surface roll out dough to 1/8 inch thick. Using a 3 1/2-inch circle cutter cut out circles of dough. Re-roll dough as needed. Repeat procedure with remaining dough until using all the dough and results about 16-17 circles.

Place a spoonful of empanada filling on one side of the circle and top with cheese (In the video I forgot to add cheese on some but it's a delicious addition).  Moisten the edges of the circle with water and fold the dough over the filling to create a semi-circle. Use a fork to press the edges together to seal.

Place the empanadas on the prepared baking tray. Beat the egg and brush the top of each empanada. Bake for 25-30 minutes, or until golden brown. Let cool slightly before serving.
Nutrition
Serving:
1
g
Calories:
119
kcal
Carbohydrates:
8.6
g
Protein:
2.5
g
Fat:
8.5
g
Saturated Fat:
4.4
g
Cholesterol:
27
mg
Sugar:
0.7
g