I would say this is the perfect rhubarb tart. This summer I decided to make a rhubarb tart that not only tastes amazing but also a pleasure to look at. Made some variations of rhubarb tart before but was not entirely satisfied until I've made this one which was a total success.
For the crust, instead of making a classic one I've decided to make rough puff pastry for it's delicious flaky and crispy effect. Also I wouldn't have expected for the spicy ginger to make such a good match with the tart rhubarb. Serving all together with the vanilla flavored ricotta filling turned to be just …heavenly. So many flavors combined to really create the perfect summer dessert.
Don't be scared of all the steps mentioned bellow, as it is pretty easy to prepare especially if you make the rough puff pastry dough a day before. The rhubarb and ricotta fillings are done in about 15 minutes both, I would even say it's quite an easy and fast recipe that really worth to be tried out and perfect to be served in a hot summer day.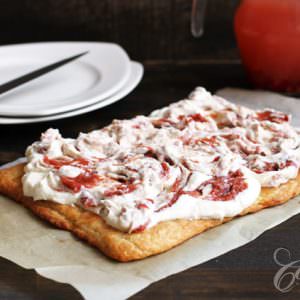 Rhubarb Ginger Tart with Homemade Rough Puff Pastry
Rhubarb ginger tart that not only tastes amazing but also a pleasure to look at. Made with homemade rough puff pastry for it's delicious flaky and crispy effect.
Ingredients
Rough Puff Pastry
1

cup

(125 g) flour

1/2

cup

+ 1 tablespoon (125 g) butter

, cut in small cubes

1/2

tsp

salt

1/4

(60 ml) ice cold water
Ricotta Filling
1/2

cup

(110 ml) heavy cream

1

cup

(9 ounces, 250 g) ricotta cheese

1/4

cup

powdered sugar

1

tsp

vanilla bean paste or vanilla extract
Rhubarb Mixture
7

ounces

(200 g) rhubarb

(about 2-3 rhubarb stalks)

2

tbsp

brown sugar

zest from 1 lemon

1

tbsp

grated fresh ginger (about 1 inch (2 cm) ginger)

1

tsp

vanilla extract
Instructions
Prepare the rough puff pastry. In a large bowl sift the flour and mix it with salt . Incorporate butter to the flour, using a pastry blender or a fork or a pastry processor, until crumbs are formed. Add the water and stir until the water is incorporated. Wrap it with cling film, and refrigerate for 20 minutes.

Turn the pastry on to a lightly floured work surface. Roll the dough in one direction only, until 3 times the width, to a rectangle of about  6 X 17 inches (15 cm X 45 cm). Fold the top third down to the center, then the bottom third up and over that. Turn it to the left or right and roll out again to three times the length. Fold as before, cover with cling film and chill for at least 20 minutes before rolling to use. I actually  made this a day before and chilled the dough overnight.

Prepare the rhubarb filling. Cut rhubarb in 1/2 inch (about 1 cm) pieces and place it in a sauce pan. Add sugar, lemon zest and ginger and cook over medium heat stirring constantly, for about 10 minutes until rhubarb is soft.Add vanilla extract, stir well and transfer the rhubarb mixture into a bowl and set aside to chill.

Preheat the oven  to 400°F (200°C). Line a baking sheet with parchment paper.

Onto a lightly floured surface roll the dough into a rectangle of ¼ inch thickness. Place it on the prepared baking sheet. Bake for about 20-25 minutes until crisp and golden. Remove from oven and set aside to chill.

Prepare the ricotta filling. In a bowl whip the cream with a hand mixer. Add ricotta cheese, the sugar and vanilla and mix until combined. Refrigerate until ready to use.

Right before serving, add spoonfuls of ricotta filling and rhubarb filling over the baked puff pastry and with a knife create swirls to create a marbled effect. Serve and enjoy!
Nutrition
Serving:
1
g
Sugar:
8.6
g
Cholesterol:
71
mg
Calories:
362
kcal
Saturated Fat:
15.1
g
Fat:
24.2
g
Protein:
7.6
g
Carbohydrates:
28.6
g
Nutrition facts
1 Serving

Calories: 362

,

Fat: 24.2g

,

Saturated fat: 15.1g

,

Unsaturated fat:

,

Carbohydrates: 28.6g

,

Sugar: 8.6 g

,

Fiber: 1.3 g

,

Protein: 7.6 g

,

Cholesterol: 71 mg

,

Calories from Fat 218, Sodium 373 mg, Vitamin A 17%, Vitamin C 5%, Calcium 16%, Iron 7%, Nutrition Grade D,Daily Percent Values are based on a 2000 calorie diet

,