It's been a while ever since I've wanted to try a roasted carrot and ginger soup. I have it on my list for more than a year but all my sweet treats always went up in front. 🙂 When I received some carrots from my mother, from her organic garden I knew that the time has finally come for this carrot soup. A perfect comforting soup for these fall days.
I loved the idea of roasting the carrots and garlic first before making the soup. I was sure it would give a greater taste than to simply boiling them. It does take a bit more time this way, but it all worth it. When roasting carrots in the oven, carrots get a bit caramelized and all the carrot's sweetness is enhanced. The ginger is also making such a good pairing with the carrots. One of the most important things is to use good quality vegetable stock, preferably homemade. Water can not be used instead, it won't get as flavorful. It is definitely a hearty soup that will warm you up in a fall or winter day. It is a light soup that goes well for dinner and even as an appetizer.
I roasted some pumpkin and sun flower seeds and also some raw peanuts to go alongside. A bit of crunchy bites always goes so well with a creamy soup. Homemade croutons  are also a good option and of course.. a bit of sour cream, but this is optional if vegetarian of course.
It doesn't take too much time to prepare this roasted carrot and ginger soup, but you can roast the carrots and garlic in advance, even a day before, refrigerate and use when needed. Give it a try my friends, you will love it too.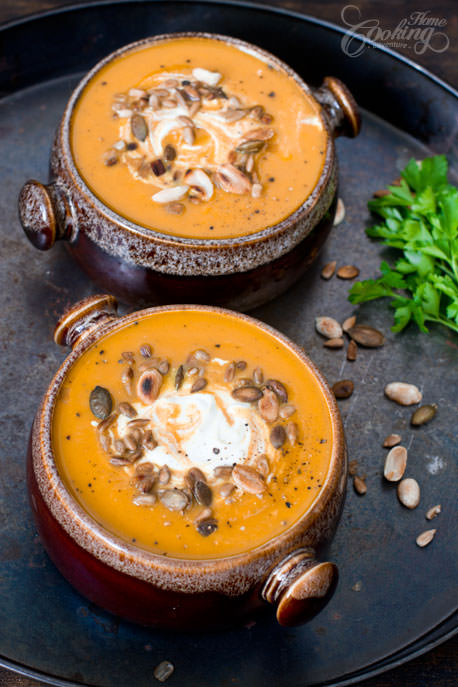 RELATED POSTS:
Spicy Pumpkin Soup
Cauliflower Cream Soup
Lentil Cream Soup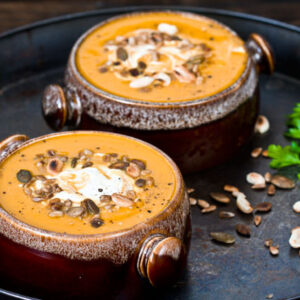 Roasted Carrot and Ginger Soup
This Roasted Carrot and Ginger Soup is a perfect comforting soup perfect for fall days. Carrots and garlic are roasted first which results in a greater taste.
Ingredients
2

pounds

carrots

, peeled and cut in smaller pieces

1

medium onion (about 1 cup)

, chopped

1

head garlic

, roasted

1/4

cup

olive oil

, divided

6

cups

vegetable stock

2

tbsp

fresh ginger

, grated

1/2

tsp

thyme

1/2

tsp

oregano

1

tsp

ground cumin
Instructions
Preheat oven to 425F (220C). In a large bowl place carrots and 2 tbsp of olive oil. Add salt and pepper and toss to combine.

Place the carrots in a baking sheet lined with parchment paper. Slice the tips off garlic head. Place the garlic in aluminum foil, close and place in the tray.

Roast for about 30 minutes.

When carrots and garlic have 5 minutes remaining, heat 2 tbsp of olive oil in a large pot. Add onion, ginger and the rest of the spices. Cook for about 5 minutes until soft.

Squeeze the garlic into the pot and add the roasted carrots. Add the vegetable stock, cover and bring to a boil.

Reduce heat and simmer covered for 30 minutes.

Remove from heat and puree using an immersion blender or a regular blender. Reheat if necessary, season if needed and serve with sour cream, bread croutons or toasted seeds. Refrigerate for up to 5 days.
Nutrition
Serving:
1
g
Calories:
170
kcal
Carbohydrates:
21.4
g
Protein:
2.8
g
Fat:
8.9
g
Saturated Fat:
1.2
g
Sugar:
10.1
g