I've been reading about the benefits of barley bread and the next thing I did was to search for barley flour. When I did, as soon as I got the chance I made this sourdough barley bread which turned great. I didn't know how this flour will behave so I used only one part barley flour and 2 parts wheat flour. Next time I will add some barley flakes as well, to make it much tastier and more nutritious. The bread tastes good, it remains still crusty and with a delicious chewy crumb.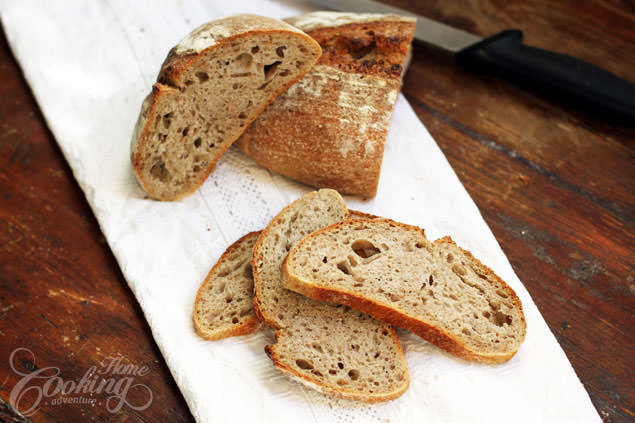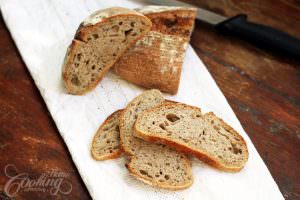 Barley has many health benefits. I posted an article about barley here. Barley is one of the richest sources of fibers among the cereals. Barley grain is an excellent source of soluble and insoluble dietary fiber, both of which may benefit gastrointestinal health.  Barley helps in reducing the risk of coronary heart disease and can lower cholesterol. So I highly recommend to try including barley in your diet.
I am glad I included barley in this sourdough bread and from now on will surely have more courage to include it in various recipes, like these digestive biscuits or oatmeal cookies.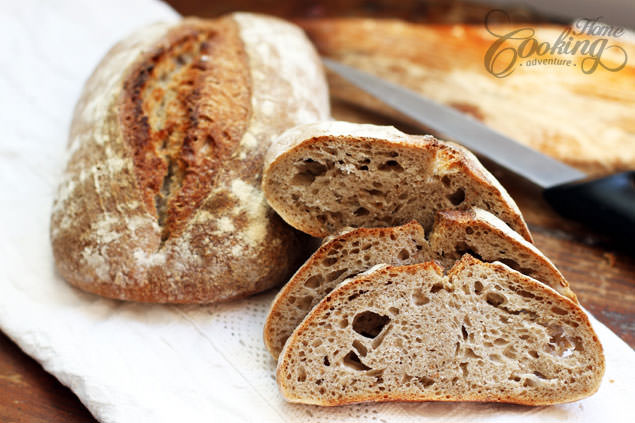 If you like making homemade bread, either with sourdough starter or simply with yeast, I recommend adding some barley flour into your recipe in order to enjoy its benefits.
RELATED POSTS: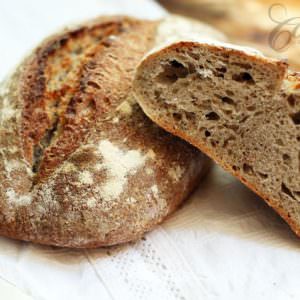 Sourdough Barley Bread
Nutritious, healthy sourdough barley bread recipe. The bread tastes good, the exterior is still crusty and with a delicious chewy, big wholes crumb.
Ingredients
Overnight Starter
22

g

100% hydration sourdough starter

, unfed

137

g

water at room temperature

110

g

wheat flour
Final Formula
280

g

whole barley flour

400

g

wheat flour

6

tbsp

wheat bran

370

ml

water

16g

salt

Overnight Starter
Instructions
To make the overnight starter, in the evening stir down the 100% hydration sourdough starter, and remove 22 g in a bowl. First add the water and stir well. Add flour and stir. Cover with plastic wrap, and let it rest at room temperature for 12-14 hrs (overnight). (For the 100% hydration sourdough starter – you either make it to have it your own - as shown here – or take from a friend who has or buy from a specialized store).

In the morning, in a large bowl mix the flours and wheat bran with water and the overnight starter until well combined. Let the dough rest (autolyse) for 30 minutes.

Add the salt and knead by hand for 5-8 minutes.

Wipe the inside of a wide bowl with a little vegetable oil. Place the dough into this wide bowl so the dough can be stretched and folded without removing it from the bowl. Cover with plastic wrap.

Let the dough ferment at room temperature for 2.5 hours with folds at 50 minutes. The folding is shown here.

Turn the dough out onto a floured surface. Divide it in two pieces. Shape them in form of a loaf. Sprinkle the loaves with flour, cover and let rest for 15 minutes.

Meanwhile prepare two oval bowls with 2 kitchen towels, sprinkled with flour. Add the dough loaves seam-side-up, cover with the edges of the towel and proof for 2 or 2.5 hours at room temperature. You will know it's done when pressing the dough with the finger the it comes slowly back.

Preheat the oven to 475 F (240 C) with baking stone or in case you don't have one preheat a baking sheet. Place a small pot with water at the base of the oven to create steam.

Turn the proofed loaves onto a parchment and score it. You can see some tips here. Carefully transfer it to the preheated baking stone or back of the baking sheet.

Bake for 15 minutes with steam then remove the pot with water from the oven and bake for another 20-25 minutes without steam.

Cool on a wire rack. Let it cool completely before cutting for at least 2 hrs.
Nutrition
Serving:
1
g
Calories:
1462
kcal
Carbohydrates:
311.2
g
Protein:
43.7
g
Fat:
5.5
g
Saturated Fat:
0.9
g
Sugar:
2.2
g