Last week I posted a call on Facebook on which my followers can choose one recipe they want to see next on the blog. The majority has chosen Strawberry Tart, so I found myself challenged to come up with a recipe that not only looks good but tastes good too. This Strawberry and Ricotta Tart doesn't require too much baking and is a great tart perfect for strawberry season.
Therefore, after some search upon tarts, I finally came up with a final recipe that I consider a winner. Now after I tasted it, is a recipe that I will make again and again.
I didn't want to make a classic crust, adding some ground almonds brought so much more texture to it. That made me consider on adding some almond extract to the filling too, and I am glad I did as it complements so well with the rest of the flavors.
I chose ricotta filling for this tart instead of the classic vanilla pastry cream as wanted a quick recipe that is easy to prepare and could play a little with the flavors. Adding fresh mint, lemon zest and almond extract to ricotta made such a wonderful refreshing filling. It also made a perfect pair with the strawberries on top.
So here it is, Strawberry Tart, a refreshing decadent dessert perfect for these summer days. This is a  dessert that can be easily made in advance. You can make the crust and filling a day before, and assemble the tart a few hours before serving.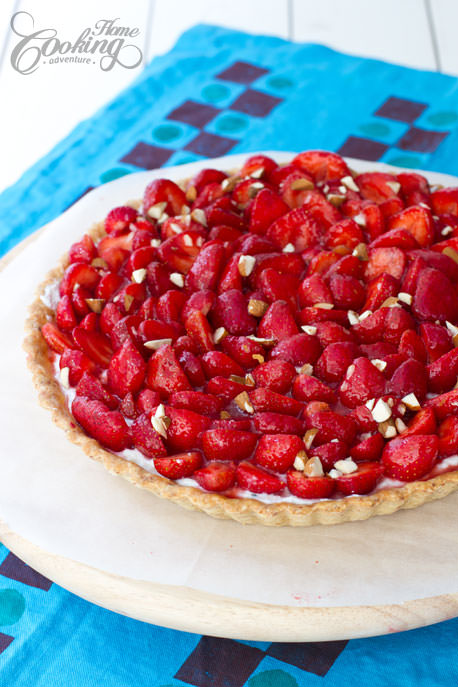 YOU MAY ALSO LIKE:
Peach Galette
Rhubarb Ginger Tart with Rough Puff Pastry
Strawberry Clafoutis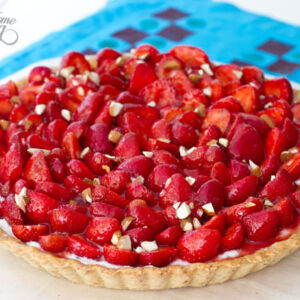 Strawberry and Ricotta Tart
Strawberry Tart with ricotta filling, a refreshing decadent dessert perfect for summer days. This is a dessert that can be easily made in advance.
Ingredients
Almond Sweet Pastry
1 ¼

cups

flour

1/2

cup

ground almonds

1

stick

(110 g) cold unsalted butter

, cut into small (1/2-inch) cubes

1/2

tsp

 (3g) salt

2

tbsp

 (30g) sugar

1

egg

1

tsp

 (5g) vanilla extract

1-2

tbsp

 (15-30ml) ice water
Ricotta Filling
1

pound

(500 g) ricotta cheese

1

tbsp

minced fresh mint

juice of 1 lemon

zest of 1 lemon

1/2

cup

 (60g) powdered sugar

 (5ml) Almond extract
Strawberry Glaze
3

tbsp

(45g) strawberry jam

1

tbsp

(15ml) water
Topping
1 1/2

pound

(700g) fresh strawberries

1

tbsp

(10g) chopped almonds
Instructions
Prepare the sweet pastry for the crust.
In a large bowl mix flour with sugar and salt. Incorporate butter to the flour, using a pastry blender, a fork or a pastry processor, until crumbs are formed. Add egg and vanilla extract and mix them in. Add water and incorporate into the dough. Wrap it with plastic, press slowly to form a disk and refrigerate for at least 30 minutes or overnight.

On o floured surface or over the plastic wrap roll the dough to a circle with about 1 1/2 inches larger than your tart pan. Lift up the rolled dough and place it on a greased 11 inch tart pan lined with parchment paper. Remove the edges and refrigerate for 30 minutes before baking.

Preheat the oven to 350 F (180C).

Prick the dough with a fork and line a parchment paper over the dough. Fill with dry beans, rice or pie weights.

Bake for 15 minutes. Remove the weights and the parchment paper. Return to oven for another 10 to 15 minutes.

Brush the shell with beaten egg and return to oven for 2 minutes more, to seal the shell.

Remove from the oven and let cool completely before removing the shell out of the tart pan.
Prepare the ricotta filling.
In a large bowl place the ricotta cheese with sugar, lemon zest, lemon juice, almond extract and minced mint. Mix it well and refrigerate until ready to fill the tart.
Prepare the strawberry glaze.
Heat the strawberry jam and water and strain it through a sieve. Set aside to cool.
Assemble the tart.
After removing the tart shell from the pan (if desired) start filling it with ricotta mixture. Add halved strawberries on top and brush with strawberry glaze. Sprinkle chopped almonds on top and refrigerate to cool.
Nutrition
Serving:
1
serving out of 8
Calories:
375
kcal
Carbohydrates:
38.5
g
Protein:
10.9
g
Fat:
20.1
g
Saturated Fat:
10.5
g
Cholesterol:
68
mg
Sugar:
11.9
g