For everybody who love broccoli or for those who want to include it in their diet this is one great way to prepare it. Broccoli Quesadillas are a perfect way to use any leftover cooked broccoli. You can also cook the broccoli specific for this recipe, it might be even better. It takes only few minutes to prepare and the final dish is healthy, delicious and tempting, perfect for lunch or dinner.
Broccoli is known to be one of the most nutritious vegetables. It is rich in vitamin C, vitamin A (mostly as beta-carotene), folic acid, calcium, and fiber. I have just discovered that 1 cup of boiled broccoli has more vitamin C than an orange. It also has as much calcium as a glass of milk, according to the USDA's nutrient database.
Broccoli also plays an important role in preventing cancer, regulating blood pressure, cholesterol reduction, maintaining a healthy nervous system, bone health and osteoporosis prevention.
Don't know about you but discovering so many benefits of broccoli I will definitely try to make more recipes with this miraculous vegetable.
Hope you will try these delicious Broccoli Quesadillas and let me know if you try them out. Enjoy!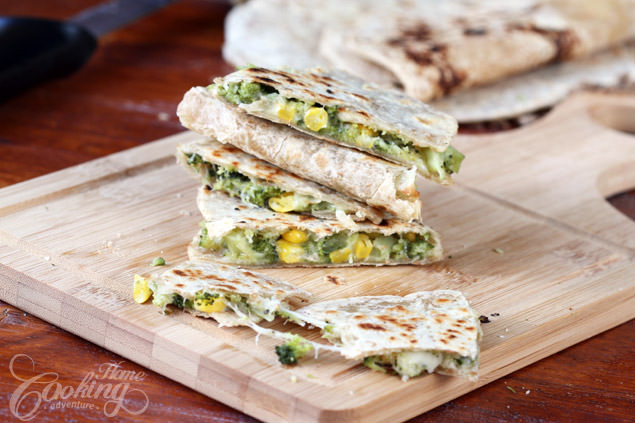 RELATED POSTS: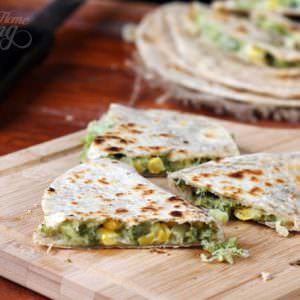 Broccoli Quesadillas
Healthy, delicious and irresistible Broccoli Quesadillas for broccoli lovers. It takes only few minutes to prepare and they are perfect for lunch or dinner.
Ingredients
1

cup

broccoli

, cooked and chopped

1

cup

mozzarella

, shredded

1/4

cup

corn kernels

1/4

tsp

garlic powder

4

flour tortillas (10 inches)

, room temperature

Salt and freshly ground black pepper

, to taste

2

tbsp

olive oil
Instructions
If you want to use homemade tortillas this would be the first step. For homemade tortillas you can find the recipe

. After you make them let them cool down, to reach the room temperature.

To cook broccoli bring a large pot of water to a boil. Add one teaspoon of salt. Add the broccoli florets and cook until crisp-tender for about 2 minutes. Remove and place in a bowl with ice water. Drain and chop the broccoli.

Combine broccoli with cheese, corn and garlic powder. Add salt and pepper. Divide mixture in four, for each tortilla. Add the mixture on one half of the tortillas, and fold it with the other half.

Heat one tablespoon of oil in a large frying pan over medium heat until hot, about 3 minutes. Carefully add two folded tortillas and cook on each side for several minutes until the bottom of tortilla is golden. Flip and cook on the other side too, cheese should be melted and the tortillas gold and crisp. Repeat this step with the other two.

 Remove from pan and slice into wedges. Serve hot or warm.  
Nutrition
Serving:
1
g
Calories:
212
kcal
Carbohydrates:
14.9
g
Protein:
9.6
g
Fat:
13.5
g
Saturated Fat:
4.7
g
Cholesterol:
15
mg
Sugar:
1.1
g