Here is a great recipe for canned sweet cherries. This summer me and my husband had the chance to go cherry picking to one of his aunts orchard. We just went to have fun, wouldn't have expected to really pick so many cherries. The cherries were just perfect, very firm and had nice red color, sweet, succulent and delicious. There is a huge difference in taste, texture and flavor of the fresh cherries who are just picked up from the tree.
I have decided to can some of them for the winter days. We love canned sweet or sour cherries, we serve them as a drink, or dessert, the taste is quite strong and refreshing. Actually the juice from canned cherries was the first juice my little daughter accepted to drink after milk. So this is one of the reasons I still keep doing canned cherries, as kids simply adore it.
If you don't want to have so much juice, you can fill the jars with cherries up to 2/3 of it's capacity. This depends on each person preference and the way is going to be served.
RELATED POSTS: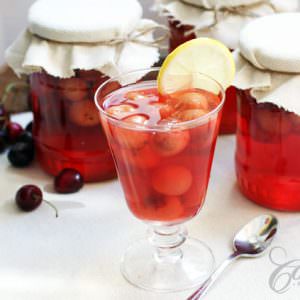 Canned Sweet Cherries
Canned cherries are a great way to preserve cherries over the winter. We serve them as a drink, or dessert, their flavor is quite strong and refreshing.
Ingredients
6

pounds

(3kg) sweet or sour firm cherries

lemon juice of 2 or 3 lemons

4

tbsp

(60g) sugar for each jar

10 or 12 (27 fl oz-800ml) jars
Instructions
Wash the jars and lids thoroughly in hot soapy water or use your dishwasher machine. Let them drain well. Put the lids into a bowl of hot water and leave them for 5 minutes.

Wash the cherries in cold water. Remove the pits if desired, I preferred not to this time.

Fill each jar with cherries, up to 1/2 of its capacity. Add 4 tbsp of sugar on each jar.

Cover cherries in jar with boiled water leaving 1/2 inch head space. Squeeze the lemons and split the juice to the jars.

Preheat the oven to 350 F (180C).

Put the lids, and place the jars into a baking tray. Place the baking tray into the oven and add hot water into the tray. Leave for about 1 hour until the water in jars starts to boil, and some bubbles start to rise onto the top. Reduce the heat to 300F (150 C) and let them boil another 30 minutes. 

Remove from the oven and set aside to cool down. Keep them in a cool place or in your pantry until ready to be served. I like   to serve them chilled so  I refrigerate them a day before serving. 
Nutrition
Serving:
1
g
Calories:
483
kcal
Carbohydrates:
120.4
g
Protein:
0.9
g
Fat:
0.2
g
Sugar:
50.4
g