Ever since I've made Medovik I've wanted to try a chocolate version of it. Took me some time but I finally did it and it is absolutely delightful. This Chocolate Medovik – Chocolate Honey Cake (Spartak Cake) consists of eight honey cocoa layers filled with a cocoa cream filling and topped with chocolate glaze. The layers get softened by the filling and they simply melt in your mouth.
You can choose for a more simple decoration, to fully cover the cake with reserved cookie crumbs, as a more classic approach, or do as I did, top with chocolate glaze, decorate with whipped cream and caramel shards and cookie pieces.
I shared this cake at a family gathering and everybody loved it and asked for more. Hope you will give this Chocolate Spartak Cake a try and enjoy as much as we did.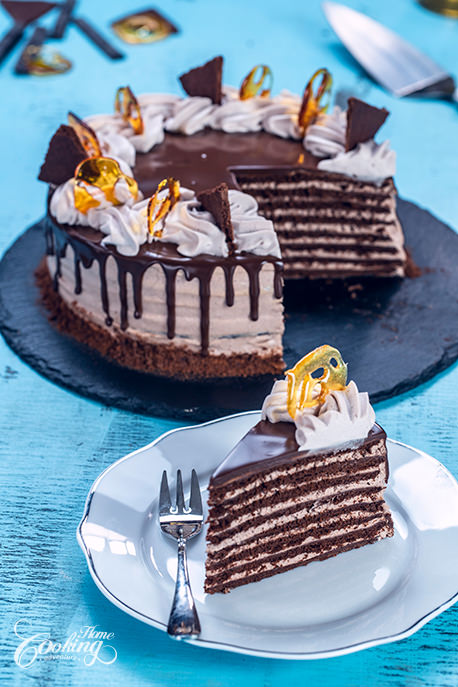 RELATED POSTS:
Medovik 
Refined sugar free Chocolate Honey Cake
Chocolate Crepe Cake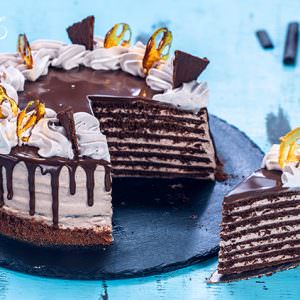 Chocolate Medovik - Chocolate Honey Cake
Chocolate Medovik - the cake consists of eight honey cocoa layers filled with a cocoa cream filling and topped with chocolate glaze. The layers get softened by the filling and they simply melt in your mouth.
Ingredients
Cocoa Honey Cake Layers
3 ¾

cups

(470g) all purpose flour

1/2

cup

(60g) cocoa powder

1/2

cup

(113g) butter

1/3

cup

(120g) honey

2/3

cup

(135g) sugar

1

tsp

(6g) baking soda

1/2

tsp

(3g) salt

1

tsp

(5g) vanilla extract

3

eggs
Sour Cream Frosting
2

cups

(500g) sour cream

25% fat

2/3

cup

(80g) powdered sugar

2

tbsp

(16g) cocoa powder

2

tbsp

(40g) honey

1

tsp

(5g) vanilla extract

2

cups

(500g)

whipping cream 35% fat
Chocolate Glaze
3.5

oz

(100g) semisweet chocolate

4

oz

(120g) whipping cream
Caramel shards
1/2

cup

(100g) sugar

1

tbsp

(15ml) water
For decorating
leftover cuts

turned into crumbs and cookie triangles

whipped cream
Instructions
Prepare honey cake layers. Preheat the oven to 350F (180C).

In a medium bowl, sift the flour with cocoa powder and set aside until ready to use.

In a medium saucepan add sugar, butter and honey and place over medium-low heat. Bring to a simmer and continue to cook for 4-5 minutes more until fragrant and darkens slightly.

Whisk in baking soda (it will bubble and get lighter in color) and then remove from heat.

Set aside for 4-5 minutes while you beat the eggs.

Add salt and vanilla extract to the warm mixture.

While whisking continuously pour beaten eggs little by little until all are incorporated.

Gradually incorporate sifted flour mixture and transfer the dough to a lightly floured surface.

Divide dough into 8 equal pieces.

On a parchment paper roll each piece 1-2 mm thickness. Using a cake ring cut into 8 inch (20cm) discs.

Reserve the remaining cuts for later baking.

Prick each disc with a fork and bake for about 7 minutes until cooked through.

Transfer to a cooling rack to cool completely. As the discs cool they harden.

Reroll the reserved cuts and cook for 7 minutes. Cool completely and keep it for decoration.

Prepare sour cream frosting.

In a large bowl mix sour cream with powdered sugar, cocoa powder, vanilla and honey.

In another bowl whip the cream until stiff peaks form.

Gradually fold the whipped cream into the sour cream mixture.

Assembly. Add a bit of frosting on the serving platter. Place a chocolate honey cake layer on top. Add some pieces of parchment paper under the first layer to keep the platter clean as assembling.

Spread frosting over it and top with another layer of cake. Repeat this process until all 8 layer cakes are used.

Cover the sides and top of the cake with sour cream frosting, smooth the top and edges using a spatula.

Refrigerate the cake overnight to let the layers soften.

In the bowl of a food processor, place some of the reserved cookie layer made from cuts, and process to turn into crumbs.

Use the crumbs to decorate the bottom side of the cake.

Prepare chocolate glaze. Place chocolate and cream in a heatproof bowl and place over a pan with simmering water. Melt over low heat.

Use a spoon and start making drips around the edges. If the ganache hardens too much, heat it a bit over bain-marie to get to a pouring consistency. When you finish all the drips on the edges, fill the top with ganache and spread it evenly using the offset spatula. Refrigerate for at least 30 minutes before decorating.

Optionally make caramel decoration. Place water and sugar into a small saucepan and cook over medium heat until sugar dissolves and gets a caramel dark color.

Use a spoon and drizzle over a parchment paper to create some round caramel decorations.

Let set completely before removing from the parchment paper.

You can decorate the top with some whipped cream using a 1M piping tip. Cut the remaining cookie layer into small triangles to decorate the top of the cake. Add the caramel decorations. Enjoy!
Nutrition
Serving:
1
g
Calories:
537
kcal
Carbohydrates:
60.8
g
Protein:
8.1
g
Fat:
31.4
g
Saturated Fat:
19.1
g
Cholesterol:
116
mg
Sugar:
29
g