Choux au Craquelin are mini cream puffs topped with a sweet crispy topping, called craquelin, that are simply hard to resist.
The craquelin is a dough made with softened butter, brown sugar and flour. It is chilled and then cut into thin discs to place on top of the choux to bake together. You can add different colorings and flavorings to the craquelin to create various memorable cream puffs.  You can also choose various fillings, from pastry cream to simply chantilly cream, ice cream, fruits or anything else you might like best.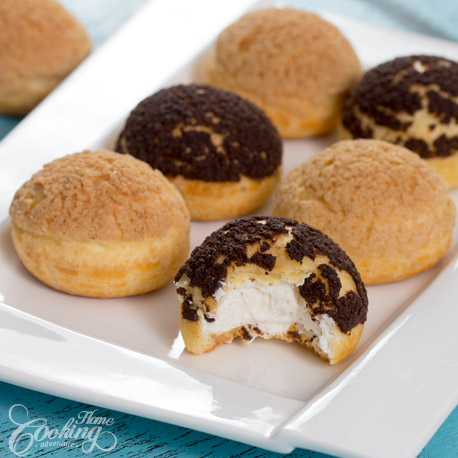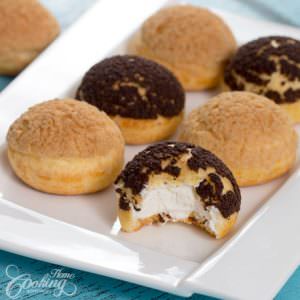 The advantage of using craquelin on top of the choux pastry is that while baking, beside the amazing crispy texture, it helps creating an even top, without cracks. Hope you will try these Choux au Craquelin – Crispy Cream Puffs as they are simply delightful. Enjoy!
RELATED POSTS:
Vanilla Raspberry Mini Eclairs
Cheese Puffs – Gougeres
Croque en Bouche
Chocolate Cream Puffs
Vanilla Eclair Cake
Chocolate Eclair Cake
Pistachio Raspberry Mini Eclairs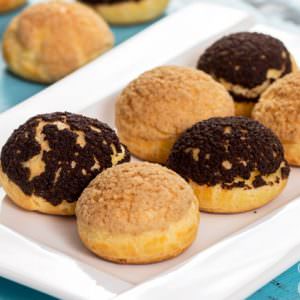 Choux au Craquelin - Crispy Cream Puffs
Choux au Craquelin are mini cream puffs topped with a sweet crispy topping, called craquelin, that are simply hard to resist.
Ingredients
Craquelin
1/4

cup

(56g) butter

, room temperature

1/3

cup

(67g) light brown sugar

1/2

cup

(62g) flour

1

tbsp

(8g) unsweetened cocoa powder
Choux Pastry
1

cup

(125g) all-purpose flour

3.5

oz

(100ml) milk

3.5

oz

(100ml) water

2

tsp

10g) sugar

1/2

tsp

(2g) salt

5 ½

tbsp

(80g) unsalted butter

4

eggs
Chantilly Cream
2

cups

(480g) whipping cream

, 35% fat

1/2

cup

(60g) powdered sugar

1

tsp

(5g) vanilla extract
Instructions
Prepare the craquelin. In a bowl, cream together the butter and sugar, using a spatula or wooden spoon. Add flour and mix until combined. Divide the mixture in two and add cocoa powder in one half of it.

Put the dough between two sheets of plastic wrap or parchment paper and roll the dough until very thin, about 2-3 mm thick.

Refrigerate the two pieces of dough for 1 -2 hours or freeze for 30-45 mins.

Meanwhile prepare the choux pastry. Sift the flour. In a saucepan bring the milk, water, sugar, salt and butter to a boil.

Remove from heat and add flour all at once and incorporate mixing energetically with a wooden spoon until homogenous.

Return the saucepan over low heat and while stirring cook for 1 minute or two to pull out the moisture from the batter and until it pulls away from the sides of the pan. You will see some of the dough sticks to the bottom of the pan.

Transfer batter to a large bowl and allow to cool. Add the eggs one at a time, carefully incorporating each into the batter using the wooden spoon or even a stand mixer. It will result in a smooth, homogeneous batter which still holds its shape.

Preheat oven to 350F (180C).

Fit a pastry bag with a large ½ inch (1cm) round tip and pipe the dough into 1 inch (3 cm) circles on a parchment paper lined baking sheet.

Remove the craquelin dough from the freezer or fridge and cut 1 inch (3cm) discs, using a cookie cutter or a piping tip.

Place the discs on top of the choux, pressing slightly.

Bake for 25-30 minutes until browned and puffed.

Prick each with a skewer to release steam and allow to cool on a wire rack.

Prepare Chantilly Cream . In a large bowl whip the cream with an electric mixer until it forms stiff peaks. Add sugar and vanilla extract and mix to combine.

Use a piping bag with a small plain tip to pipe the cream inside the choux from the bottom of it.

Refrigerate until ready to serve.
Nutrition
Serving:
1
g
Calories:
89
kcal
Carbohydrates:
7.8
g
Protein:
1.5
g
Fat:
5.9
g
Saturated Fat:
3.5
g
Cholesterol:
35
mg
Sugar:
3.5
g