Stromboli is a lot like a calzone, pizza, or bread dough that gets rolled up with yummy fillings and then baked. The shape is usually a long cylinder, which makes it look pretty cool. This Chicken Stromboli is a delightful dish you can whip up whenever you have some leftover chicken or turkey. It's perfect for a tasty lunch or as a yummy appetizer to share with friends and family.
If you're in a rush, you can even use store-bought dough and pizza sauce. But if you have the time, making the dough and tomato sauce from scratch will take this recipe to a whole new level of goodness. Trust me, it's totally worth the effort!
The dough recipe I'm using here is the same one I used for making homemade pizza, and it turns out fantastic. I've also added in the homemade tomato sauce, which complements the cooked chicken beautifully.
So get ready to enjoy a mouthwatering Chicken Stromboli that will leave your taste buds jumping with joy. It's easy to make, and the homemade touch will make it even more special and delicious. Give it a try, and you won't be disappointed!
How to make Chicken Stromboli
To create a delicious and flavorful Chicken Stromboli, start by preparing the dough, then prepare the filling and then you can assemble the chicken stromboli. 
Prepare the pizza dough
Begin by stirring the yeast with sugar until it liquefies. Dissolve the yeast mixture in approximately ¼ cup (60 ml) of warm water. In a large bowl, combine the flour with salt. Gradually add the dissolved yeast, oil, and another ¾ cup of warm water to the bowl. Mix everything together until well combined, then knead the dough until it becomes smooth and starts to pull away from the sides of the bowl.
Once the dough is ready, place it in an oiled bowl, cover it with plastic wrap, and let it sit at room temperature for at least 2 hours. During this time, the dough will rise and double in size, creating a light and fluffy texture.
While the dough is rising, preheat your oven to 400°F (200°C) and line a baking sheet with parchment paper, ensuring easy cleanup and preventing sticking.
Assemble the chicken stromboli
Once the dough has doubled in size, transfer it onto a floured surface and roll it out into a rectangle measuring approximately 12×16 inches (30x40cm). This will provide ample space for the filling.
In the center or along one edge of the rolled-out dough, arrange a row of mozzarella cheese. In a separate bowl, combine shredded chicken with tomato pizza sauce, creating a flavorful mixture. Spread this mixture over the mozzarella cheese, and then sprinkle Parmesan cheese and fresh basil leaves on top for added depth of flavor.
To encase the filling, carefully fold the dough over the ingredients and roll it up, making sure to seal the edges on all sides to prevent any leakage during baking. Place the rolled Stromboli seam side down on the prepared baking sheet.
For a golden and shiny crust, brush the top of the Stromboli with a beaten egg. Sprinkle additional Parmesan cheese on top and make a few diagonal cuts on the surface to allow steam to escape during baking.
Bake the Chicken Stromboli in the preheated oven for approximately 30 minutes, or until it turns a beautiful golden brown color. The aroma that fills your kitchen will be irresistible. Once baked, remove the Stromboli from the oven and let it cool for about 10 minutes before slicing and serving with your favorite dipping sauce. 
Don't forget to tag me in your Instagram posts or stories, so I can see your amazing results. Enjoy!
Other recipe you may like to try
​​These Vegetable Egg Rolls are a widely enjoyed take out appetizer that can be easily executed in your own kitchen. This vegetarian version requires only a few basic ingredients. The sesame ginger dipping sauce recipe featured here really complements them and enhances their flavor.
This Puff Pizza Ring is an easy appetizer idea you can prepare in just a few minutes and have it ready by the time guests arrive. It looks quite impressive and appetizing and takes no more than 10 minutes to have it ready to go in the oven. You can make a lot of variations to the filling used, simply add your favorite ingredients either sweet or savory and roll it up to create this beautiful ring of puff pastry.
These Caramelized Onion and Mushroom Puff Pastry Hand Pies are an amazing comforting dish. These savory Hand Pies consist of flaky puff pastry filled with a flavorful filling with caramelized onion, mushrooms, fresh thyme and cheese. The puff pastries are topped with some Parmesan Cheese and then baked until golden and crisp. The best way to serve them is right after you take them out of the oven. Serve with a fresh salad or your favorite dipping sauce.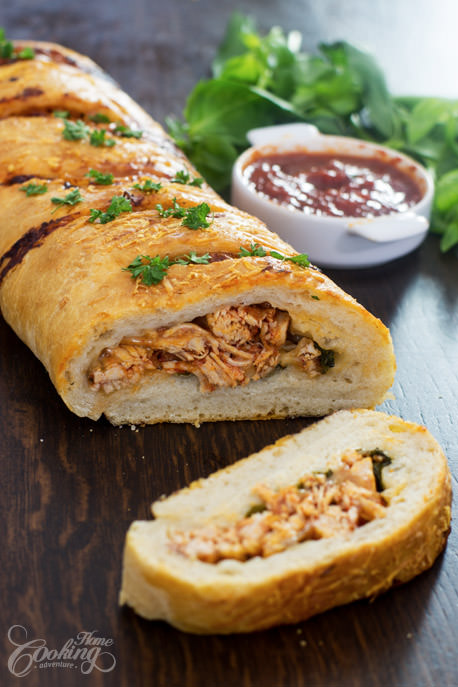 YOU MAY ALSO LIKE:
No-Yeast Breakfast Pizza
Potato Crust Pizza
Margherita Pizza with Cauliflower Crust
Quick and Easy Bread Pizza
Tuna and Red Onion Pizza
Mushroom Pizza with Thin Crispy Crust
Breakfast Pizza
Pizza Pinwheels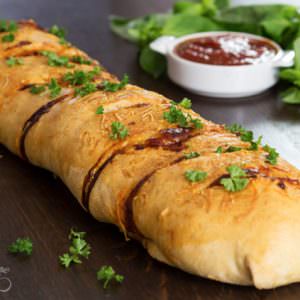 Chicken Stromboli
This Chicken Stromboli is a delicious dish you can prepare whenever you have leftover chicken or turkey and it makes a great lunch or appetizer. If you are in a hurry you can even use store-bought dough, but making the dough from scratch whenever this is possible, improves the quality of this recipe.
Ingredients
Pizza Dough
3

cups

(375g) bread flour

1

tsp

(5g) salt

10

g

fresh yeast (or 1 tsp active dry yeast)

1

tsp

(5g) sugar

2

tbsp

(28ml) olive oil

1

cup

(240ml) warm water
Filling
2

cups

(300g) chicken

, cooked and shredded

1/2

cup

(120g) pizza sauce

1

cup

(100g) Mozzarella cheese

1/2

cup

(50g) Parmesan Cheese

Basil leaves
Topping
1

egg

, beaten

Parmesan Cheese

, grated
Instructions
Prepare the dough.
Stir yeast with sugar until it liquefies. Dissolve in about ¼ cup (60 ml) warm water. In a large bowl mix flour with salt. Add dissolved yeast, oil and gradually ¾ cup warm water. Mix everything together then knead until smooth and pulls away from the sides of the bowl.

Place the dough in an oiled bowl, cover with plastic wrap and let it sit for at least 2 hours at room temperature, to let the dough rise until doubled in size.

Preheat oven to 400F (200C). Line a baking sheet with parchment paper.
Assemble the stromboli.
Onto a floured surface turn the dough and roll into a 12×16 inch (30x40cm) rectangle.

Add mozzarella in a row in the center or edge. In a bowl combine shredded chicken with tomato pizza sauce and spread over the mozzarella. Top with Parmesan cheese and basil leaves.

Fold the dough over the filling and roll, seal the edges on all sides.

Place it seam side down on the prepared baking sheet.

Brush with beaten egg, sprinkle Parmesan cheese and cut slices on top to let the steam escape.

Bake for about 30 minutes or until golden brown.

Let it cool for about 10 minutes before serving.
Nutrition
Serving:
1
serving out of 10
Calories:
249
kcal
Carbohydrates:
32.3
g
Protein:
16.3
g
Fat:
6
g
Saturated Fat:
1.8
g
Cholesterol:
27
mg
Sugar:
0.9
g