I could hardly wait to arrive to Paris. This is our second time to Paris, so we had more expectations, as we knew the city better and knew exactly where we want to go and what we want to experience. Itwas the right time for a culinary adventure in Paris.
Paris is an incredible city, full of culture and amazing architecture. Everywhere you look the buildings are just impressive.
This time we wanted, as much as possible, to stay away from the major touristic places as we have already seen most of them, and seek places less crowded by tourists, trying to experience the Parisian way of living.
This is how we get to find our accommodation close to Rue Mouffetard, one of Paris oldest streets, narrow, but very full of life, in the heart of Paris, with lots of restaurants, cafes, open markets and various shops, a perfect place you want to be in the morning for a delightful breakfast.
We really wanted to get to Cafe de Flore, one of the oldest and most prestigious coffeehouses in Paris. It is located in Saint-Germain-des-Prés, first opened in 1885, and visited by famous people like Picasso, Ernest Hemingway, Brigitte Bardot, Alain Delon, Yves Saint Laurent, Sartre, Cioran, famous film makers and directors, actors and the list can go on. It is known for its famous clientele even in our days. When asked if we can take photos inside, they refused.. telling us there are too many famous people inside who don't want to be photographed.
Very close to the beautiful church La Madeleine, we couldn't have missed Laduree, a luxury bakery and sweets maker house in the very heart of Paris. We visited the original place where the house was founded in 1862, still open to the public. Now, also a restaurant and tea salon, it's the ultimate expression of the French lifestyle and cuisine. In 1930 Pierre Desfontaines, the grandson of Louis-Ernest Ladurée had the original idea of creating the famous macarons (two almond meringue discs filled with a layer of buttercream, jam, or ganache filling). Since then,  Laduree is still one of the best known makers of macarons in the world.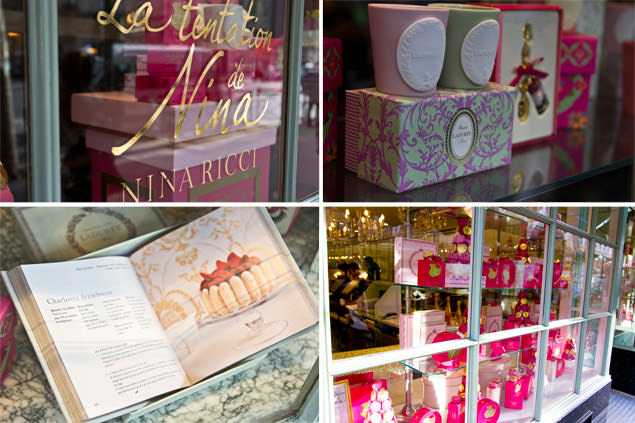 Laduree competitor, Pierre Hermé is another popular choice in Paris, known for their famous macarons as they actually bring unusual flavor combinations while Laduree is more classic.
Fauchon founded in 1886, the most luxurious store in Paris selling delicatessen, cakes and pastry, breads, confectionery is also worth to be visited. With so many options you could hardly decide what to finally buy.
You can not be in Paris and not enter in one of their great boulangeries to buy fresh baguettes, croissants or any other delicious treats. You can feel the smell of a boulangerie from distance.. so tempting and totally irresistible.
I wanted to take advantage of being in Paris and take some cooking classes. I found this school in the center of Paris, called La Cuisine Paris. It is very easy to find, located minutes away from Notre Dame, or Hotel de Ville.  I had a very nice time there as the staff were really friendly and professional.
First class I took was a Chocolate lover class with Chef Diane. She was so kind to share from her knowledge. In only three hours we were ambitious enough to make some pretentious recipes.
We made Chocolate and Salted Butter Caramel Tartelettes, we began with Pate Brisse and learned how to place it in molds. We learned how to make the  perfect salted caramel, and then  learned the techniques of using both types of chocolate, dark and white, in various recipes, making chocolate ganache for the tartelettes, white chocolate and lime truffles, white chocolate mousse with Strawberry Coulis Sauce and Marzipan hearts dipped in dark chocolate.
All sound amazing and the result was as we expected – not disappointing at all.  At the end of our class we all enjoyed our treats and took home some of our creations. After a night in the fridge the tartelettes and truffles were just incredible.
Second class I took was French Baguette and Boulangerie Class. The menu included Baguettes Parisiennes, of course and Fougasses which are Artisanal breads filled with a variety of ingredients such as cheeses, spices, dried fruits, and nuts.
Chef Justin who made his training in one of the most prestigious schools in Paris- Gregoire Ferrandi culinary school, taught us how to knead and work the bread by hand, also the techniques which makes possible creating the most amazing Parisian baguettes in our homes.
We did all from scratch, with our own hands, no machine involved. I think there is not necessary to mention  the smell that came while they were baking… simply divine.
No matter how many times you go to Paris, there is always something new to discover. I am looking forward for the next visit, hope sooner than later.