I've been mentioning in previous posts that while in Paris I bought the Sucre book from Laduree. One of my favorite cookbooks so far I could say. There I saw a cake called Harmonie, that had the cake layers made from pistachio macaron batter instead of regular cake. Wow.. really? I would have never thought to create a giant macaron and serve it as cake… I found that pretty challenging. As my husband's birthday was approaching I decided to give it a try, especially for this occasion.
For the pistachio macaron layers I didn't use the Laduree recipe. I wanted to the use Italian method for macarons I got used lately, therefore I changed the recipe accordingly. Instead, I used Laduree recipe for pistachio cream filling.
I must say this is the most sophisticated cake I have ever done. I felt very proud of myself when this was done and the result was as expected. This Pistachio strawberry macaron cake looks different than a regular cake. It is quite impressive I would say and the flavors are incredible. As it is topped with fresh strawberries the sweetness of the cake is very well balanced.
I know it may seem a difficult recipe for some, but once you understand what you have to do it is quite easy. A macaron cake will impress family or friends, it is a perfect cake for anniversaries, parties, or showers. Hope you will give it a try and don't forget to let me know if you do.
To make sure you have everything you need for this recipe you will need  beside the list of ingredients, a candy thermometer, and a piping bag fitted with a 1/2 inch (10mm) plain tip.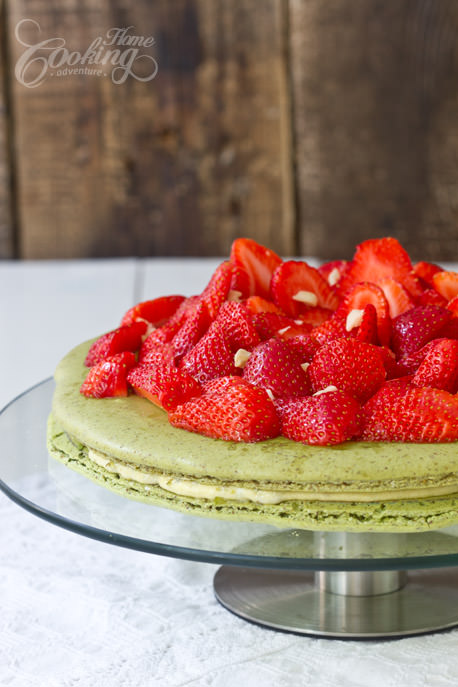 RELATED POSTS:
Coconut Macarons with White Chocolate Strawberry Ganache
Chocolate Macarons with Salted Caramel Filling
Cappuccino Macarons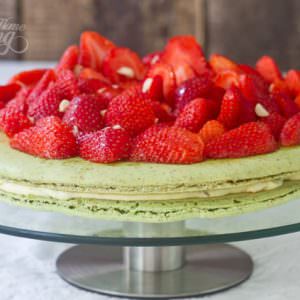 Pistachio Strawberry Macaron Cake
If you are looking for a sophisticated cake try this Pistachio Strawberry Macaron Cake. It will definitely impress your friends and family.
Ingredients
Pistachio Macaron
100

g

ground almonds

40

g

shelled raw pistachios

50

g

egg whites

137

g

powdered sugar

50

g

egg whites

137

g

granulated sugar

34

g

water

pinch of salt

food colouring: green and yellow
Pistachio Cream Filling
6

tbsp

(90 g) butter

, room temperature

3/4

cup

(180 ml) milk

2

egg yolks

1/4

cup

(50 g) granulated sugar

2

tbsp

cornstarch

40

g

shelled raw pistachios

1/4

cup

(60 g) pistachio paste
Topping
1

pound

fresh strawberries

raw pistachios

, chopped
Instructions
Line 2 baking sheets with parchment paper and draw a 9 inch (23 cm) diameter circle on each. Preheat oven to 300 F(150C).

Ground raw pistachios in a food processor.

Add ground almonds,powdered sugar and salt and pulse to obtain o fine powder. Sift through a sieve.

In a bowl with 50 g egg whites add food coloring, stir and pour over almonds mixture.

Place the other 50 g of egg whites into a mixer bowl. Set aside until you prepare the sugar syrup.

In a small sauce pan combine caster sugar with water and place on medium heat. Using a candy thermometer measure syrup temperature. When it reaches 230 F (112C) start whipping the egg whites. When the syrup hits 244F (118C) pour it over the whipped egg whites while mixing continuously. Continue beating until the bowl has cooled slightly, and glossy stiff have formed.

Add the whipped whites over the almonds mixture and using a rubber spatula gently fold in until combined and smooth. Work the batter until it flows in very thick ribbons when the spatula is lifted.

Transfer the mixture to the piping bag fitted with a 1/2 inch (1 cm) plain tip. On one sheet, following the drawn circle, pipe a disk of batter in a spiral, filling the whole circle. On the other sheet pipe a ring following the drawn circle (about 1 inch), which will be the border of the cake.

Bake in the preheated oven for 25-30 minutes. Remove from oven and allow to cool. Do not remove the macaron ring from baking sheet while still warm as it will break.

While the macaron disk and ring are baking prepare the pistachio cream filling. In a sauce pan bring milk to a simmer.

Whisk egg yolks with sugar until light yellow. Add cornstarch.

Pour a third of the hot milk over the yolks mixture and pour the whole mixture back into the pan. Bring to a boil while stirring with a whisk. Remove from heat and let cool for 10 minutes and then incorporate half of the butter. Cover with plastic wrap and allow to cool.

Meanwhile chop the raw pistachios. Wash the strawberries, drain and cut in halves.

In a large bowl whip the cooled cream with an electric mixer. Add the other half of butter and pistachio paste, whip until smooth. Fold in chopped pistachios.

Assemble the cake: Place the macaron disk upside down on a serving platter. Transfer cream into a piping bag fitted with a plain tip and pipe a thick layer in a spiral.

Remove the macaron ring from the baking sheet and place it over the cream. Arrange the strawberries in the center. Sprinkle some chopped pistaachios. Refrigerate for few hours to let the macaron layers get softened by the cream.
Nutrition
Serving:
1
g
Calories:
420
kcal
Carbohydrates:
53.5
g
Protein:
8
g
Fat:
21.6
g
Saturated Fat:
7.5
g
Cholesterol:
79
mg
Sugar:
45.4
g