The Paris-Brest dessert is an irresistible French delicacy with a unique texture. The choux pastry shell is crispy, topped with crunchy toasted almonds, and filled with a mouth-watering hazelnut and almond praline paste mousseline cream. It's not surprising that one cannot help but fall in love with this dessert.
Why is it called a Paris-Brest?
The name Paris-Brest comes from the cycling event that took place in 1910, from Paris to Brest and back to Paris. In honor of the race, the Paris-Brest dessert was created, resembling the shape of a bicycle wheel. It consists of a ring of choux pastry, with a praline mousseline cream filling, and with flaked almonds, and powdered sugar decoration. The dessert is high in calories, providing the riders with the necessary energy. Soon became very popular, now known worldwide.
Few tips on how to prepare it
Although not too difficult to prepare, making the Paris-Brest dessert may take some time, especially if one decides to make the praline paste from scratch. To make the process easier, it is best to prepare the praline paste and vanilla pastry cream in advance and leave the choux pastry and mousseline cream for the next day. With a bit of patience and effort, one can enjoy the rewarding experience of preparing and savoring this delightful dessert.
The Paris-Brest dessert is not only a culinary masterpiece but also a symbol of French culture and history. Its unique shape and rich flavors reflect the creativity and ingenuity of the French people. With its irresistible taste and cultural significance, the Paris-Brest dessert is a must-try for anyone seeking to explore the diverse and fascinating world of French Cuisine. 
Hope you will give this amazing dessert a try. Don't forget to share the photos with me on Instagram if you do.
For those who appreciate French cuisine, this collection of 35 French desserts is sure to delight. This selection includes iconic French recipes that have played a significant role in shaping French gastronomy.
YOU MAY ALSO LIKE:
Vanilla Eclairs
Chocolate Cream Puffs
Crispy Cream Puffs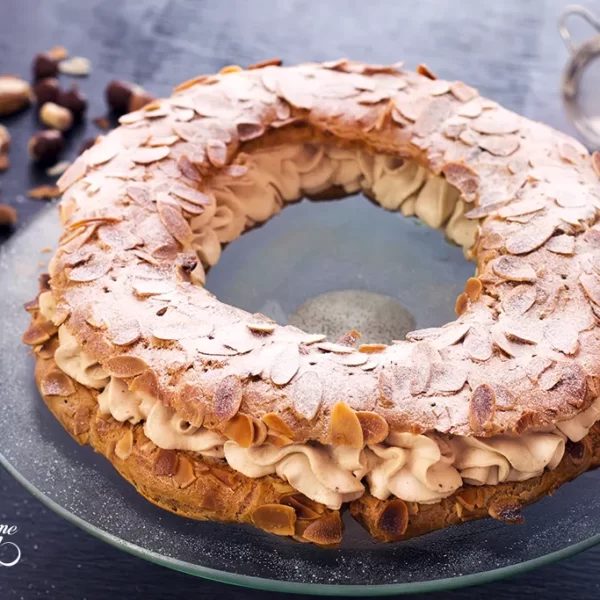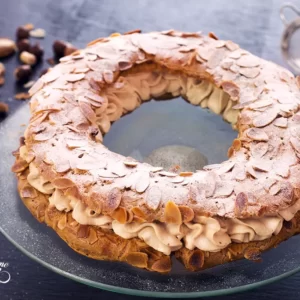 Paris-Brest
Paris-Brest is made from a ring of choux pastry filled with praline mousseline cream and decorated with flaked almonds and powdered sugar, imitating the shape of the bicycle wheel. It is obviously a high calorie dessert that gave energy to riders, soon became very popular and now is a dessert known worldwide.
Ingredients
Praline Paste (makes about 7 oz - 200g paste)
1/2

cup

(75g) whole hazelnuts

1/2

cup

(75g) whole almonds

1/2

cup

(100g) sugar

2

tbsp

(30ml) water

pinch of salt
Choux Pastry
1

cup

(125g) all-purpose flour

3.5

fl. oz

(100ml) milk

3.5

fl. oz

(100ml) water

2

tsp

(10g) sugar

1/2

tsp

(2g) salt

5 ½

tbsp

(80g) unsalted butter

4

eggs
Praline Mousseline Creme
2

cups

(480 ml) milk

4

egg yolks

1/3

cup

(70g) sugar

2

tbsp

(20g) flour

1/4

cup

(30g) cornstarch

1

tsp

(5g) vanilla extract

1

tbsp

(15g) unsalted butter

7

oz

(200g) praline paste

2/3

cup

(150g) butter

, room temperature
Topping
1

egg

, beated

almond flakes

powdered sugar for decoration
Instructions
Prepare the praline paste.
Preheat oven to 300F (150C). Place the nuts on a baking sheet and let them toast for 15 minutes.

Transfer the toasted nuts onto a clean kitchen towel and rub the nuts to remove as much skin as possible. Let them cool completely.

In a small saucepan heat sugar and water over medium high heat until turns golden brown. Stir in nuts to coat with the caramel and transfer the praline to a baking sheet to cool completely.

Break the praline into smaller pieces

Grind in a food processor until it gets into a thick paste, for about 10 minutes.

Refrigerate until ready to use.
Prepare the choux pastry.
Line a baking sheet with parchment paper and draw a 8 inch (20 cm) circle. Flip the parchment paper, make sure the circle line is still visible.

Preheat oven to 350F (180C).

Sift the flour. In a saucepan bring the milk, water, sugar, salt and butter to a boil.

Remove from heat and add flour all at once and incorporate mixing energetically with a wooden spoon until homogenous.

Return the saucepan over low heat and while stirring cook for 1 minute or two to pull out the moisture from the batter and until it pulls away from the sides of the pan. You will see some of the dough sticks to the bottom of the pan.

Transfer batter to a large bowl and allow to cool. Add the eggs one at a time, carefully incorporating each into the batter using the wooden spoon or even a stand mixer. It will result in a smooth, homogenous batter which still holds its shape.

Fit a pastry bag with a large ½ inch (1cm) round tip and pipe two circles of pastry next to each other following the drawn line. Pipe another one overlapping the first two.

Brush with beaten egg and sprinkle almond flakes over the top.

Bake for 45-50 minutes until browned and puffed. Turn off the heat and let cool in the oven for 15 minutes with the oven door slightly ajar.

Remove from the oven and prick with a toothpick to let the steam escape.

Cool completely on a wire rack.
Meanwhile prepare the Praline Mousseline Creme.
First prepare the pastry cream. Whisk the egg yolks with sugar until slightly pale.

Incorporate the cornstarch and flour. Pour the milk into a saucepan and bring to a simmer. Pour about a third of the hot milk over the egg yolks mixture. Pour the whole mixture into the saucepan over the milk. Bring to a boil while stirring and thickens. Keep enough over heat to cook all the cornstarch. Remove from heat, add vanilla and incorporate 1 tablespoon butter.

Pour the cream into a clean bowl , cool slightly, cover with plastic wrap, pressing it directly onto the surface of the pastry cream to prevent forming a skin on the surface.

When completely chilled mix until smooth. Add praline paste and mix until combined. Gradually mix in butter and continue mixing until creamy.
Assemble Paris-Brest.
Cut the choux pastry in half. Place the bottom part onto a serving platter.

Transfer the praline mousseline creme into a piping bag fitted with 1M star tip. Pipe 1 line of creme to fill the bottom then top with a thicker and beautiful decorated line of cream.

Top with the second half of pastry.

Refrigerate for at least 1 hour before serving.

Dust with powdered sugar and serve. Keep the leftovers refrigerated.
Nutrition
Serving:
1
serving out of 8
Calories:
546
kcal
Carbohydrates:
46.3
g
Protein:
10.7
g
Fat:
36.8
g
Saturated Fat:
18.6
g
Cholesterol:
259
mg
Sugar:
26.7
g