This Spinach and Shiitake Mushroom Stuffing is a must-try recipe for any Thanksgiving feast. Combining classic stuffing ingredients with the savory, earthy flavor of shiitake mushrooms, and the added bonus of nutrient-rich spinach, this recipe is sure to please even the pickiest of eaters.
 The end result is a mouth-watering dish with a crispy exterior and a moist, flavorful interior that perfectly complements any other sides on your Thanksgiving table. 
How to make Spinach and Shiitake Mushroom Stuffing
To prepare this savory stuffing dish made with bread cubes, vegetables, and mushrooms, first dry out the bread cubes either overnight or in the oven at 350F (180C) for 10-15 minutes (making sure they do not brown).
Then sauté onions, celery, and garlic in butter until tender and season with salt and pepper. Add white wine and cook until evaporated before wilting spinach leaves in the mixture. Separately, brown shiitake mushrooms in butter and season before mixing with the bread cubes, celery, onion, and spinach in a large bowl. Add chopped herbs to the mixture before moistening with a mixture of eggs and chicken stock.
Transfer the stuffing to a buttered baking dish, cover with foil, and bake until fully cooked and browned on top.
Don't miss out on the chance to savor this irresistible and easy-to-make stuffing. If you try it out, make sure to share the photos with me on Instagram. Enjoy the delicious taste and nutritional benefits of this Thanksgiving staple!
Other mushroom recipes you may like to try
Rustic galettes are the perfect choice for whenever you need a quick impressive dish either savory or sweet. This Mushroom Egg Galette is a comforting dish full of flavor and color perfect for any time of the day.
These Sauteed Mushrooms with Caramelized Onion is one of the best and quick ways to cook mushrooms. The mushrooms are cooked to perfection, infused with the sweet flavor of caramelized onion. By adding a splash of wine, the flavor of the mushrooms is elevated to new heights, resulting in a truly irresistible dish.
This Spinach and Mushroom Quiche  is very tasty,  easy to prepare and goes very well for breakfast or lunch. Mushroom and spinach makes a perfect combination and makes the quiche really flavorful and appetizing especially when paired with the flaky buttery crust. 
YOU MAY ALSO LIKE:
Mashed Potato Casserole
Roasted Sweet Potatoes
Turkey Roulade with Cranberry and Spinach Stuffing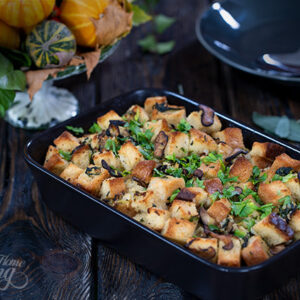 Spinach and Shiitake Mushroom Stuffing
Stuffing is one of the essential side dishes in the Thanksgiving meal. This version combines in the classic recipe, shiitake mushrooms, which impart an irresistible earthy, garlicky aroma rounded with umami notes and spinach ( a good excuse for incorporating more leafy veggies in a rich menu).
Ingredients
1

large loaf bread (about 28oz - 800g)

, cut into 1 inch cubes

4

tbsp

(56g) butter

, for cooking onion

1

large onion

, diced

1 ⅓

cup

(150g) celery

, diced

2

garlic cloves

, minced

Salt and pepper to taste

1/4

cup

(60ml) dry white wine

3

oz

(90g) baby spinach

2

tbsp

(30g) butter for cooking mushrooms

9

oz

(250g) of sliced shiitake mushrooms

2

tbsp

sage leaves

, chopped

2

tbsp

flat parsley leaves

, chopped

2

tbsp

chives

, chopped

3

large eggs

2 ½

cups

(600ml) chicken stock

1/2

tsp

(2g) ground caraway seeds
Instructions
Let the bread cubes uncovered to dry out completely overnight or dry them in the oven at 350F (180C) for 10-15 min ( make sure they do not brown).

In a large skillet on medium high heat, melt 4 tablespoons of butter and add onions and celery. Cook for about 6 minutes, add garlic and cook for another minute. Season with salt and pepper.

Pour white wine and let it cook until evaporated, about 3 minutes. Add spinach leaves and let them wilt.

In a separate skillet cook the mushrooms in 2 tablespoons of butter until beautifully browned. Season with salt and pepper.

Preheat the oven to 375 F (190C). Brush a 2 1/2-quart (2,5 liters) baking dish with butter.

In a large bowl mix bread cubes with celery onion and spinach mix , add shiitake mushrooms and chopped herbs.

Mix 3 eggs with chicken stock and slowly pour over bread until stuffing feels moist but not soggy.

Transfer the stuffing to the baking dish cover loosely with foil and bake for 20 minutes. Uncover and bake for an additional 20 minutes until browned on top and fully cooked on the inside.
Nutrition
Serving:
1
g
Calories:
301
kcal
Carbohydrates:
42.1
g
Protein:
8.3
g
Fat:
10.9
g
Saturated Fat:
5.4
g
Cholesterol:
67
mg
Sugar:
5.2
g