Tarte Tatin is not just any dessert, it is a true masterpiece of French pastry-making that has become a symbol of the country's culinary excellence. This classic dessert has been enjoyed by generations of French people, and now it has become a beloved treat all over the world.
One of the things that makes Tarte Tatin so special is the way in which the apples are cooked. The caramelization process brings out the natural sweetness of the fruit, creating a rich and complex flavor that is impossible to resist. The caramel sauce that forms during the cooking process is simply divine. When combined with the crispy crust and tender apples, it creates a taste sensation that is truly unforgettable.
Apples are the most commonly used fruit in Tarte Tatin. I've used Gala apples this time but Granny Smith,  Jonathan or Golden apples work as good. There are many other fruits that can be used to create this delectable dessert. Pears, peaches, quince, and plums are all excellent choices, and each one brings its own unique flavor and texture to the dish.
One of the great things about Tarte Tatin is that it is surprisingly easy to make. Despite its impressive appearance and rich flavor, this dessert can be made with just a few simple ingredients and a little bit of know-how. Whether you are an experienced pastry chef or a novice cook, you can create a Tarte Tatin that will impress your friends and family.
While it is certainly delicious on its own, you can also serve this dessert with a variety of accompaniments, including ice cream and whipped cream. Each of these options adds a different texture and flavor to the dish, making it even more enjoyable to eat.
How to make Tarte Tatin
First, whisk together flour and salt in a medium bowl to prepare the crust. Then incorporate butter using a pastry blender, fork or pastry processor until you form crumbs. Add egg yolk and water, and mix until the dough comes together. Wrap the dough in plastic and refrigerate it for at least 30 minutes.
Next, prepare the caramelized apples by peeling, coring, and quartering them. Toss them with lemon juice, and then add sugar and water to a cast iron pan. Cook over medium heat until the mixture turns golden brown, then remove from heat and stir in butter. Arrange the apples with cut side up over the caramel, add cinnamon if desired, and cook over medium heat for 8-10 minutes to partially cook the apples. 
Roll out the pastry on a floured surface into a circle slightly larger than the pan. Place the pastry over the apples, tuck the edges around the apples, and prick it with a fork to allow steam to escape during baking. Bake the tart for approximately 35 minutes at 375 (190C). 
Let the tart cool for 5 minutes before placing a serving platter slightly larger than the pan over the pan and inverting the tart. 
Whether you are looking for a dessert to serve at a dinner party, or just want to treat yourself to something sweet and delicious, Tarte Tatin is the perfect choice. With its rich, complex flavor and beautiful presentation, this classic French dessert is sure to become a favorite in your household.
Hope you will try this Tarte Tatin for yourself. If you do, make sure to tag me on Instagram. Would love to see how it turns out for you. Enjoy!
Other apple recipes you may like to try
This leaf-decorated Apple Pie is a great way to celebrate the year's most colorful season. It features a deliciously spiced apple filling baked in a buttery, flaky crust. Perfect for any occasion, this comforting dessert is sure to delight your taste buds and fill your home with the wonderful aroma of baked apples and cinnamon.
I have always loved this Apple Meringue Cake. The flavor is absolutely wonderful and everyone in the family is delighted every time I make it.
This Apple Upside Down Cake is another recipe I highly recommend. It is easy to prepare and I always make it during the apple season. This apple-flavored caramel cake is the kind of cake that after baking is entirely served in a matter of minutes.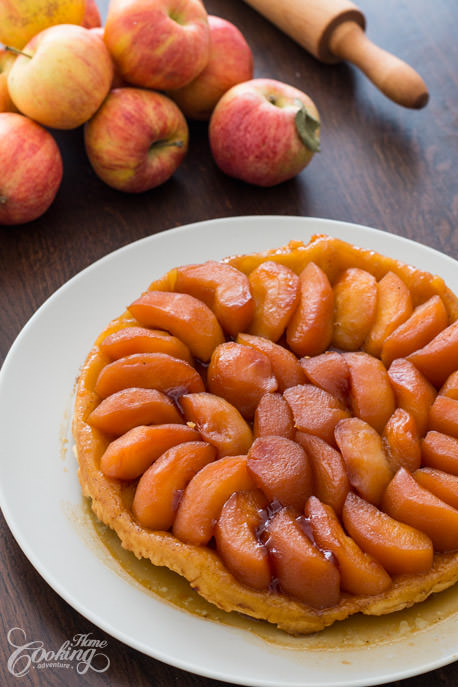 YOU MAY ALSO LIKE:
Easy Almond Apple Tart
No-Yeast Giant Apple Cinnamon Roll
German Apple Streusel Cake
Caramel Apple Crisp Cheesecake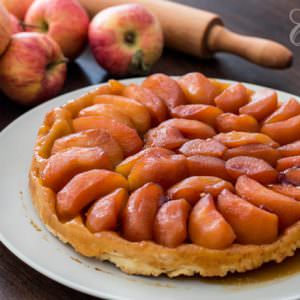 Tarte Tatin
Tarte Tatin is a delightful classic French dessert perfect for cold autumn days. Apples are caramelized in a caramel sauce, topped with a buttery crust and baked until crispy. The tart is turned almost immediately upside down, showing the beautiful caramelized apples on top while some of the caramel sauce is dripping onto the serving platter.
Ingredients
Pate Brisee
1 ¾

cup

(220g) all-purpose flour

1/2

cup

(113g) unsalted butter

, chilled

1/4

tsp

(1g) salt

1

egg yolk

4

tbsp

(60ml) ice water
Caramelized Apples
8-10

(1.3 kg) Gala apples (or Granny Smith, Jonathan or Golden)

6

tbsp

(80g) unsalted butter

3/4

cup

(150g) sugar

3

tbsp

(45ml) water

Lemon juice from 1 lemon

Cinnamon powder (optional)
Instructions
Prepare the crust.
In a medium bowl whisk flour with salt. Incorporate butter using a pastry blender, a fork or a pastry processor, until crumbs are formed. Add egg yolk and water and mix just until dough comes together.

Wrap it with plastic, knead slowly to form a disc, and refrigerate for at least 30 minutes.
Meanwhile prepare the caramelized apples.
Peel, the apples and toss with lemon juice. Core the apples and cut into quarters. Place in a large bowl and toss again with lemon juice.

In a 9 inch (23cm) cast iron pan add sugar and water over medium heat, and cook until it turns golden brown. Remove from heat, and stir in butter.

Arrange the apple quarters with cut side up over the caramel, add cinnamon if used, place over medium heat and cook for about 8-10 minutes to partially cook the apples. Remove from heat and set aside to cool slightly.

Preheat oven to 375 (190C). On a floured surface roll the pastry into a circle slightly larger than the pan.

Place the pastry over the apples and tuck in the edges around the apples. Prick the top with a fork to let the steam escape.

Bake for about 35 minutes until the pastry is cooked and caramel starts to leak on the sides.

Remove from oven and cool for 5 minutes. Place a serving platter, slightly larger than the pan, over the pan and invert the tart.

Serve warm.
Nutrition
Serving:
1
serving out of 8
Calories:
368
kcal
Carbohydrates:
44.7
g
Protein:
3.5
g
Fat:
20.5
g
Saturated Fat:
12.6
g
Cholesterol:
78
mg
Sugar:
22.6
g