I am happy to share with you 10 of our favorite cakes that would look wonderful on your Christmas table.
1. Gingerbread Coconut Christmas Cake
This Gingerbread Coconut Christmas Cake is an impressive dessert that really gets you into the winter holiday spirit.The cake consists of a gingerbread sponge cake at the bottom, followed by a caramelized coconut and gingerbread cookie crunch and then topped with a rich and smooth coconut mousse.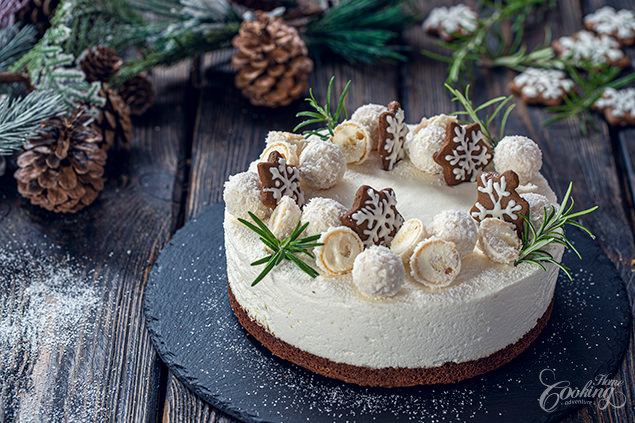 2. Croque en Bouche or Croquembouche
Croque en Bouche, the famous French dessert, will always make quite an impression which makes it perfect for holiday tables. Even though it seems so intimidating to prepare, it is actually made with common ingredients that you might already have in your pantry.  This Croque en Bouche consists of crispy cream puffs filled with almond flavored pastry cream glued together with a delicious caramel,  forming an irresistible cone tower.  What not to love about it?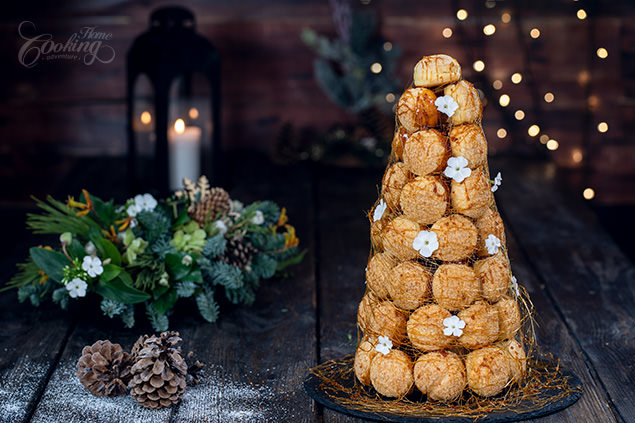 3. Cranberry White Chocolate Meringue Roll
I really love this Cranberry White Chocolate Meringue Roll. It is a delicate and festive dessert perfect for winter holidays. The recipe is easy, using basic ingredients but with such beautiful results. This beautiful roll is made with a light and airy meringue, filled with a white chocolate filling and of course.. freshly made cranberry and orange jam that makes it extremely delightful and flavorful. The tart jam is balancing in such a great way the sweetness of the meringue and of white chocolate, that you can hardly stop at only one slice.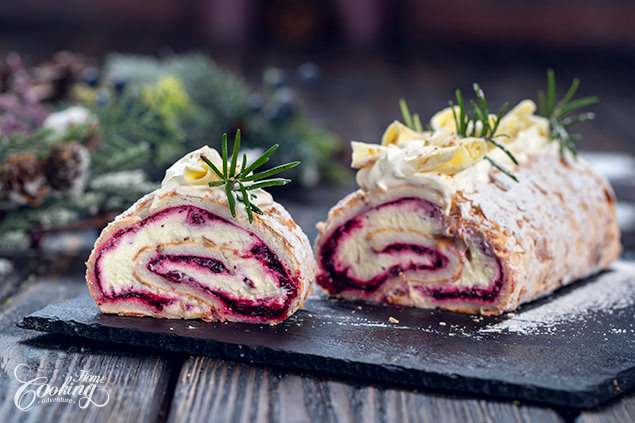 4. No-bake Yogurt Raspberry Mousse Cake
Here is an elegant no-bake winter dessert, very light and soft, perfect for the Christmas dinner table. This No-Bake Raspberry Yogurt Zebra Cake has an Oreo almond flavored crust, topped with alternating layers of yogurt almond mousse with raspberry yogurt mousse, creating the beautiful zebra effect. The cake is topped with a shiny raspberry jelly, making it a beautiful and impressive festive cake.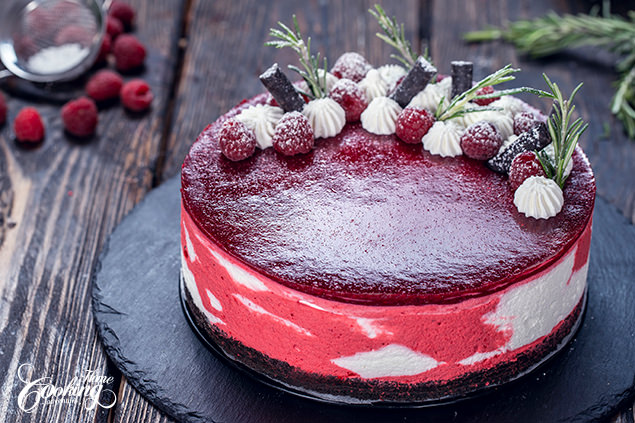 5. Chocolate Coconut Bûche de Noël (Yule Log)
This Chocolate Coconut Bûche de Noël will be quite a show stopper for your holiday table, consisting of a soft chocolate sponge cake filled with a white chocolate and mascarpone frosting enriched with caramelized coconut for extra flavor and texture.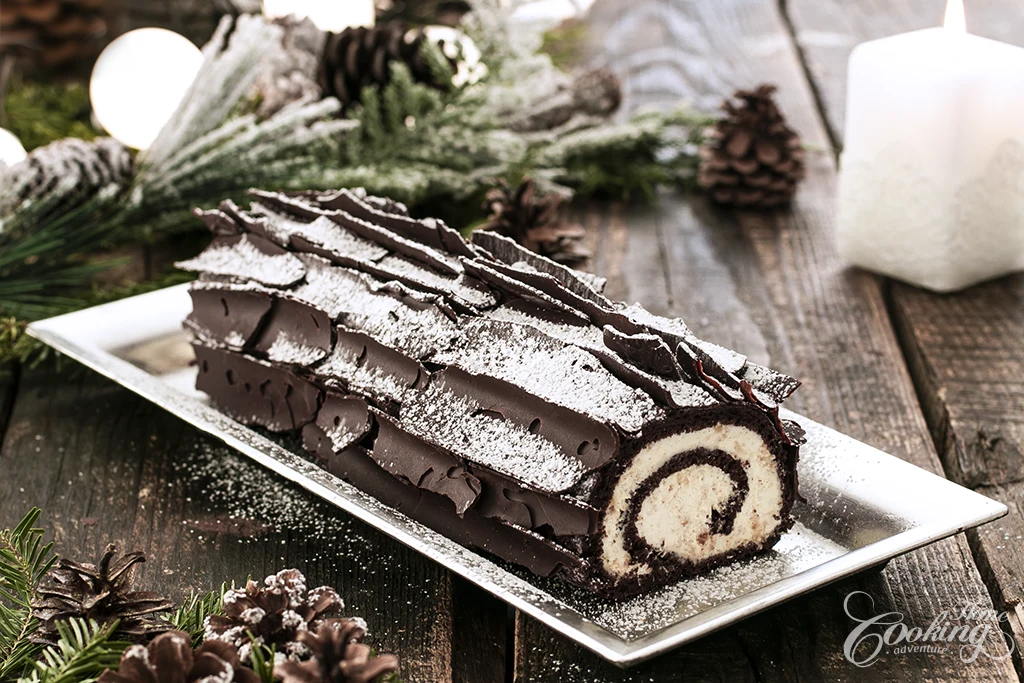 6. Almond and Coconut Cake – Raffaello Cake
This elegant Almond and Coconut Cake is made with an almond sponge cake, a white chocolate, Mascarpone and coconut filling and topped with Raffaello Truffles, chopped almonds, white chocolate curls and shredded coconut. It has a great texture and a delicate almond and coconut flavor that I am sure will be a crowd pleaser.
7. Pistachio Raspberry Lime Mousse Cake
This Pistachio Raspberry Lime Mousse Cake is an elegant and impressive cake perfect for Christmas.
The cake consists of a delightful pistachio sponge cake at the bottom, topped with a crispy crunch made with homemade pistachio paste, white chocolate and paillete feuilletine, followed by a smooth and silky white chocolate and lime mousse and fresh raspberries.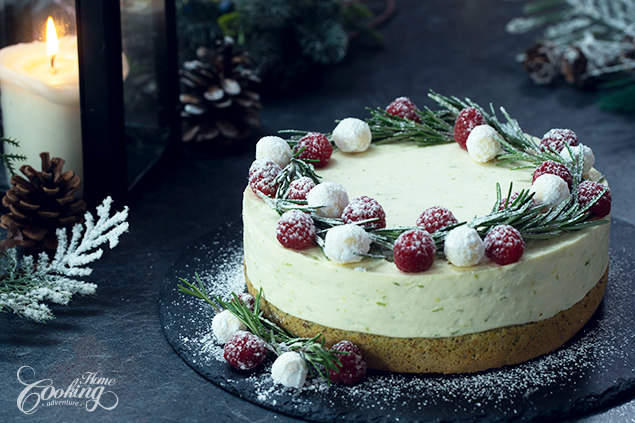 8. Gingerbread Orange Cake Roll
This delicious Gingerbread Orange Cake Roll is simply bursting with Christmas flavor. This cake roll consists of a  moist and spiced gingerbread sponge cake that is filled with a creamy and orangey filling of Mascarpone and whipped cream, enriched with bits of candied orange peel for an amazing flavor and texture. Beautifully decorated in Christmas spirit with fresh rosemary, cinnamon sticks and kumquat slices will surely impress and delight your family and guests.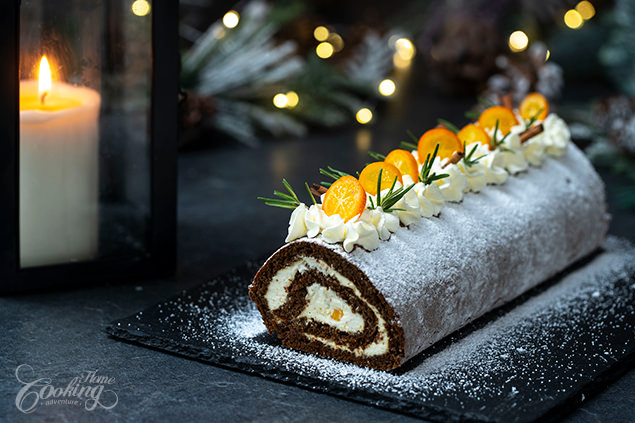 9. Triple Chocolate Cranberry Mousse Cake
I have fallen in love with this beautiful Triple Chocolate Cranberry Mousse Cake from the very first bite. It is an impressive layered cake with a simply delightful flavor combination. It consists of a moist cocoa and cranberry brownie at the bottom, followed by a smooth and silky milk chocolate mousse layer, a flavorful cranberry orange jelly, a white chocolate mousse layer and all topped with a semisweet chocolate ganache. I could hardly wait for the cake to set as I knew it was going to be one of my favorites.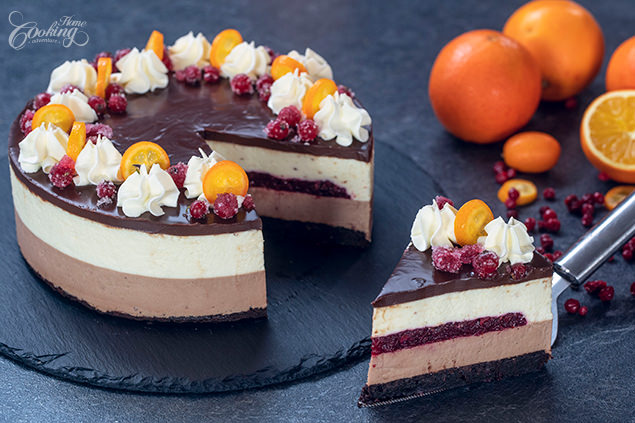 10. Winter Cake
This Winter Cake is for sure an impressive dessert perfect for winter holidays. Almond biscuit crust at the bottom with two layers of moist white cake, filled with raspberry and red currants filling and topped with a delicious sweetened condensed milk buttercream. It is beautifully decorated with fresh rosemary, fresh raspberries and red currants, cinnamon sticks and dusted with powdered sugar to get you into the holiday spirit. I found the effect of painting the sides of the cake with a bit of red coloring, being really amazing.