Chocolate truffles are one of my favorite bite-sized treats, rich and delicate. They are French desserts, easy to make yet very elegant. Love to serve them alongside a warm coffee in the morning or as small rewards at any hour of the day.
How to make Chocolate Truffles
These truffles are made with dark chocolate, cream, a bit of butter, and walnuts. To make the ganache, you will need high-quality chocolate, heavy cream, and butter. Chop the chocolate into small pieces, and then melt over a bain-marie. Combine it with the heavy cream, walnuts and butter. Chill in the refrigerator until firm enough to shape into balls.
Once the ganache is chilled and firm, use a small cookie scoop or a teaspoon to shape the ganache into small balls. Roll the truffles in cocoa powder,ground nuts, coconut or powdered sugar.
Chill again the truffles until ready to serve. Store the truffles in the refrigerator for up to a week, or in the freezer for up to a month. 
You can always make variations to your truffles like adding flavorings such as vanilla extract, coffee, rum, orange zest and the list can go on. You can also add some textures by adding nuts, cocoa nibs or dried fruits.
These truffles are easy to prepare, you can make them in advance which makes them perfect for holidays and as homemade gifts for guests.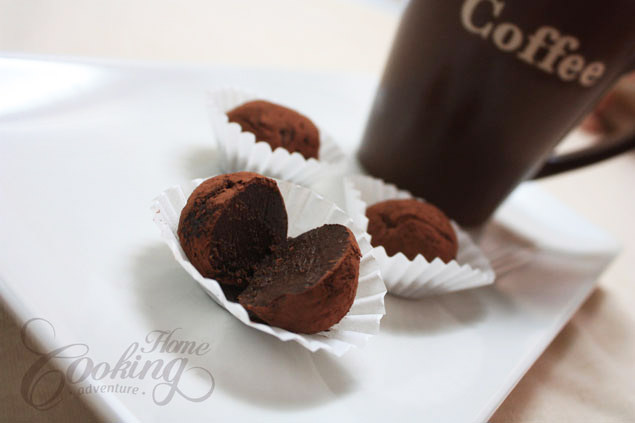 YOU MAY ALSO LIKE:
White Chocolate and Coconut Truffles
Chocolate Macarons
Chocolate Caramel Truffles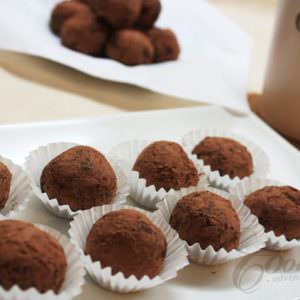 Chocolate Truffles
Chocolate truffles - bite sized treats, rich and delicate, made with dark chocolate, cream, butter and walnuts. Easy to prepare, perfect for holidays and gifs.
Ingredients
5

oz

(150g) dark chocolate 70%

1/2

cup

(100g) heavy whipping cream

1/4

cup

(50g) butter

3

tbsp

ground walnuts

optional flavorings (coffee or orange zest, rum)

cocoa powder for coating
Instructions
Put the chocolate in a heat-proof bowl, and melt over a pan of hot water. Set aside and add the butter stirring until smooth and homogenous. Add the heavy whipping cream, the walnuts, vanilla and the desired flavoring and mix until fully incorporated.

Allow to cool, then put in the refrigerator for two hours until it is hard enough to roll, Remove and using a teaspoon roll out balls. Roll in your hands quickly and put them on a parchment paper-covered baking sheet and refrigerate for 1 hour.

Coat in cocoa powder, ground nuts, coconut, or powdered sugar. Enjoy
Nutrition
Serving:
1
g
Calories:
53
kcal
Carbohydrates:
1.3
g
Protein:
0.5
g
Fat:
5.2
g
Saturated Fat:
3
g
Cholesterol:
12
mg
Sugar:
1
g