Cream Tarts, also known as Number Cakes or Alphabet Cakes, have been taking the dessert world by storm, with their stunning appearance and delectable flavors. After seeing these gorgeous desserts all over the internet for the past few months, I simply had to give them a try. What I discovered was that this cream tart is not only impressive to look at but also surprisingly easy to prepare.
One of the things that intrigued me about these tarts was the use of cookie layers instead of the usual sponge cake layers. I wasn't sure how well the cookie layers would hold up, but I was pleasantly surprised by the results. The cookie layers have a slight crunch on the outside but get soft on the inside, creating a perfect texture combination.
To make the cream tart even more indulgent, I filled the layers with a delightful Mascarpone frosting and decorated the top with fresh berries and flowers. You can also decorate with macarons if desired. The fresh berries not only add a pop of color but also balance out the richness of the cream and buttery cookie layers.
How to make this cream tart
For this recipe, first, prepare the pâte sablée crust. To make the crust, mix softened butter and powdered sugar until it becomes light and fluffy. Add an egg, almond extract, and a mixture of flour, ground almonds, and salt. Form the dough into two disks and refrigerate for at least 30 minutes. Roll each out to about 10 inches in diameter. Use 9-inch and 4.5-inch cake rings to cut the desired shapes. Refrigerate before baking for about 30 minutes. Bake until golden brown.
For the frosting, mix together Mascarpone, powdered sugar, and vanilla in a large bowl. Fold the whipped cream into the Mascarpone mixture. Use a piping bag to pipe the frosting onto one cookie, sandwich it with the other cookie, pipe frosting on top as well and refrigerate.
To finish the tart, decorate it with fresh berries, flowers, chocolate, or macarons. This recipe is easy to make and can be prepared up to 24 hours in advance, making it a great option for various occasions. The combination of the buttery crust and creamy frosting is sure to impress your guests and satisfy your sweet tooth.
My daughters and I loved this dessert, and it has quickly become a family favorite. If you're looking for a show-stopping dessert that is both easy to make and delicious to eat, I highly recommend giving the Cream Tart a try. If you do, don't forget to tag me on Instagram as I love seeing how it turns out for you. Enjoy!
Other fruity tarts you may like to try
If you like fruity tarts you may also like to try this amazing Lemon Meringue Tart, a tart bursting with zesty citrus flavor, with a buttery pastry crust, tangy lemon filling, and fluffy, toasted meringue topping. I also highly recommend trying this Strawberry Basil Panna Cotta Tart, made with a layer of strawberry jelly, a silky smooth basil-infused panna cotta, and a crisp almond tart shell. This Key Lime Pie is another recipe you may like to try. It is made with a buttery graham cracker crust and a zesty filling of fresh lime juice and sweetened condensed milk, a dessert that is sure to please.
YOU MAY ALSO LIKE:
Tarte au Chocolat
Tarte Tatin
S-mores Tart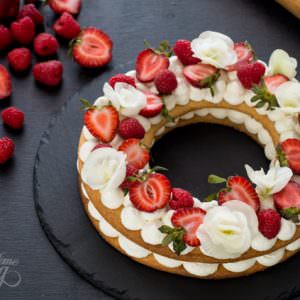 Cream Tart
Whether known as Cream Tart, Number Cake, or Alphabet Cake this dessert is simply impressive. Very easy to prepare and looks quite astonishing. Cookie layers filled with various frostings and decorated with fresh berries, flowers, and even macarons seem to be one of the cakes in trend this year.
Ingredients
Pate Sablee
1

cup

(226g) unsalted butter

, room temperature

1/2

cup

(60g) powdered sugar

1

egg

2 ¼

cups

(280g) all-purpose flour

1

cup

(100g) ground almonds

1/2

tsp

(2g) salt

1

tsp

(5g) almond extract
Mascarpone Frosting
9

oz

(250g) Mascarpone cheese

, room temperature

2/3

cup

(80g) powdered sugar

1

tsp

(5g) vanilla extract

1 ¼

cup

(300g) whipping cream

, chilled
Instructions
Prepare pate sablee.
In a large bowl mix butter with powdered sugar until light and fluffy. Add egg and continue mixing until well combined and creamy. Add almond extract and mix to combine.

In a medium bowl sift flour with ground almonds and salt, whisk, and add to the butter mixture.

Use a wooden spoon to incorporate the flour mixture into the butter until combined. Make sure you don't overwork the dough.

Divide the dough in two and wrap each piece of dough with plastic wrap,  form into disks, and refrigerate for at least 30 minutes.

Roll each piece of dough between two pieces of parchment paper or plastic wrap until it's about 10 in (25cm) in diameter and about 5-6 mm thick.

Use a 9-inch (23-24 cm) ring to cut a circle and use a 4.5-inch (12 cm) diameter bowl or ring to cut the center. Remove the excess dough.  Repeat with the other piece of dough and refrigerate the dough rings for about 30 minutes before baking.

Preheat oven to 350F (180C).

Bake for 12-15 minutes or until golden brown. Allow cooling completely.
Prepare the Mascarpone Frosting.
In a large bowl mix Mascarpone with powdered sugar and vanilla until combined.

In another bowl mix cream until stiff peaks form. Gradually fold into the Mascarpone mixture. Put frosting in a piping bag with a medium round tip, (9-11mm).

Place one piece of cookie on a serving platter, and fix it with a bit of frosting. Pipe even dollops of frosting on top of the cookie. Top with the other cookie and pipe again with frosting.

Refrigerate until ready to serve, up to 24 hours before serving.

Decorate with fresh berries, flowers , chocolate or macarons. Enjoy!
Nutrition
Serving:
1
g
Calories:
515
kcal
Carbohydrates:
39.2
g
Protein:
9.2
g
Fat:
36.6
g
Saturated Fat:
20
g
Cholesterol:
111
mg
Sugar:
14.4
g