Skillet Chicken Fajitas are a wonderful and colorful dish that's great for lunch or dinner. It's made with thinly sliced marinated chicken, vibrant peppers, and thin strips of onion, all quickly cooked in a hot skillet. Serve it right away with warm tortillas and your choice of delicious toppings for a crowd-pleasing meal when friends come over.
I recommend using homemade tortillas for the chicken fajitas as they're not only delicious but also healthier than store-bought ones. You can make the tortillas ahead of time to save some prep time.
For serving, you can use your favorite toppings like cheese, guacamole, avocado slices, salsa, pico de gallo, and lime juice.
How to make Skillet Chicken Fajitas
Start by combining all the chicken marinade ingredients in a large bowl and mixing them together. Once well combined, add the chicken slices and toss them until evenly coated. Cover the bowl and let the chicken marinate in the refrigerator for a minimum of 30 minutes, up to 1 hour, allowing the flavors to meld.
Next, take a large 12-inch (30cm) cast iron skillet and heat it over medium-high heat. Heat 1 tablespoon of oil into the hot skillet. Add the onion, peppers, chili powder, and salt. Sauté the mixture for approximately 6-7 minutes, stirring occasionally, until the onions and peppers have softened and become fragrant. Remove the sautéed onions and peppers from the pan and set them aside momentarily.
Now, it's time to cook the marinated chicken. Add the chicken into the hot skillet and cook it until it is no longer pink and thoroughly cooked, which should take around 4 minutes. The chicken will become beautifully tender and flavorful as it cooks in the skillet.
To bring all the flavors together, reintroduce the sautéed onions and peppers back into the skillet with the chicken. Cook for an additional minute, allowing the ingredients to heat through and mingle their flavors.
Serve the chicken fajitas immediately, accompanied by warm tortillas, your favorite toppings, and any additional condiments you desire. The tortillas used in this recipe are homemade 6-inch (15cm) flour tortillas, and you can find a video recipe for making them yourself.
 Hope you will try them out. Don't forget to tag me in your Instagram posts or stories, so I can see your amazing results. Enjoy!
Other chicken recipes you may like to try
Sriracha Chicken Wrap is one of our favorite healthy and delicious recipes for lunch or dinner. It's easy and quick to prepare, includes fresh veggies, and perfect for getting kids to enjoy their greens. Try this easy and quick recipe for a delightful mealtime experience.
This Chicken Stir-Fry Noodles is a mouthwatering Asian dish featuring tender noodles, crisp vegetables, and savory seasonings. This quick and easy meal is perfect for any occasion and promises a satisfying dining experience. 
These Chicken and Bean Enchiladas are a Mexican dish, made with tortillas, which are rolled around various fillings, covered with chili sauce and cheese and baked until cheese is melted. They are usually garnished with fresh green onion, cilantro and sour cream. There can be many variations for the filling, that can include more types of meat, vegetables and cheese.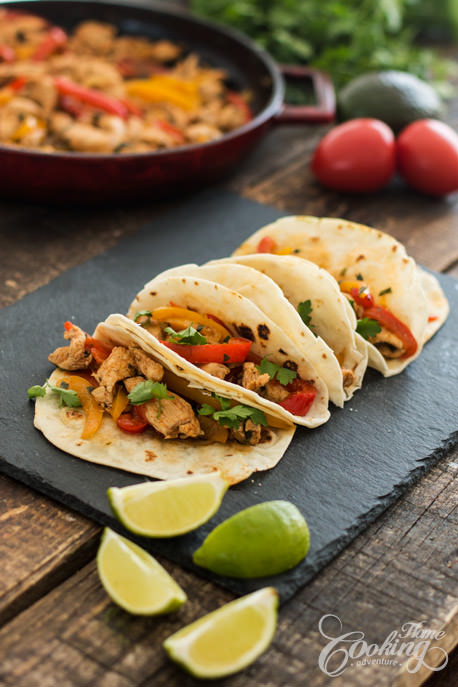 YOU MAY ALSO LIKE:
Tortilla Pinwheels
Broccoli Quesadillas
The Best Yogurt Flatbreads
Oven Cooked Pulled Pork
Pizza Pinwheels
Homemade Pita Bread
Homemade Cheese Piadinas
Halloumi Burger
Veggie Burger
Greek Baked Feta with Tomatoes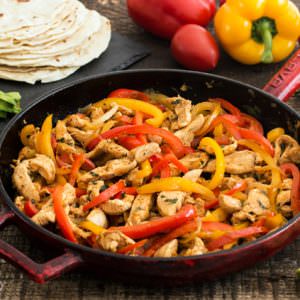 Skillet Chicken Fajitas
Skillet Chicken Fajitas is a great colorful dish perfect for lunch or dinner. Thin slices of marinated chicken with colorful peppers and thin onion slices, cooked quickly in a hot skillet and served immediately over warm tortillas and various toppings are simply a crowd pleaser and a perfect dish whenever friends come around.
Ingredients
1

red bell pepper

, cut into strips

1

yellow pepper

, cut into strips

1

onion

, cut into thin slices

1/2

tsp

(1g) chilli powder

Salt

1

tbsp

(14g) oil

15

mini flour tortillas (6 inch - 15 cm)
Chicken Marinade
1 ¼

pounds

(550g) skinless

, boneless chicken breast

2

tbsp

fresh cilantro/parsley

, chopped

2

tbsp

(28g) olive oil

1

tbsp

(15ml) soy sauce

1/2

tsp

(1g) chili powder

1/2

tsp

(1g) smoked paprika

1/2

tsp

(2g) salt

1/2

tsp

(1g) garlic powder

1/2

tsp

(1g) ground cumin

1

tbsp

(15ml) lime juice
Topping ideas
grated cheese

guacamole or avocado slices

sour cream

salsa
Instructions
In a large bowl add all the chicken marinade ingredients and mix to combine. Add chicken slices and toss to coat. Cover and refrigerate to marinate for 30 minutes up to 1 hr.

Heat a large 12 inch (30cm) cast iron skillet over medium high heat and add 1 tbsp oil.

Add onion and peppers, chilli powder and salt and saute for 6-7 minutes until softened , stirring occasionally. Remove from pan and set aside.

Add marinated chicken into the hot skillet and cook until no longer pink and cooked through, for about 4 minutes.

Add sauteed onions and peppers into the skillet and cook 1 minute more to heat through.

Serve immediately with warm tortillas, your favorite toppings and enjoy.

For the tortillas I've used homemade 6 inch (15 cm) flour tortillas, video recipe

here

.
Nutrition
Serving:
1
serving out of 5
Calories:
298
kcal
Carbohydrates:
24.3
g
Protein:
28
g
Fat:
10.6
g
Saturated Fat:
2.4
g
Cholesterol:
64
mg
Sugar:
2.6
g