In what other way to celebrate the first fragile signs of Spring than with another delicious treat with chocolate?
I have been very enthusiastic of the idea to participate to this month
Chocolate Party
hosted by Roxana from Roxana's Home Baking.  The theme for this month is chocolate and caramel, which for me was pretty challenging.
Finally I have decided what to do for this event, a flourless chocolate cake for the base topped with a salted caramel mousse on top decorated with chocolate curls and caramel swirls. Sounds great, looks great and tastes divine. Didn't last too long after the photo shoot 🙂 that's for sure.
RELATED POSTS: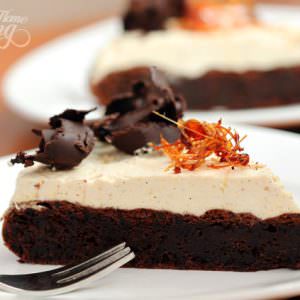 Flourless Chocolate Cake with Salted Caramel Mousse
A flourless chocolate cake as base topped with salted caramel mousse and decorated with chocolate and caramel swirls. Looks great and tastes divine.
Ingredients
Flourless Cake
1

stick

(110g) butter

4

eggs

1/3

cup

(70g) sugar

1

tbsp

(8g) unsweetened cocoa powder

5

ounces

(150g) bittersweet chocolate

Pinch of salt
Caramel Mousse
1/4

cup

(50g) sugar

1

tbsp

(15ml) water

1

tbsp

(14g) butter

, at room temperature

1/4

tsp

(1g) salt

1

tbsp

(8g) cornstarch

1

tbsp

(15ml) water

1

cup

(240g) heavy cream

, divided

1/2

tsp

(3g) vanilla been paste or vanilla extract
Optional -Chocolate Curls
3/4

cup

(90g) semisweet chocolate
Optional-Caramel Swirls
1/2

cup

(100g) sugar

2

tbsp

(30ml) water

1

tbsp

(15ml) lemon juice
Instructions
Line a 9-inch(23 cm) springform pan(with a removable base) with parchment paper. Separate egg yolks from whites. Preheat oven to 180°C (350°F). 

Melt chocolate and butter over a bain-marie until smooth. Add  yolks one at a time and stir well. Add cocoa powder and salt.  

Whip egg whites until foamy with a mixer, gradually add sugar.  Gently fold the whipped whites to chocolate mixture . Pour batter into prepared pan and bake for 25-30  minutes.

While the cake is baking you can prepare the chocolate curls. (I have tried to use some indications from "The Pioneer Woman")  Melt chocolate over a bain-marie until smooth. Pour the chocolate on the back of a baking sheet. Using a spatula or knife spread the chocolate in a thin layer. Put the tray in the freezer for about 2-3 minutes. Whit a spatula begin to scrape the chocolate and helping with the other hand form curls of chocolate. (Mine are not perfect but were pretty ok for my first attempt. )

Prepare the Caramel Mousse. Heat 1/4 cup of the cream until it is hot and set aside. Combine cornstarch with water and set aside.  

Place the sugar and water in a medium heavy bottomed saucepan over medium-high heat, and cook without stirring until sugar dissolves and gets a caramel color. Remove the pan from the heat and add the hot cream and butter. It will bubble a little bit. Stir with a wooden spoon until smooth. Add cornstarch mixture and bring to boil. Cook until thick and bubbly for about 1 minute, stirring constantly.

Remove from heat, add vanilla extract and salt. Pour into a bowl, cover and refrigerate to chill.

Whip the remaining 3/4 cup cream. Fold 1/3 of whipped cream into caramel mixture and then fold in the remaining whipped cream.

Prepare caramel swirls. Place the sugar, water and lemon juice in a medium heavy bottomed saucepan over medium-high heat, and cook without stirring until sugar dissolves. Cover pan and cook 3 minutes. Remove lid and cook syrup, swirling the pan, for 3 to 4 minutes, until the syrup gets the color of dark caramel. Remove pan from heat, set aside to cool for 2-3 minutes, or until syrup begins to thicken. Using a fork, drizzle thin caramel over the back of a soup ladle. Remove from the ladle and repeat. If the caramel gets too hard heat again over very low heat and repeat the steps. 

Spread the mousse over the cake. Decorate with chocolate curls and caramel swirls if desire or simply with some grated chocolate or cocoa powder.

Don't forget to check out all the other caramel chocolate recipes shared this month.
Nutrition
Serving:
1
g
Sugar:
23.8
g
Cholesterol:
115
mg
Calories:
332
kcal
Saturated Fat:
14.7
g
Fat:
23.5
g
Protein:
4.4
g
Carbohydrates:
27
g
Nutrition facts
1 Serving

Calories: 332

,

Fat: 23.5 g

,

Saturated fat: 14.7 g

,

Unsaturated fat:

,

Carbohydrates: 27.0 g

,

Sugar: 23.8g

,

Fiber: 1.0 g

,

Protein: 4.4 g

,

Cholesterol: 115 mg

,

Calories from Fat 211, Sodium 195mg, Vitamin A 12%, Vitamin C 0%, Calcium 6%, Iron 5%, Nutrition Grade D-, Daily Percent Values are based on a 2000 calorie diet.

,