This Soy Pate is an easy recipe you can prepare for a quick lunch, dinner or as an appetizer. I've always liked pate, but I stopped buying long ago as I didn't like the fact it contain preservatives or other ingredients that wouldn't like to eat otherwise. I don't know why it didn't come to my mind earlier to make my own pate.
Actually I think it did, but I always thought it involves too much work and it won't taste as good. And as I am  not a big fan of chicken liver I postponed this for quite some time. Never thought to try a soy pate until recently.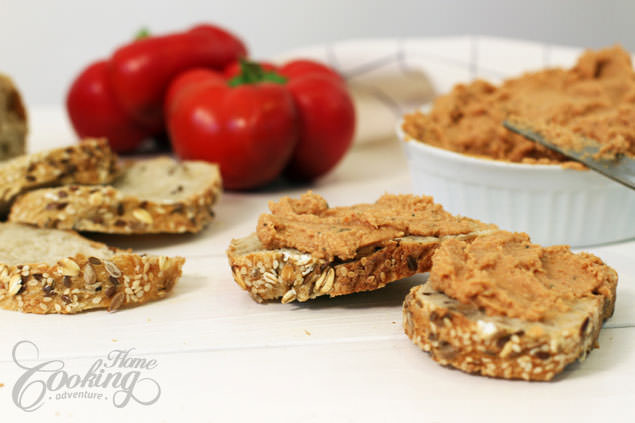 As I had some organic soy beans in my pantry I thought to use some and try making a soy pate. Wouldn't have expected to turn out soo good. We all loved it soo much that since my first time I did it  I have made this pate for more than 3 times in  a very short period of time. If you wouldn't know you could hardly say it's made form soybeans.
It's perfect as an appetizer, or served for breakfast with some fresh vegetables or pickles or having this on the road, to school or work. If you don't have soybeans, you can still make this pate using chickpeas instead. It will taste as good.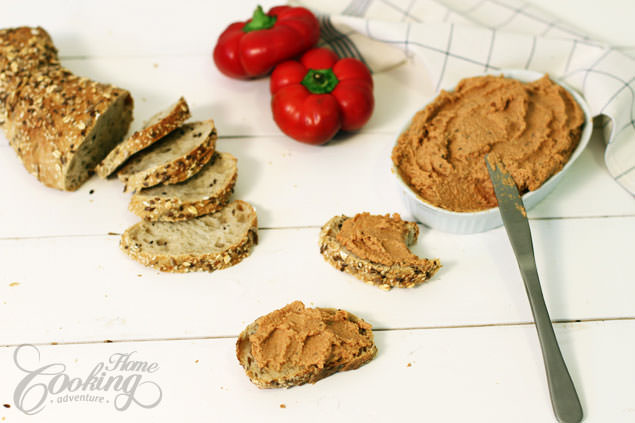 As some of you probably know soy has many health benefits, and this is such a delicious way to include soy in your diet.
To find out more health benefits of soy read this article I posted about soy. It might convince you adding this miraculous beans into your every day food.
RELATED POSTS: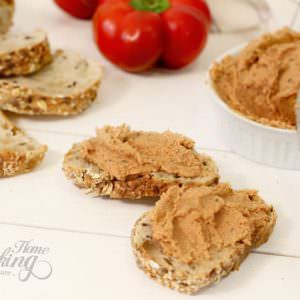 Soy Pate
Soy pate - you could hardly say it's made form soybeans. Perfect as an appetizer, or breakfast with some fresh vegetables or pickles or having this on the road.
Ingredients
1

cup

soybeans

3/4

cup

water in which soybeans were cooked

1/2

tsp

paprika

2

tbsp

Soy sauce

3

tbsp

tomato paste

1

tbsp

olive oil

1

onion

, chopped

salt and freshly ground black pepper

dry oregano and basil
Instructions
Wash the soy beans and soak overnight.

The next day boil the soybeans for about 2-3 hours. Drain and keep 3/4 cup up to 1 cup from the water in which they were cooked. Set the beans aside  to cool. 

Meanwhile heat oil in a frying pan over medium heat. Add onion and saute for at least 10 minutes, stirring a few times, until onion is soft.

When cooled enough, put the beans in the bowl of a food processor and beat until smooth, scraping down the sides of the bowl if needed. Gradually add the water until it reaches the desired consistency.

Add the rest of ingredients, onion, paprika, basil, oregano, soy sauce, salt and pepper and beat until homogenous. 

In the end add the tomato paste and beat once more until well incorporated.

Pour the pate into a serving dish and chill for at least 30 minutes before serving. Serve with crackers, bread, with pickles or fresh vegetables. It is delicious.
Nutrition
Calories:
1058
kcal
Carbohydrates:
79.5
g
Protein:
73.5
g
Fat:
51.7
g
Saturated Fat:
7.5
g
Sugar:
24.9
g