Here are 15 of our favorite desserts that would make a great end to your Christmas or New Years Eve table. From cookies to layer cakes, macarons or truffles, coming with various flavors like gingerbread, peppermint, coconut, red velvet and of course chocolate these recipes are sure to be a delightful treat for any meal.
1. Winter Cake
Almond biscuit crust at the bottom with two layers of moist white cake, filled with raspberry and red currants filling and topped with a delicious sweetened condensed milk buttercream. Beautifully decorated with fresh rosemary, fresh raspberries and red currants, cinnamon sticks and dusted with powdered sugar to get you into the holiday spirit.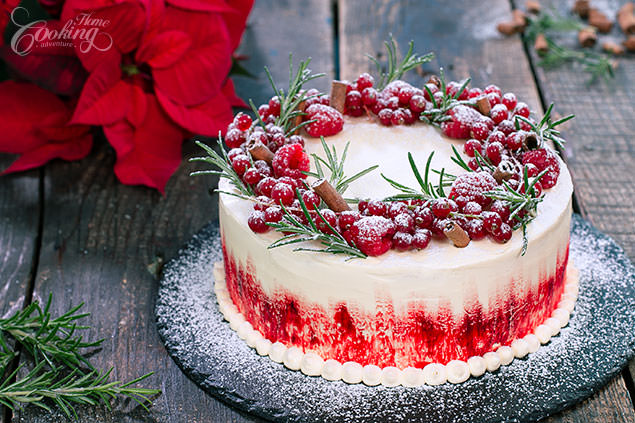 2.  Croque en Bouche or Croquembouche
Croque en Bouche is a really impressive dessert that is perfect for Christmas or New Year's Eve though it is also served at weddings or other special occasions during the year. What I find to be more impressive is the fact that it is made with common ingredients that you might already have in your pantry.  The Croque en Bouche I've made consists of crispy craquelin profiteroles filled with almond flavored pastry cream glued together with a delicious caramel forming an irresistible cone tower.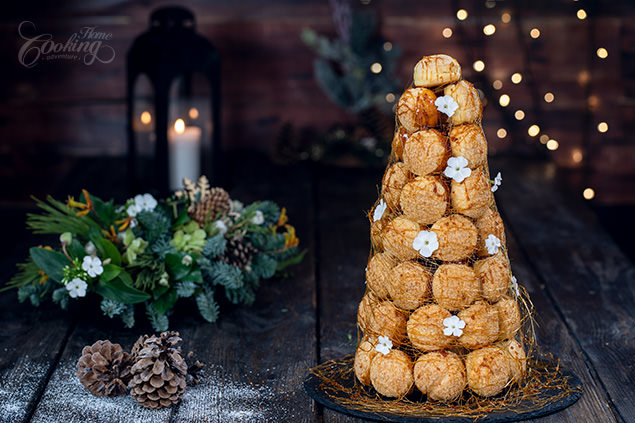 3. Chocolate Coconut Bûche de Noël (Yule Log)
This Chocolate Coconut Bûche de Noël is an impressive Christmas dessert, with a soft chocolate sponge cake filled with a white chocolate and mascarpone frosting enriched with a caramelized coconut for extra flavor and texture.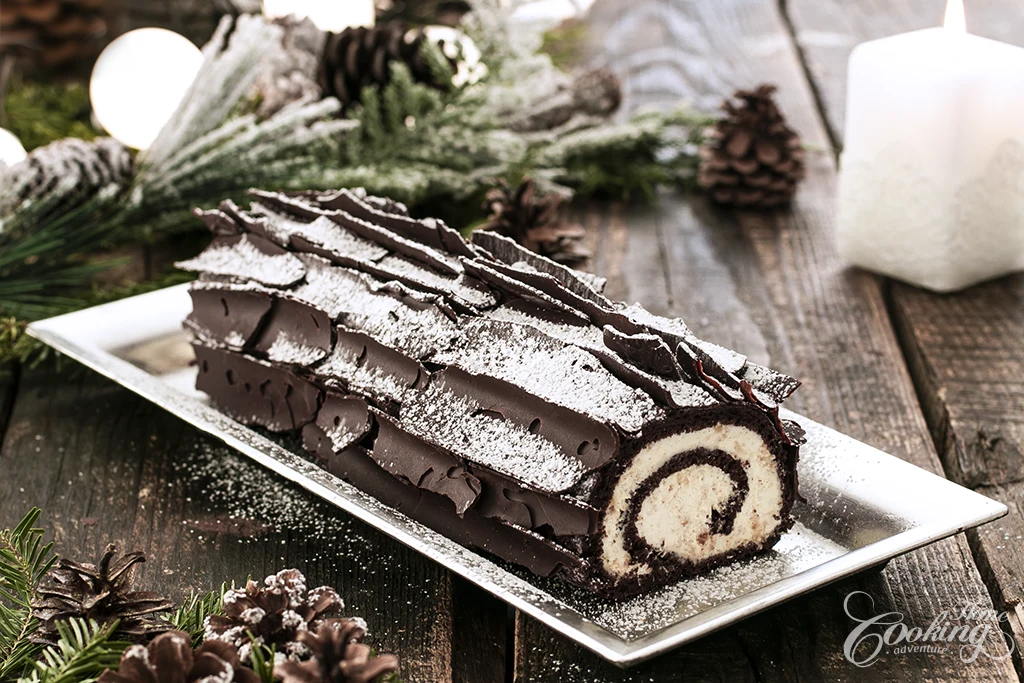 These Coconut macarons are made with Italian Meringue Method. For the filling the coconut is caramelized first for extra texture and then added to a white chocolate filling.  For coconut lovers these macarons are a dream come true, a bit crispy on the outside and perfectly tender inside, definitely an amazing treat for Christmas. You can prepare the macarons in advance, freeze and have them for later use.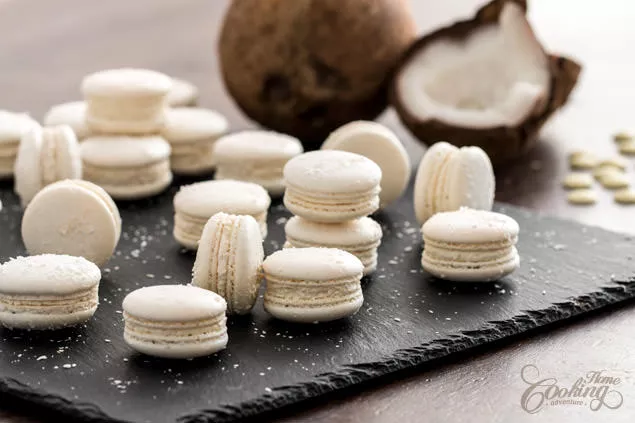 5. Candy Cane Double Chocolate Cookies
Candy Cane Double Chocolate Cookies are some of the best cookies you can prepare for winter holiday season. Adding crunchy crushed candy canes on top not only bring extra flavor and texture but they also add a festive look and beautiful touch of holiday colors.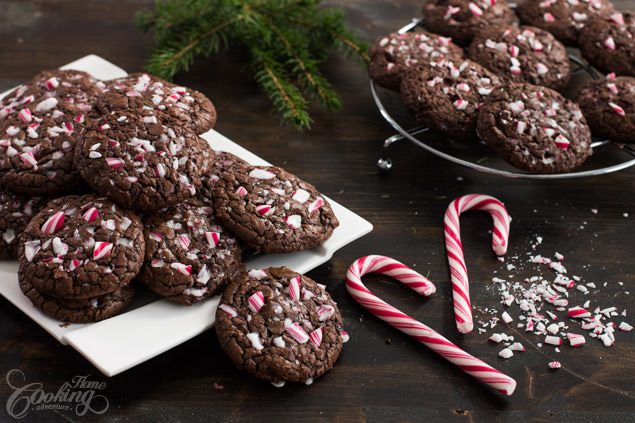 Gingerbread Cookies are some of the favorite cookies to be prepared for Christmas. The spices used and molasses give an amazing flavor and the aroma while baking is amazing. Kids really enjoy making them during the holiday season.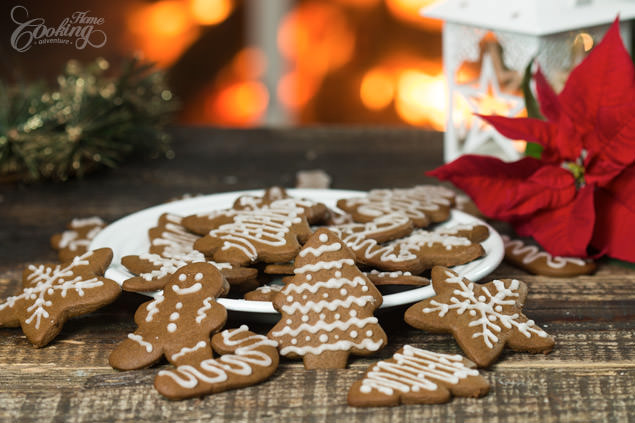 7. Almond Coconut Cake (Raffaello cake)
This delicate and elegant cake is made with an almond sponge cake, a white chocolate, Mascarpone and coconut filling and topped with Raffaello Truffles, chopped almonds, white chocolate curls and shredded coconut. It has a great texture and an amazing flavor, not too sweet, not too dry, due to the amazing white chocolate frosting and coconut milk used to soak each layer of cake. The cake has a delicate almond and coconut flavor and is hard not to fall in love with it from the first bite.
Swirl Cookies are always a favorite whenever I take them to a friend or family gathering. They shouldn't miss the Christmas cookie platter as they are simply irresistible. The recipe is quite easy and as other cookie recipes these swirl cookies can be easily made in advance, freeze and have them ready for holidays.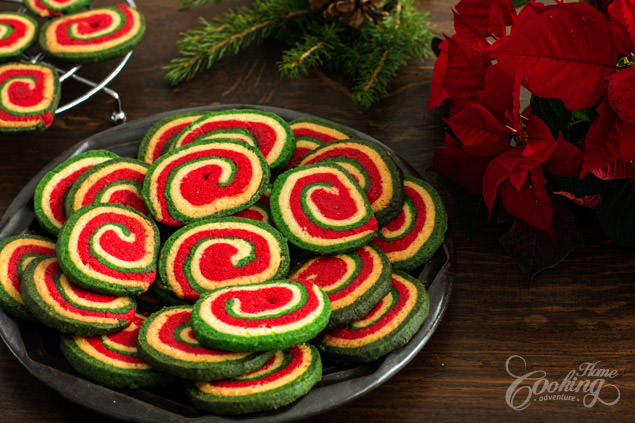 9. Marbled Icing Sugar Cookies
If you are searching for some easy Christmas cookie recipe but with an impressive look these Marbled Icing Sugar Cookies might be a great choice. I simply fell in love with these amazing marbled icing effect. I never really enjoyed icing cookies until I discovered this marbled effect. It goes quick, it is easy and the cookies look absolutely fabulous.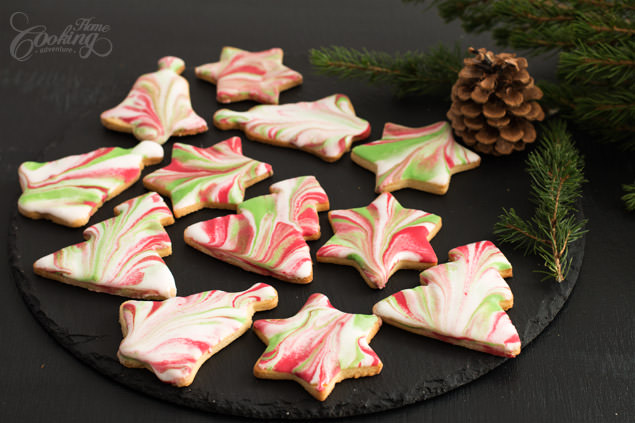 10. Red Velvet Cake
Red Velvet Cake has a soft and moist interior with a great flavor combination coming from vanilla, cocoa powder and buttermilk. This cake has a wonderful red color crumb and frosted with a white cream cheese frosting which I simply adore. I've seen various Red Velvet Cakes made in different ways and I've finally decided on the perfect recipe to share with you. I didn't want on overwhelmingly sweet cake so I reduced the amount of sugar used in cake batter and in frosting as well. This cake is very well balanced and makes an impressive dessert for winter holidays.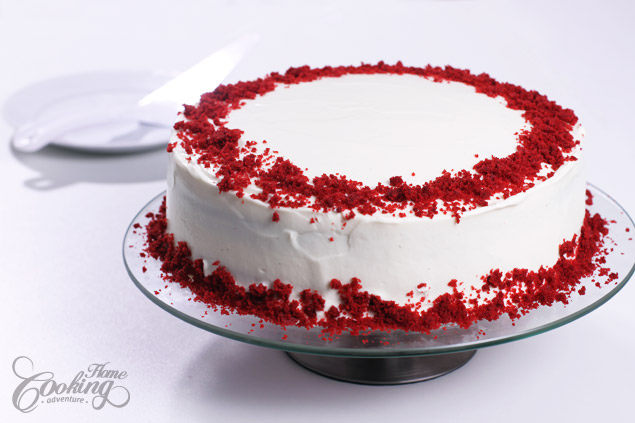 11. Strawberry Cardamom Linzer Cookies
Linzer cookies are usually spiced with cinnamon and have raspberry jam for filling but this time I've wanted something different. I've used homemade strawberry jam for filling and cardamom instead of cinnamon as it makes such a good pair with the strawberries. Added cardamom in both cookies and jam, the flavor is not too intense, just the right amount to make you fall in love with these cookies from the first bite.
12. White Chocolate and Coconut Truffles
There are many ways you can make coconut truffles, with condensed milk, or milk powder and butter but I prefer the smooth texture and taste you get using white chocolate. You don't need many ingredients, the basic are cream, coconut and chocolate and the rest depends on your preferences like, vanilla, orange peel and hazelnuts. It is a perfect elegant dessert for a dinner in two, or for holiday tables or any other gatherings and a perfect homemade gift idea. Everybody will love these, there is no doubt about that.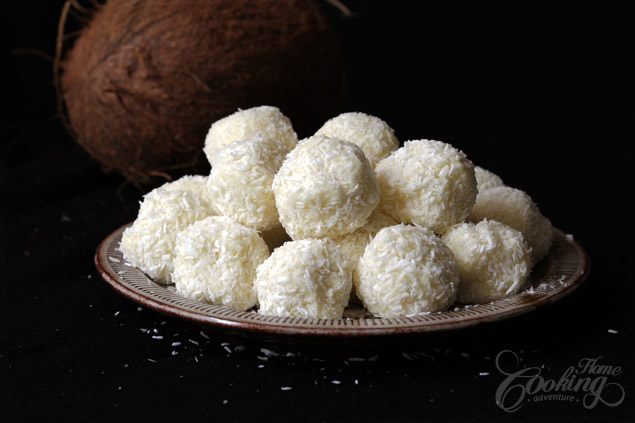 13. Red Velvet Crinkle Cookies
If you don't have time to make Red Velvet Cake for holidays try Red Velvet Crinkle Cookies instead, they are so easy to prepare and you can enjoy red velvet cake flavor in no time. These cookies are soft and chewy and looks so pretty and festive in this red and white colors. You can leave out white chocolate, though the chocolate brings an amazing texture and flavor.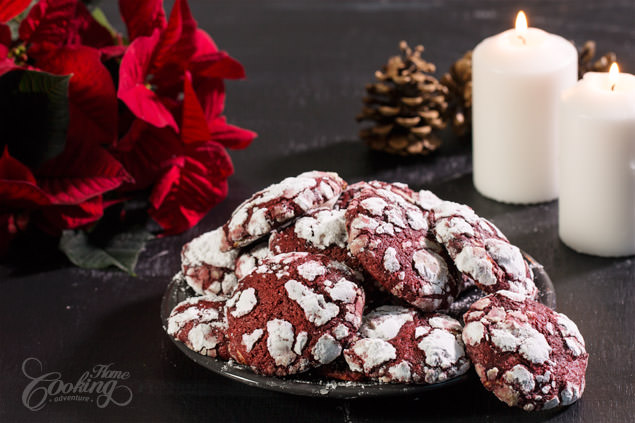 14.Chocolate Stuffed Snowball Cookies
Snowball cookies are an amazing choice for your holiday table. Rich and buttery cookies with crunchy nuts inside and stuffed with chocolate makes them simply irresistible. The cookies are rolled twice in powdered sugar to create the snow effect. The sweetness of the powdered sugar is well balanced with the semisweet chocolate inside. They are definitely a must try and looks really nice if you want to use them as holiday gifts.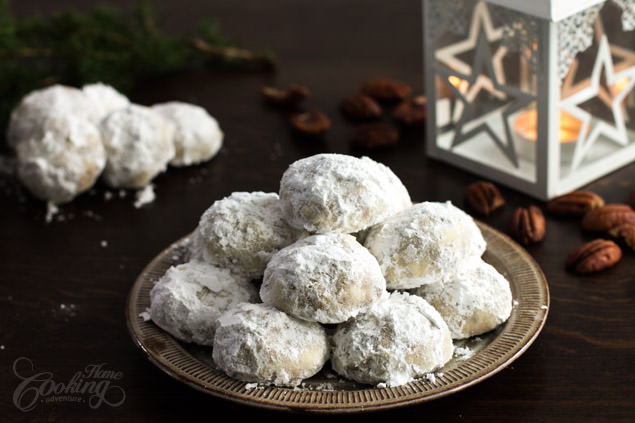 For me nothing gets me more in the Christmas spirit than the smell of oranges. These Cranberry and Orange cookies are packed with lots of orange flavor which makes them such a special treat for holidays. These cookies are very flavorful, soft and chewy and have an amazing texture,  a true delight for your friends or family.