Crispy Onion Rings are a classic snack or appetizer that have been around for decades, and for good reason. The combination of a crunchy exterior and a soft, sweet interior make for a delicious and satisfying treat that can be enjoyed by people of all ages. And when it comes to making onion rings, nothing beats the homemade variety.
Crispy onion rings are particularly popular, and for good reason. They provide a satisfying crunch that is irresistible, and are perfect for dipping in a variety of sauces. Whether you're watching the big game, hosting a party, or just looking for a tasty snack, crispy onion rings are always a great choice.
The key to making perfect onion rings lies in the batter. It needs to be just the right consistency, with the right combination of ingredients to create a crispy, golden brown exterior that complements the sweetness of the onion. 
When it comes to choosing the right onion, yellow or white onions are the most commonly used, but you can experiment with other varieties as well. 
Not only are homemade onion rings delicious, they're also very easy to make. And because you're making them yourself, you can customize them to your liking by adjusting the spices or trying different dipping sauces. So why not give them a try and see for yourself just how good they can be? Make sure to share the photos with me on Instagram if you do. Enjoy!
How to make crispy onion rings
In a medium bowl, combine flour, cornstarch, garlic powder, smoked paprika, chili powder, oregano, and salt. Add the egg and gradually whisk in milk until the mixture becomes smooth.
Next, cut the onion into ¼ inch (6mm) slices and carefully separate the rings. Coat the onion rings in the flour mixture, allowing the excess to drip off, before coating them in breadcrumbs. Repeat the process until all the rings are coated.
Heat oil in a skillet or pan and fry the rings in batches until they turn golden brown, which usually takes about 2-3 minutes. Once done, transfer the onion rings to a plate lined with paper towels to remove any excess oil.
Finally, serve your crispy onion rings with your favorite dipping sauce.
Other appetizer recipes you may like to try
Potato fries are known to be one of the most preferred side dishes worldwide. Use sweet potatoes and bake them instead of frying for a dish that is definitely healthier, full of nutrients and guilty free. For me these Baked Parmesan Sweet Potato Fries are one of the best ways to accustom kids with sweet potatoes. 
These Caramelized Onion and Mushroom Puff Pastry Hand Pies are an amazing comforting dish. They are perfect for lunch or dinner or simply as an appetizer idea for parties. These savory Hand Pies consist of flaky puff pastry filled with a flavorful filling with caramelized onion, mushrooms, fresh thyme and cheese. The puff pastries are topped with some Parmesan Cheese and then baked until golden and crisp. 
These Parmesan Crisps are a quick appetizer idea that is so easy to prepare that you can hardly call it a recipe. With just a few ingredients you can have a low-carb appetizer that everybody will enjoy.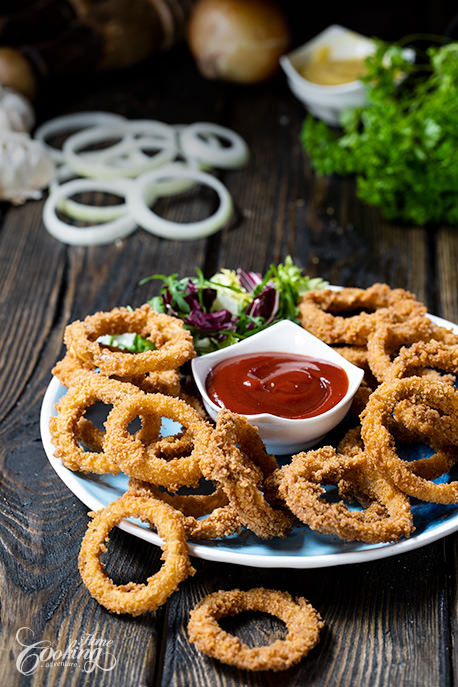 YOU MAY ALSO LIKE:
Greek Tzatziki Sauce
Korean Vegetable Pancakes – Yachaejeon
Garlic Cheese Bombs
Crispy Onion Rings
Crispy onion rings are one of the most loved appetizers by people of all ages and they are perfect for any occasion. With a tender interior and a crispy exterior these homemade onion rings are way better than what you can serve in any restaurant. They are very easy to prepare and the results are really satisfying.
Ingredients
1

large onion

, cut into 1/4-inch (6mm) slices

1

cup

(125g) all-purpose flour

1/3

cup

(40g) corn starch

1/2

tsp

(2g) garlic powder

1

tsp

(1g) oregano

1 ½

tsp

(7g) salt

1/2

tsp

(2g) smoked paprika

1/2

tsp

(2g) chilli powder

1

egg

3/4

cup

(180ml) milk

1 ½

cup

(135g) Panko bread crumbs

vegetable oil for frying

your favorite dipping sauce
Instructions
In a medium bowl combine flour with cornstarch, garlic powder, smoked paprika, chilli powder, oregano and salt. Add egg and gradually whisk in milk until smooth.

Cut onion into ¼ inch (6mm) slices. Carefully separate the rings of onion.

Coat onion rings in flour mixture and let the excess drip off.

Coat the rings in breadcrumbs and repeat until all rings are done.

Heat oil into a skillet or pan.

Fry the rings, in batches, until they are golden brown, for about 2-3 minutes.

Transfer to a plate lined with paper towel to remove excess oil.

Serve with your favorite dipping sauce.
Nutrition
Serving:
1
onion ring
Calories:
27
kcal
Carbohydrates:
3.3
g
Protein:
0.6
g
Fat:
1.3
g
Saturated Fat:
0.3
g
Cholesterol:
3
mg
Sugar:
0.4
g