Making Apricot Jam is probably the best way to preserve apricots. There might be a little work, but you got yourself delicious homemade jam. There are so many ways you can use it: for spreading on cookies, bread, as a top for cheesecakes, or panna cotta. You can also use it to flavor homemade ice creams or other desserts.
Apricots are one of the best fruits for jams as their flavor is enhanced when cooked. It's a pity to let them pass without trying to save some for the colder days.
Some combine apricots with other fruits but I consider this jam is perfect if only apricots are used as they are so flavorful anyway. Not too sweet, a bit tart, a great taste. It is the perfect jam indeed.
How to make apricot jam
Creating homemade jam is easy with these simple steps!
How to prepare the jars.
The first thing to do is make sure your jars and lids are super clean. Wash them well and let them dry completely. If you don't have a super-hot dishwasher, you can wash the jars and dry them in the oven at a low temperature (275°F or 130°C). This not only dries them out but keeps them warm while you make the jam. For the lids, just dip them in hot water that's not quite boiling for around 5 minutes. Just in case, prepare extra jars in case you end up with more jam than you thought. Keeping the jars warm helps them stay safe when you pour in the hot jam.
Prepare the jam
Now, get those fresh apricots ready. Cut them in half and take out the pits. Put them in a big, sturdy pot along with some water and lemon juice. Cover it up and let it cook, giving it a stir every now and then. After around 50 to 60 minutes, the apricots should be soft and well-cooked.
While it's still cooking, pop a small plate in the freezer. When you're ready, add sugar to the apricots and keep cooking without a lid. Stir a lot! If any foam appears, take it out.
When you think the jam is thick enough, drop a bit of it onto that cold plate from the freezer. Let it cool and then nudge it a bit. If it crinkles and holds its shape, you're good to go. If not, keep cooking and testing until it's just right.
Preheat your oven to 300°F (150°C). Gently pour your hot jam into those prepared jars, leaving some space at the top. Put the jars in a baking tray, add some warm water to the tray, and slide it all into the oven. Let it stay warm in there for about 1 hour.
Carefully take the jars out and place them on a covered counter. Pop on the lids, cover them with a cloth, and let them cool down. And there you have it – homemade jam ready to enjoy!
Let me know if you try this Apricot Jam and hope you enjoy it as much as we did! If you do, share the photos with me on Instagram. Would love to see how it turned out for you.
YOU MAY ALSO LIKE: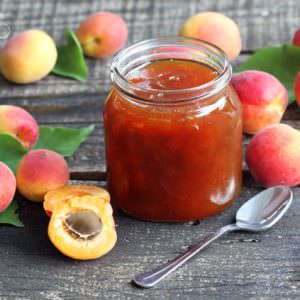 Apricot Jam
Making apricot jam is probably the best way to preserve apricots. Use it for spreading on cookies, bread, on cheesecakes or panna cotta.
Ingredients
9

pounds

(4 kg) fresh apricots

1

cup

(250 ml) water

9

cups

(2 kg) sugar

lemon juice from 2 lemons
Instructions
First thing when making the jam is to sterilize the jars and lids. Wash them thoroughly and make sure they are well dried before adding the jam inside. If you don't have a dishwasher with high temperature setting just wash the jars and dry them in the oven (275 F , 130 C) until completely dry and to keep them hot until the jam is ready. Put the lids into a pan of hot, but not quite boiling water for 5 minutes. Always sterilize more jars in case you got with more jam than you anticipated. Keep the jars hot to prevent them from breaking when you fill them with the hot jam.

Cut the fresh apricots in half and remove the pits. Place the apricots in a heavy bottom large pot and add the water and lemon juice. Cover and cook, stirring frequently, until apricots are soft and cooked through for about 50-60 minutes.

Put a small plate in the freezer.

Add sugar and cook, uncovered, stirring constantly until done. Remove any foam that rises to the surface.

Once you think the jam is thick enough, test it on the cold plate. Let it cool and if it crinkles and holds it is done. If not continue cooking and repeat the test until the right consistency.

Preheat oven to 300 F (150 C) .

Carefully fill your hot jars leaving 1/2 inch head space. Place the jars in a baking tray and place it in the oven. Add some warm water in the baking tray and let the jars in the warm oven for about 1 hr.

Remove them carefully to a cloth covered counter. Add the lids, cover with the cloth and let them cool on the counter. 
Nutrition
Serving:
1
g
Calories:
746
kcal
Carbohydrates:
188
g
Protein:
4.8
g
Fat:
1.4
g
Sugar:
181.5
g