I am glad to share with you these zucchini pancakes recipe, that are a traditional Korean dish called Hobakjeon. The pancakes are served with spicy soy sauce and makes a perfect side dish. It is a different way of cooking zucchinis and I must say it is really delicious and looks absolutely great.
The pancakes are really easy to prepare, it takes only a few minutes to prepare the batter and you don't need special utensil to make this dish. If possible try to you use baby zucchinis for this recipe. It is also essential to use fresh and firm zucchinis in order to enjoy this recipe at its' best.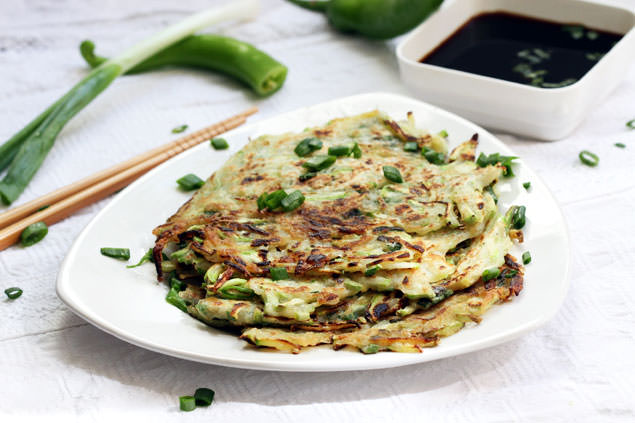 How to make zucchini pancakes
First you need to slice the zucchinis into thin disks, then cut the disks into matchsticks. Then you add the zucchini matchsticks into a flour and water mixture, add spices and green onion if used and the batter is ready. Take spoon fools of batter and place in a preheated skillet with a bit of oil and cook on each side for a few minutes until light golden brown and crispy. The pancakes are amazing and perfect as a side dish or as an appetizer or why not for breakfast.
For the spicy soy sauce you simply mix some soy sauce with garlic, green onion and chopped chili pepper. I highly recommend serving these pancakes with the spicy sauce as they make a good match, as the sauce brings a lot of flavor.
I like to make these zucchini pancakes for my daughters, without the spicy soy sauce, as a side dish alongside meat, and I must say they have become a new favorite dish in my house. It is a great way to include zucchinis in my daughter's meals. If you like zucchinis and you want to try something new, I encourage you to give this recipe a try. Let me know how they turn out for you, share the photos with me on Instagram and enjoy!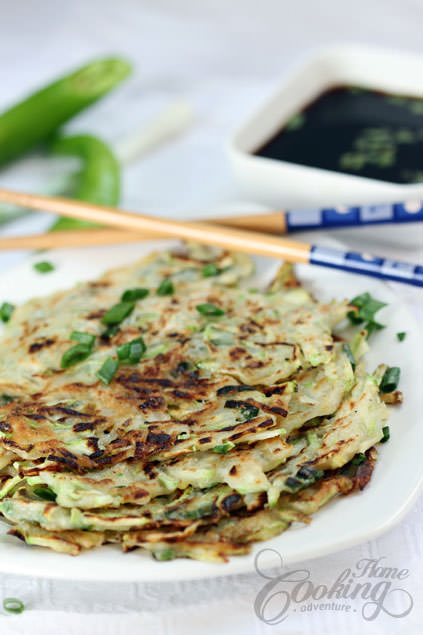 YOU MAY ALSO LIKE:
Vegetable Zucchini Balls
Stuffed Zucchinis
Zucchini Fritters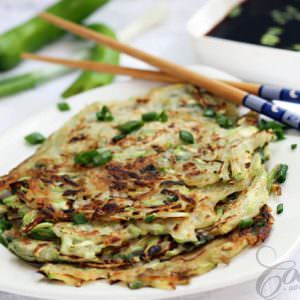 Zucchini Pancakes (Hobakjeon)
These Zucchini pancakes (Hobakjeon) made with green onions are a delicious way of cooking zucchinis. Very easy to prepare and quick are perfect as a side dish or appetizer.
Ingredients
1

medium-large zuchinni

1

cup

flour

1

cup

water

1

green onion

, chopped

salt and freshly ground black pepper

2 or 3

tbsp

vegetable oil for frying
Dipping Sauce
1/4

cup

soy sauce

1

green onion

, chopped

1

clove

garlic

, minced

1

small chili pepper

, chopped
Instructions
Slice the zucchinis into thin disks, then cut the disks into matchsticks. 

In a bowl mix flour and water using a spoon. Add salt and pepper and stir in the zucchinis matchsticks and onion.

Heat a nonstick pan over medium heat. Sprinkle 2, 3 tbsp of vegetable oil. Add a spoonful of the batter to the pan, press and cook until the bottom turns light golden brown and crispy. Flip with a spatula and cook until browned on the other side.

Prepare the dipping sauce by mixing the soy sauce with onion, garlic and chili pepper. 

Serve hot and crispy along the soy dipping sauce.
Nutrition
Serving:
1
g
Calories:
388
kcal
Carbohydrates:
55.2
g
Protein:
10.1
g
Fat:
14.4
g
Saturated Fat:
2.8
g
Sugar:
2.9
g