This Homemade Granola is a deliciously crunchy mixture perfect for a healthy breakfast or snack. It is an easy recipe that results in a yummy, sweet, nutty granola that is way better than what you can find in stores.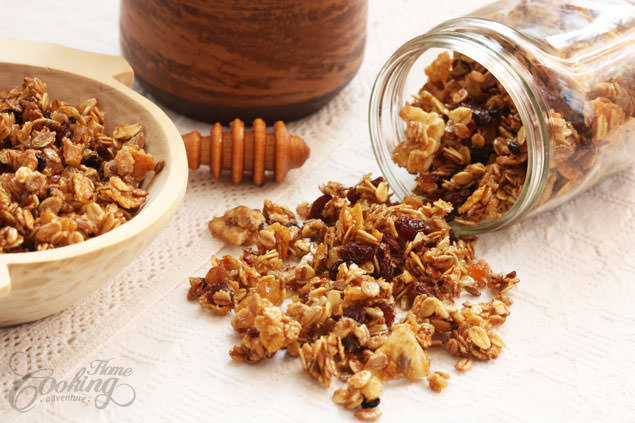 How to make homemade granola.
 To make granola at home, all you need are a few simple ingredients and a baking sheet. Simply mix your oats with a pinch of salt. In a small saucepan heat butter with honey and brown sugar if used and add to the oat mixture. Spread the mixture out evenly on a baking sheet. Bake in the oven at a low temperature for about 25-30 minutes, stirring occasionally, until it is golden brown and crispy. Add the nuts, seeds, and dried fruit after the first 15 minutes of baking. Let it cool completely before storing in an airtight container
You can also adjust this recipe to suit your taste, you can use various fruits, nuts or seeds. By making it yourself, you can adjust the amount of sweeteners used. You can leave out the brown sugar for instance and use only the honey or maple syrup. 
One of the best things is that homemade granola has no preservatives, so I highly recommend trying this recipe at home for a healthier breakfast or snack idea. You can enjoy it with yogurt, milk or just eat it as a snack. Homemade granola is a delicious and healthy option that you can enjoy any time of day.
Let me know if you try it out, and don't forget to tag me on Instagram if you do. Enjoy and Bon appetite!
YOU MAY ALSO LIKE:
Apple Crumble
Eggless Oatmeal Cookies
Raspberry Yogurt Oatmeal Bars
Homemade Granola
Homemade Granola - a delicious crunchy mixture, sweet and nutty for a healthy breakfast or snack. It is way better than what you can find in stores.
Ingredients
2

cups

rolled oats

1/4

cup

brown sugar

1/4

cup

honey

1

tsp

vanilla extract

4

tbsp

oil or 5 tbsp butter

dried fruits, like raisins, cranberries

nuts and seeds

, optional

pinch of salt
Instructions
Preheat the oven to 325 degrees F (160 C). Line a baking sheet with parchment paper.

Add the rolled oats and pinch of salt to a medium bowl.

In a small sauce pan add the butter or oil, honey, brown sugar and heat over medium heat just until melted. Add vanilla extract. Pour the mixture over the dry ingredients and stir together until well coated.

Spread the mixture on the prepared baking sheet then bake for about 20-30 minutes stirring constantly. Add nuts, seeds and dried fruits after the first 15 minutes of baking.

Let cool completely and keep in an airtight container. Serve with milk or yogurt or just as a snack. 
Nutrition
Calories:
2238
kcal
Carbohydrates:
319.4
g
Protein:
26.8
g
Fat:
93.7
g
Saturated Fat:
7.2
g
Sugar:
105.8
g