Savor the taste of fall with our mouthwatering Apple Crumble. This classic fall dessert brings together fresh apples and a blend of warm spices, creating a delightful treat that's easy to love. This easy recipe for apple crumble is one of the best apple recipes you can try during the fall season.
Our Apple Crumble combines tender, cinnamon-spiced apples with a crisp, buttery topping. Each bite offers a satisfying mix of soft and crunchy textures, giving you a taste of fall's comfort and warmth.
Based on cherished fall recipes, our Apple Crumble is a wonderful addition to any autumn get-together. Whether it's a cozy family dinner or a special celebration, this dessert's inviting scent and rustic charm will leave a lasting impression on your fall moments.
To make the preparation of this crumble much easier, you can even prepare the oat crumble the night before, refrigerate it, and then focus on prepping the apples the next day. Feel free to get creative with the oat crumble by incorporating various chopped nuts or raisins for extra flavor and texture.
Apple crumble makes a delightful breakfast when paired with yogurt or a comforting dessert alongside vanilla ice cream.
How to make apple crumble
Begin by preheating your oven to 350°F (180°C). Next, generously grease a 2-quart (2 liters) baking dish with butter.
In a large mixing bowl, combine flour, oats, sugar, cinnamon, salt, and optionally, walnuts. Gradually blend in the butter until a crumbly texture forms.
Take your apples and slice them into 1/4 inch (6mm) slices. Place them into a large bowl and gently toss them with sugar, lemon juice, flour, and cinnamon.
Spread this apple mixture evenly into your prepared baking dish. Now, generously sprinkle the crumble mixture over the apples.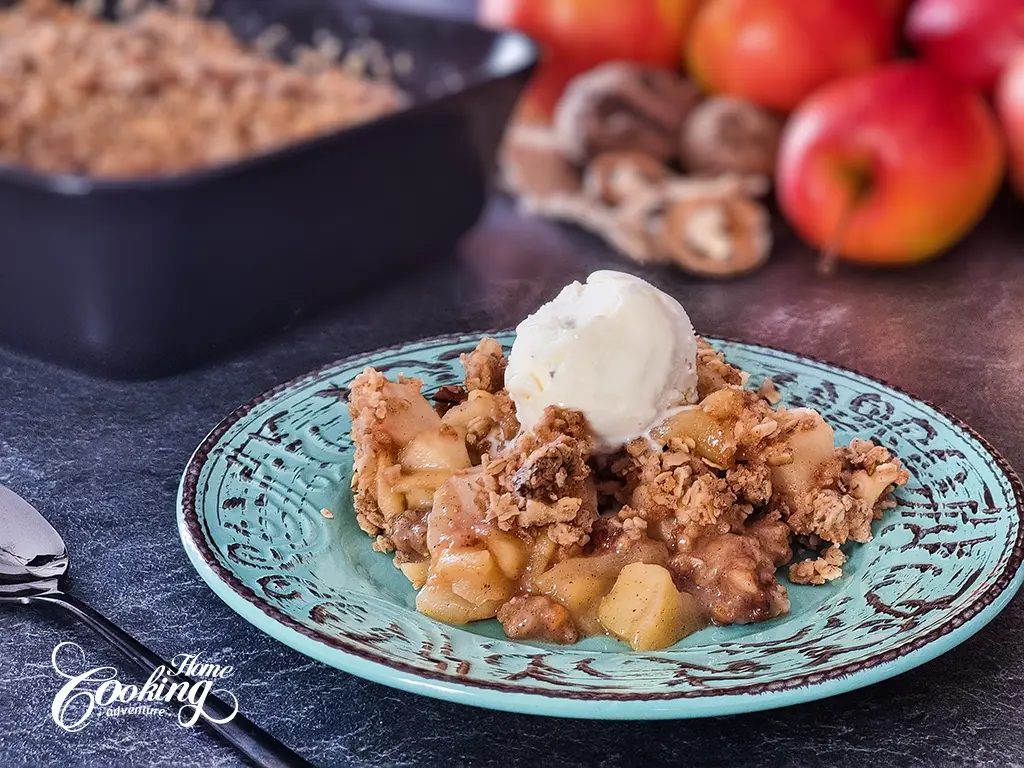 Bake in the preheated oven for approximately 40-45 minutes, or until the apples become bubbly and the topping boasts a golden brown hue.
To serve, scoop out generous portions while it's warm and pair it with your choice of accompaniment – be it creamy vanilla ice cream or a dollop of honey-kissed yogurt.
Treat yourself and your loved ones to this delightful fall dessert.  Please do let me know if you give it a try and don't forget to tag me on Instagram if you do! Enjoy!
Other easy apple recipes you may like to try
These Apple Hand Pies are delightful treats bursting with autumn's rich flavors. These little pastries are a perfect blend of buttery crust and tender, cinnamon apple filling, creating a cozy and comforting experience. They make a great snack, on-the-go treat or dessert.
This Giant Apple Cinnamon Roll is a comforting fall dessert perfect for apple season. It is bursting with cinnamon flavor and wonderfully complements the tender apples inside. Serve while still slightly warm with a generous amount of cinnamon cream cheese icing.
This flavorful German Apple Streusel Cake is one of the best apple cakes you can ever make. It is so comforting and is a great dessert for cozy fall days.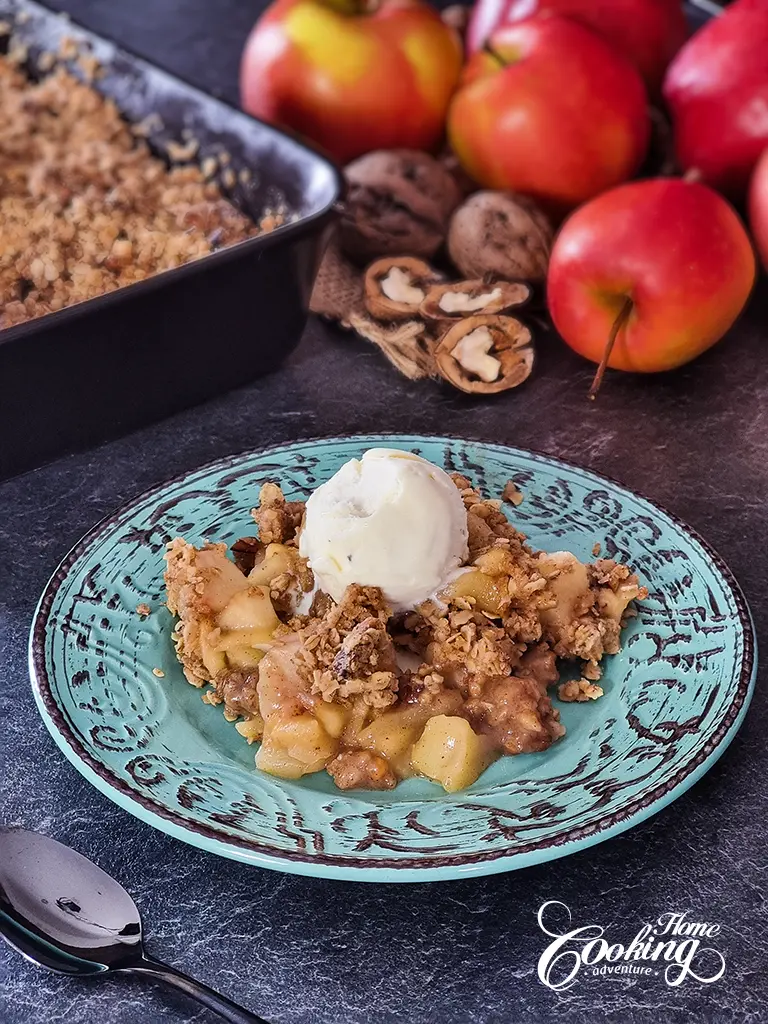 YOU MAY ALSO LIKE:
Apple Pecan Caramel Mousse Cake
Almond Apple Tart
Apple Upside Down Cake
Apple Pie
Stovetop Apple Upside Down Cake
10 Apple Recipes
Spiced Apple Pear Christmas Tart
Apple Doughnuts
Caramel Apple Cheesecake Bars
Apple Meringue Cake
Apple Crisp Pancakes
Apples and Oats Biscotti
Apple French Toast Roll-Ups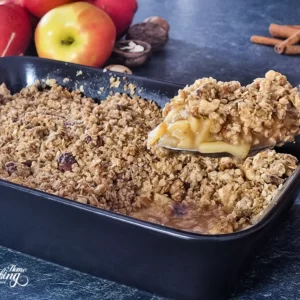 Apple Crumble
Apple crumble - easy and delicious fall recipe for breakfast if served with some yogurt or as a dessert served while still warm with vanilla ice cream.
Ingredients
Apple Filling
2 ½

pounds

(1.1 kg ) apples

, peeled and cored

1/4

cup

(50g) sugar

2

tbsp

(30g) lemon juice

2

tbsp

(20g) flour

1/2

tsp

(2g) ground cinnamon
Crumble Topping
1/2

cup

(110g) unsalted butter

, melted

1

cup

(100g) rolled oats

1

cup

(125g) all-purpose flour

1/3

cup

(70g) brown sugar

1

tsp

(3g) ground cinnamon

1/4

tsp

(1g) salt

2/3

cup

(80g) walnuts/pecans

, optional
Instructions
Preheat oven to 350F (180C). Grease with butter a 2 quart (2 liters) baking dish.

In a large bowl mix together the flour, oats, sugar, cinnamon, salt and walnuts if used. Incorporate butter to the flour mixture until crumbs are formed.

Slice apples into 1/4 inch (6mm) slices. Transfer the apples to a large bowl and toss with sugar, lemon juice, flour and cinnamon.

Spread them out into the prepared baking dish.

Add the crumble over the apples.

Bake for about 40-45 minutes until the apples are bubbly and the topping is golden brown.

Serve warm with vanilla ice cream or honey yogurt.
Nutrition
Serving:
1
serving out of 8
Calories:
349
kcal
Carbohydrates:
43
g
Protein:
6.2
g
Fat:
18.1
g
Saturated Fat:
7.6
g
Cholesterol:
30
mg
Sodium:
134
mg
Potassium:
172
mg
Fiber:
3.5
g
Sugar:
18.3
g
Calcium:
33
mg
Iron:
2
mg