If you like soufflés you should give this Raspberry Soufflé a try. It is light and airy with a great raspberry flavor and the sweetness is very well balanced by the tart raspberry sauce which also brings a natural pink color.
How to make raspberry soufflé
It may seem intimidating to prepare this raspberry soufflé, but the recipe is quite easy and quick. First, you need to prepare a raspberry sauce and let cool before adding it to the souffle batter.  For the soufflé batter, you need to prepare a pastry cream which is the base for this soufflé. When cooled, incorporate the raspberry sauce into the pastry cream. Whip the egg whites and incorporate nto the raspberry pastry cream mixture. Divide the batter into greased ramekins and bake until puffed and golden. Dust with powdered sugar and serve this Raspberry Soufflé right away, as it deflates after removing it from the oven.
You can also consider preparing the pastry cream and raspberry sauce in advance and add the whipped whites just before baking and serving, for whenever you have guests invited. You can also bake the soufflés one or two at a time in case you need some for later.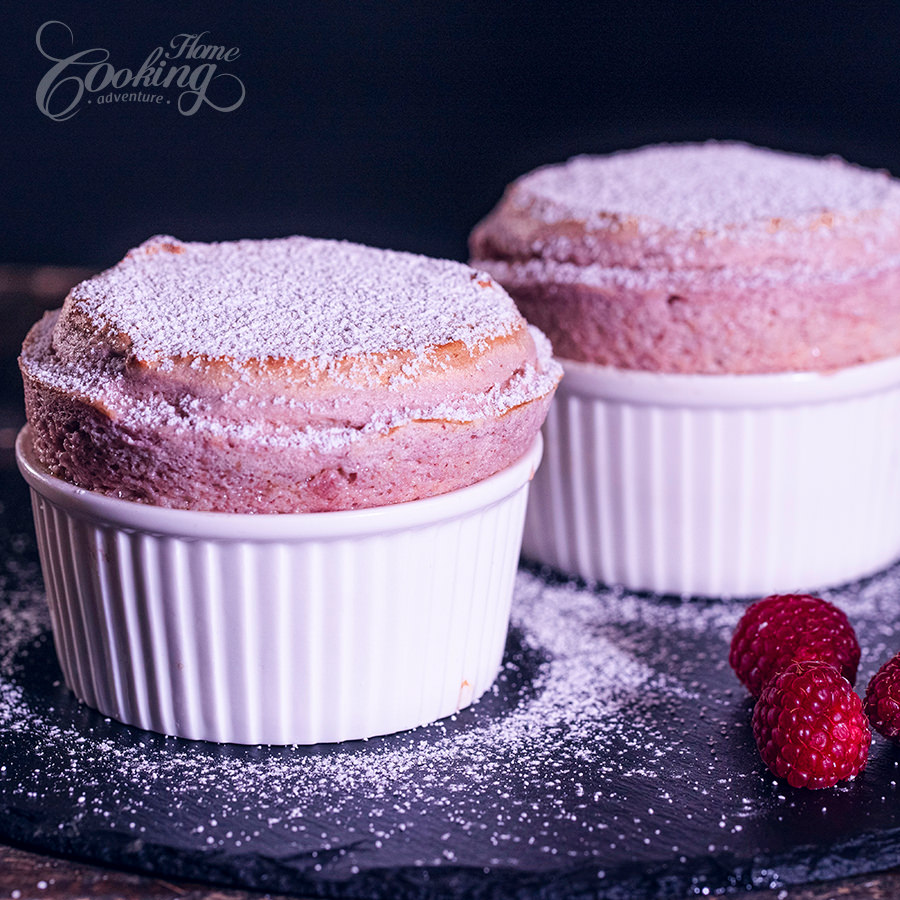 Another great thing is that this raspberry soufflé can be made all year round with either fresh or frozen raspberries.
You can also adjust this recipe and use various berries instead of raspberries. Strawberries or blueberries are a great substitute. Hope you will give this Raspberry Soufflé a try as I am sure everybody will be impressed and delighted. Don't forget to tag me on Instagram if you do as I love seeing how this turned out for you.
For more raspberry desserts check our collection of Raspberry Recipes.
Other soufflé recipes you may like to try
Here are some other amazing soufflé recipes you can try, like this delicate Vanilla Soufflé or this intense Chocolate Soufflé and also some savory ones like this Cheese Soufflé, Potato Soufflé or Sweet Potato Soufflé. All are simply delightful and as I find it pretty hard to choose only one of them, I highly recommend trying them all.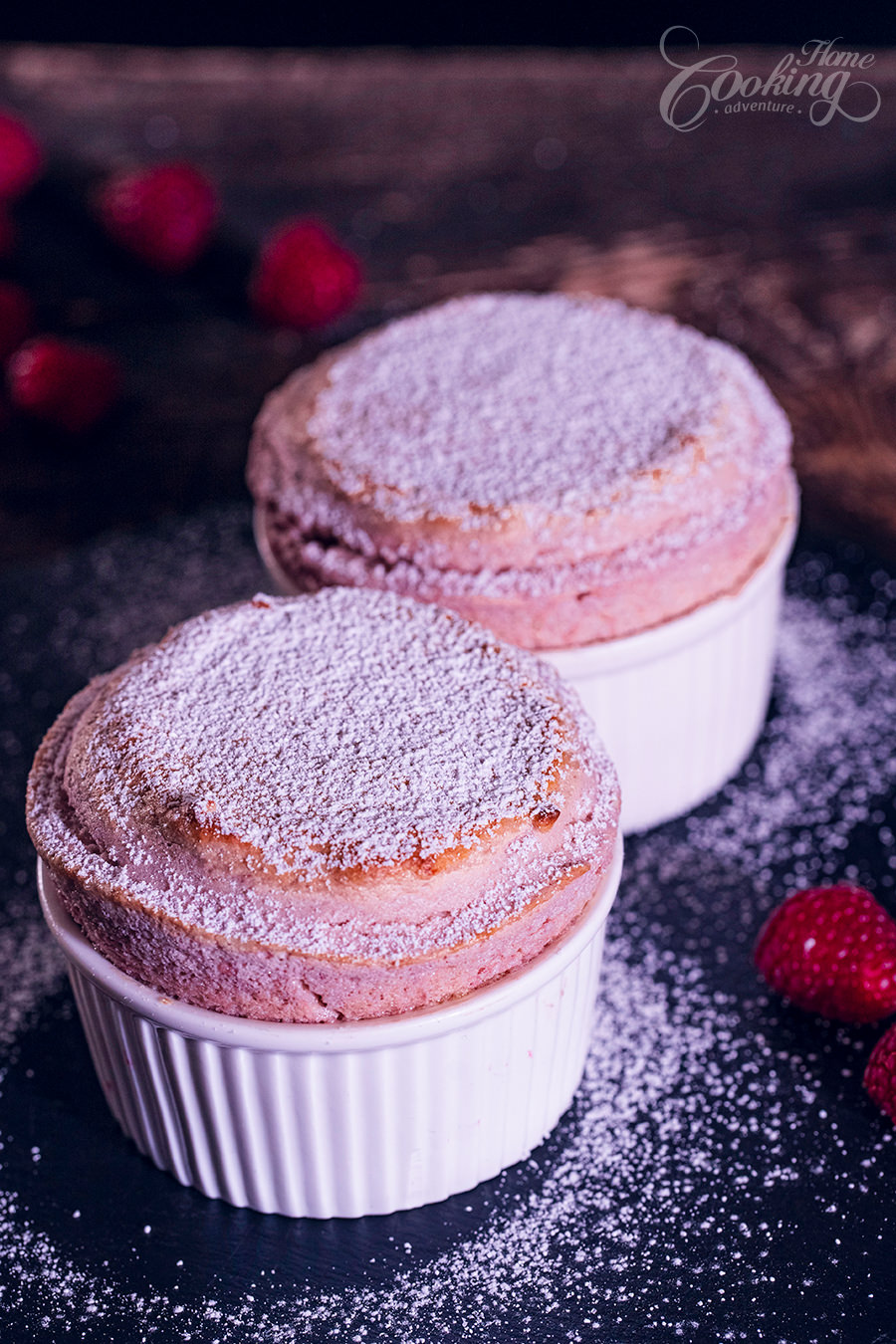 YOU MAY ALSO LIKE:
1 Minute – Chocolate Raspberry Mug Cake
Raspberry Chocolate Cups
Raspberry Yogurt Bars
Vanilla and Raspberry Panna Cotta
Vanilla Raspberry Mini Eclairs
White Chocolate Raspberry Mousse Cake
Chocolate Raspberry Mousse Domes
Chocolate Raspberry Whoopie Pies
Raspberry Coconut Mousse Cake
Chocolate Raspberry Mousse Cake
Raspberry Almond Ice Cream Cake
Mango Raspberry Mousse Cake
Raspberry Macarons
Brownie Raspberry Cheesecake
White Chocolate Raspberry Crepe Cake
Chocolate Raspberry Cake
Raspberry Vanilla Cake
Raspberry Chocolate Cups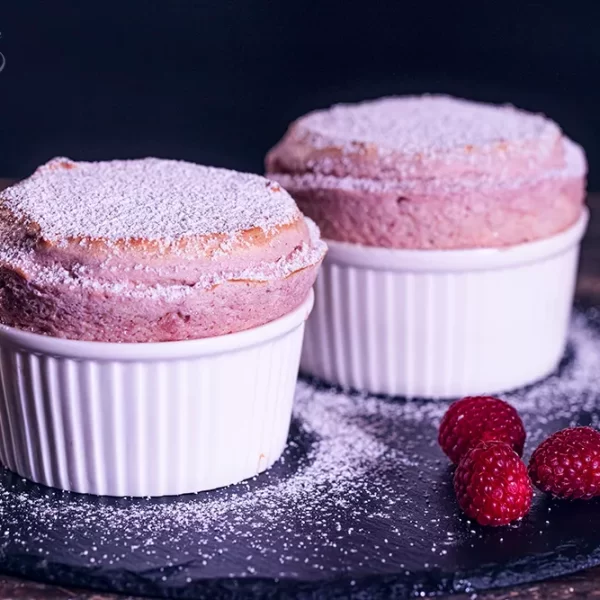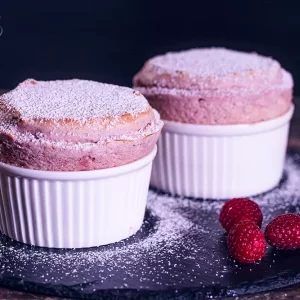 Raspberry Soufflé
This Raspberry Souffle is light and airy with a great raspberry flavor. The sweetness is very well balanced by the tart raspberry sauce .
Ingredients
Raspberry Sauce
5.5

oz

(150g) fresh or frozen raspberries

2

tbsp

(30g) sugar

1

tsp

(5g) lemon juice
For Souffle Batter
4

large eggs

separated

1

1/4

(300ml) milk

5

tbsp

(50g) flour

3

tbsp

(45g) sugar

for egg yolks

1

tsp

(5g) vanilla extract

1/4

tsp

(1g) salt

3

tbsp

(45g) sugar

for egg whites
For coating the ramekins
softened butter and sugar
Instructions
First prepare the raspberry sauce so it has time to cool before preparing the raspberry souffle. Place raspberries, sugar and lemon juice in a small saucepan and place over medium heat, bring to a boil and cook for about 5 minutes until slightly thickens. Remove from heat and sieve to remove seeds. Let cool.

Preheat the oven to 375 F (190C). Place a baking sheet on the middle rack in the oven.

Grease with butter 4 ramekins of 8 oz (230ml) capacity using a brush and making upward strokes (seems this step helps the souffle rise evenly). Coat the bottom and sides with sugar. Discard excess sugar.

Separate whites from yolks and set aside until ready to use.

In a medium saucepan bring milk to a simmer.

In another saucepan mix yolks with 3 tbsp sugar until slightly pale. Add flour and whisk to combine. Pour about a third of the hot milk over the egg yolk mixture to temper the yolks. Add the rest of the milk and return to heat. Bring to a boil, stirring continuously; cook 1-2 minutes more or until thickened.

Remove from heat and stir in vanilla extract. Transfer mixture to a larger bowl and let cool slightly.

When cooled, mix with raspberry sauce.

In a separate bowl whip whites with a pinch of salt until foamy. Gradually add remaining 3 tbsp of sugar and continue whipping until stiff peaks form. Gradually fold the whipped whites into the yolk mixture.

Divide mixture evenly into the prepared ramekins. Run your finger around the inside edge of the ramekin.

Place the ramekins onto the preheated baking sheet and bake for 15-20 minute until golden and puffed.

Dust with powdered sugar and serve immediately. Enjoy!
Nutrition
Serving:
1
serving
Calories:
292
kcal
Carbohydrates:
48.4
g
Protein:
10.6
g
Fat:
6.9
g
Saturated Fat:
2.5
g
Cholesterol:
2.5
mg
Sodium:
204
mg
Potassium:
185
mg
Sugar:
35.8
g
Calcium:
130
mg
Iron:
22
mg