I have a deep affection for soufflés due to their elegant yet uncomplicated nature and incredible deliciousness. I've shared numerous recipes, both savory and sweet, and they have all been exceptional and remarkably simple to make. Souffles are the kind of dish you wanna prepare whenever you want to impress with your cooking skills. Even though many are hesitating to prepare them at home they are not at all daunting, and the process itself is quite straightforward. Today, I am delighted to share with you a truly remarkable recipe for Vanilla Soufflé that has stolen our hearts.
This exquisite dessert is a masterpiece of French cuisine, known for its airy texture, delicate sweetness, and heavenly aroma. With its golden-brown exterior and a soft, melt-in-your-mouth interior, this vanilla soufflé is a true symphony of flavors that captivates dessert enthusiasts around the world.
The magic of a vanilla soufflé lies in its unique preparation method. The process begins with a luscious custard base, carefully crafted from egg yolks, sugar, and fragrant vanilla. Whisked to perfection, the mixture is then combined with stiffly beaten egg whites, which are folded gently to preserve the airy texture. This delicate balance of ingredients is what creates the soufflé's signature rise in the oven, resulting in a glorious tower of goodness.
As the vanilla soufflé bakes, it transforms from a liquid-like batter into a puffed, golden creation. The air trapped within the soufflé expands, causing it to rise dramatically, achieving its iconic cloud-like appearance. Once out of the oven, the soufflé must be served immediately, as its delicate structure will eventually collapse.
How to make vanilla soufflé
To prepare a delightful vanilla soufflé, first, preheat your oven to 375°F (190°C) and position a baking sheet in the middle rack. Generously butter four 8 oz (230ml) ramekins using a brush, making upward strokes to help the soufflé rise evenly. Coat the bottom and sides of the ramekins with sugar.
Next, separate the egg whites from the yolks. In a medium saucepan, bring the milk to a simmer. In another saucepan, combine the egg yolks with 3 tablespoons of sugar, until the mixture turns slightly pale. Add flour and whisk to combine. To temper the yolks, pour about one-third of the hot milk over the egg yolk mixture, then add the remaining milk and return it to the heat. Cook, stirring constantly, until the mixture thickens for about 1-2 minutes.
Stir in the vanilla extract and transfer the mixture to a larger bowl to cool slightly. In a separate bowl, whip the egg whites with a pinch of salt until they become foamy. Gradually add the remaining sugar while continuing to whip until stiff peaks form. Gently fold the whipped egg whites into the yolk mixture.
Evenly divide the batter into the ramekins and place them onto the preheated baking sheet. Bake for approximately 25-30 minutes, until they turn golden and puff up beautifully. Once baked, dust the soufflés with powdered sugar and serve immediately to enjoy their warm and fluffy goodness.
Each spoonful of a vanilla soufflé provides a delightful experience. The outer layer has a delicate crispness that gives way to a velvety and custard-like center. Whether enjoyed as the perfect ending to an elaborate meal or savored on its own, a vanilla soufflé showcases the mastery of pastry-making. Hope you will give it a try and make sure to share the photos with me on Instagram if you do. Enjoy!
Other
soufflé 
recipes you may like to try
This Chocolate Soufflé is decadent and rich, a chocolate lover's dream dessert. Fluffy and irresistible, this  melt-in-your-mouth delight is perfect for indulging your sweet tooth.
Our recipe for Cheese Soufflé  is a savory and satisfying dish, a cheese lover's delight. This classic dish combines creamy cheese with a fluffy, airy texture, creating a perfect harmony of flavors.
This Sweet Potato Soufflé is a delightful twist on a classic. This sweet and comforting dessert showcases the natural sweetness of sweet potatoes. With a golden, puffed-up top and a creamy center, it's a treat that will warm your heart.
Our Raspberry Soufflé is bursting with vibrant flavors. This fruity delight is a symphony of tangy and sweet notes. With its light and airy texture, it's a dessert that will leave you craving more.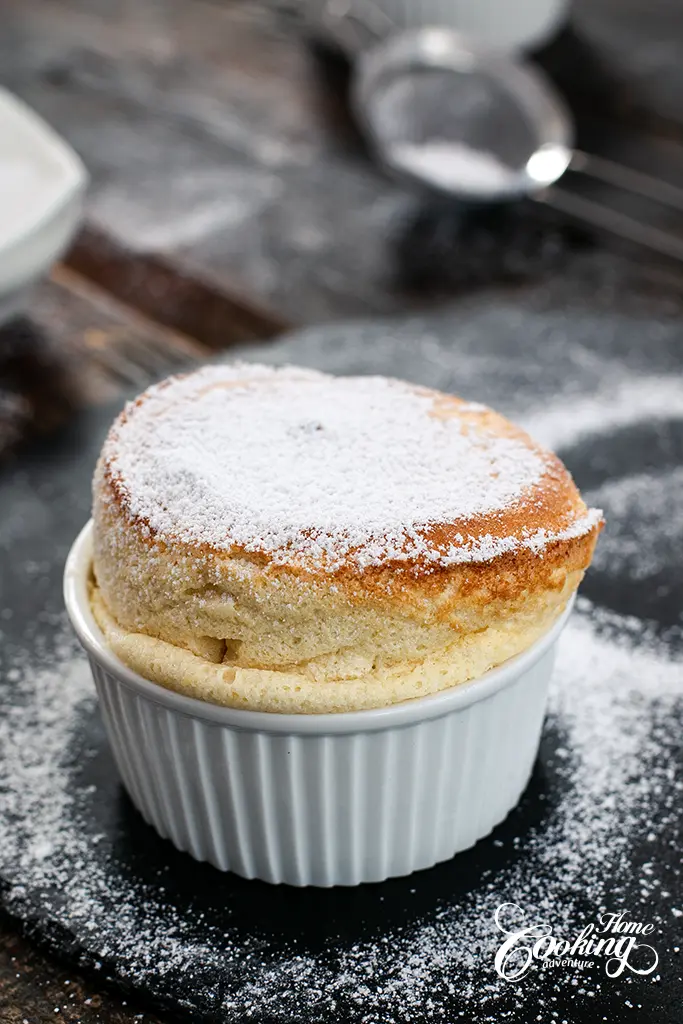 YOU MAY ALSO LIKE:
Japanese Soufflé Pancakes
Easy Potato Soufflé Recipe
Taiwanese Castella Cake
Japanese Soufflé Cheesecake
Vanilla Meringue Mousse Cake
Ding Dong Cake
Vanilla Custard Cake
Raspberry Vanilla Cake
Lemon Ricotta Cake
Vanilla and Chocolate Pudding
Eclair Cake
Norwegian Verdens Beste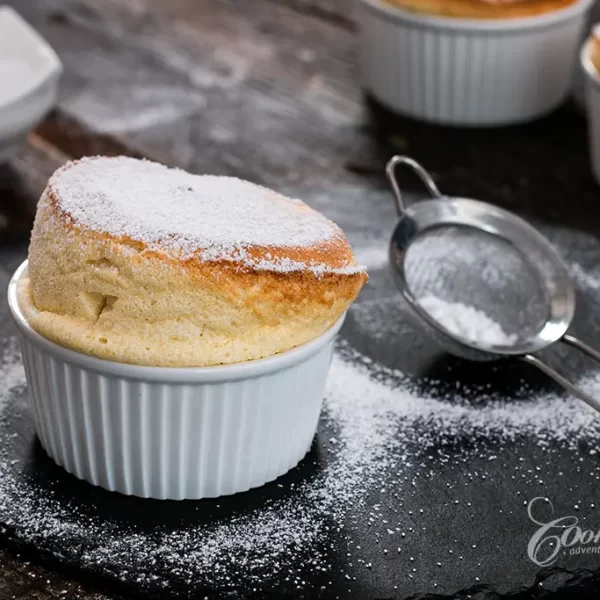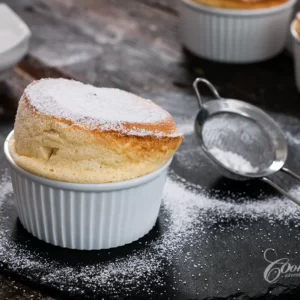 Vanilla Soufflé
These vanilla souffles are simply out of this world. So fluffy with a mousse like texture, almost melting in your mouth, light and airy and full of vanilla flavor. Such an amazing way of finishing your lunch or dinner. Enjoy!
Ingredients
4

large eggs

, separated

1 ¼

cup

(300ml) milk

5

tbsp

(50g) flour

3

tbsp

(45g) sugar

, for egg yolks

2

tsp

(10g) vanilla extract

1/4

tsp

(1g) salt

3

tbsp

(45g) sugar

, for egg whites
For coating the ramekins
softened butter and sugar
Instructions
Preheat oven to 375 F (190C). Place a baking sheet on the middle rack in the oven. Grease with butter 4 ramekins of 8 oz (230ml) capacity using a brush and making upward strokes (seems this step help the souffle rise evenly). Coat the bottom and sides with sugar. Discard excess sugar.

Separate whites from yolks and set aside until ready to use.

In a medium saucepan bring milk to a simmer.

In another saucepan mix yolks with 3 tbsp sugar until slightly pale. Add flour and whisk to combine. Pour about a third of the hot milk over the egg yolk mixture to temper the yolks. Add the rest of the milk and return to heat. Bring to a boil, stirring continously; cook 1-2 minutes more or until thickened.

Remove from heat and stir in vanilla extract. Transfer mixture to a larger bowl and let cool slightly.

In a separate bowl whip whites with a pinch of salt until foamy. Gradually add remaining 3 tbsp of sugar and continue whipping until stiff peaks form. Gradually fold the whipped whites into the yolk mixture.

Divide mixture evenly into the prepared ramekins. Place the ramekins onto the preheated baking sheet and bake for 25-30 minute until golden and puffed.

Dust with powdered sugar and serve immediately. Enjoy!
Nutrition
Serving:
1
g
Calories:
239
kcal
Carbohydrates:
36.5
g
Protein:
9.4
g
Fat:
6.1
g
Saturated Fat:
2.3
g
Cholesterol:
170
mg
Sugar:
26.7
g