Japanese Soufflé Pancakes are a unique and popular type of pancake that has gained widespread popularity in recent years. These delicate and fluffy pancakes are known for their soft and airy texture, which is achieved by incorporating whipped egg whites into the batter. These pancakes are typically served with a variety of toppings such as fruit, syrup, or whipped cream, making them a perfect treat for breakfast or brunch.
For a while now, I've been eager to share this delightful recipe for Japanese Soufflé Pancakes on my blog, and at long last, here it is! My family and I simply can't get enough of these delicate pancakes; they vanish within seconds every time I make them.
As their name suggests, these Soufflé Pancakes are similar to miniature soufflés, boasting an incredibly fluffy and soft texture that's light as a cloud. Additionally, their delicate flavor and texture will surely captivate your taste buds.
How to make Japanese Soufflé Pancakes
The recipe for these pancakes is quite simple and uses basic ingredients. However, it can be a little tricky until you figure out the best way to prepare them for your unique cooking style. Cooking time may vary slightly for everyone, depending on the type of pan you use or the heat level.
To make these souffle pancakes, first, prepare parchment paper rings and bind the ends with butter. Then, separate the egg whites from the yolks and whisk the yolks together with milk, vanilla, flour, and baking powder. In a separate bowl, whip the egg whites with salt, lemon juice, and sugar until stiff peaks form. Gently fold the whites into the yolk mixture and pour the batter into the prepared rings. Cook the pancakes over medium-low heat for 6-8 minutes on one side and 5-6 minutes on the other. Remove the parchment paper, dust with powdered sugar or maple syrup and fresh berries, and serve immediately.
I highly recommend trying out this Japanese Soufflé Pancakes recipe and discovering for yourself why my family and I adore it so much. Don't forget to share the photos with me on Instagram as I love seeing how it turns out for you. Enjoy!
Discover our collection of Crepes and Pancakes, featuring a variety of delicious options for every taste bud.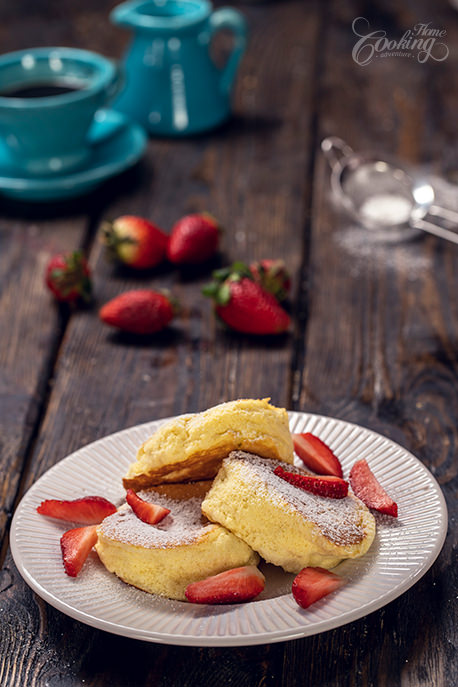 YOU MAY ALSO LIKE:
Japanese Cheesecake
Vanilla Souffle
Blueberry Ricotta Pancakes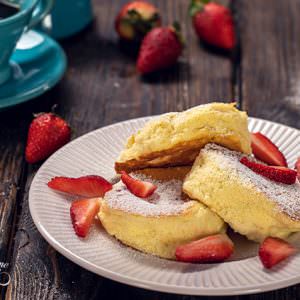 Japanese Soufflé Pancakes
These Japanese Soufflé Pancakes, as their name mentions, are like little soufflés, very fluffy and soft, light like a cloud, with a delicate flavor and texture.
Ingredients
2

medium eggs

, separated

1

tbsp

(15ml) milk

1/2

tsp

(3g) vanilla extract

1/4

cup

(30g) all-purpose flour

1/2

tsp

(2g) baking powder

1/4

tsp

(1g) salt

1

tsp

(5ml) lemon juice

2

tbsp

(30g) sugar

oil for greasing the pan

fresh berries for serving

, optional

powdered sugar and maple syrup for serving
Instructions
First prepare the parchment paper rings, about 3 inch (8cm) wide and 1 ½ inch (4cm) high. Bind the ends of the parchment paper with a bit of butter.

Separate whites from yolks.

Add milk and vanilla extract over the egg yolks and whisk slightly to combine. Sift flour and baking powder and mix to incorporate and set aside to whip the whites.

Add salt over the whites and start whipping until foamy. Add lemon juice and gradually incorporate sugar.

Continue whipping until stiff peaks form.

Place a large nonstick skillet over medium-low heat.

Gently fold the whites into the yolk mixture.

Slightly grease the pan with vegetable oil and place the rings in the pan.

Divide batter evenly.

Pour about 1 tablespoon of water to create steam, cover and cook the pancakes for about 6-8 minutes.

Gently flip the pancakes, add another tablespoon of water if evaporated, cover and cook for another 5-6 minutes.

Gently remove the parchment paper and transfer pancakes to a serving platter.

Serve imediately, dusted with powdered sugar or maple syrup and fresh berries. The pancakes may deflate slightly after cooking. Enjoy!
Nutrition
Serving:
1
serving out of 3
Calories:
122
kcal
Carbohydrates:
18.6
g
Protein:
4.9
g
Fat:
3.1
g
Saturated Fat:
1
g
Cholesterol:
110
mg
Sugar:
10.7
g