Here is an easy recipe for baked potato wedges that I am keep doing it lately. I've been asked to post some simple but delicious potato recipes that can be easily made as a snack along some ketchup or chili sauce or as a side dish along meat or just a fresh salad.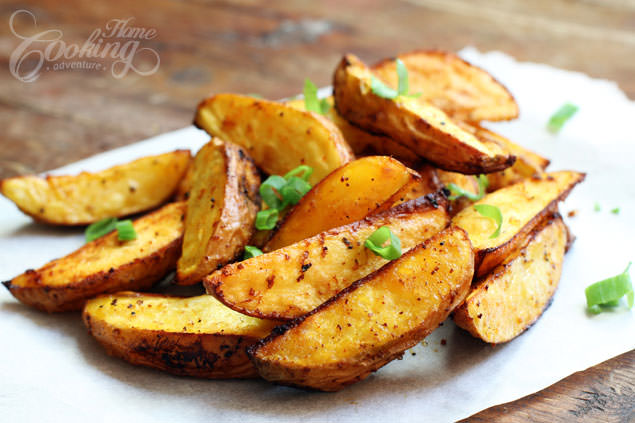 I very often prepare these baked wedges as a healthier alternative to fries. I didn't find a person who doesn't love these so this is  great recipe if you have friends coming over to visit.  Children loves them too, just make sure they don't get too spicy if kids are around.
You can make many variations to this baked potato wedges, like adding herbs or other spices or sprinkle some cheese on top right after they are out of the oven. If you have any other suggestions I'd be pleased to have them shared here in the comments.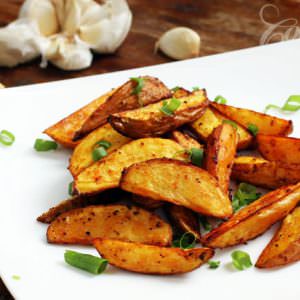 Baked Potato Wedges
Baked potato wedges are a healthier alternative to fries. Can be easily made as a potato snack alongside dipping sauces or as a potato side dish for meat or near a fresh salad.
Ingredients
4

medium potatoes

1

tsp

paprika

1/4

tsp

chili powder

, optional

1/4

tsp

garlic powder

, optional

3

tbsp

oil

salt and freshly ground black pepper

green onion to garnish
Instructions
Preheat the oven to 220°C (425°F).

Wash the potatoes and cut  into wedges.

Put the potato wedges into a large bowl. Sprinkle paprika, chili powder, garlic powder if used, salt, pepper and oil and toss gently to coat. 

Lay the wedges in a single layer on a greased baking tray.

Bake for about 25-30 min until the wedges are golden brown and crispy on the outside.
Nutrition
Serving:
1
g
Carbohydrates:
34
g
Protein:
3.7
g
Fat:
10.5
g
Saturated Fat:
1.4
g
Sugar:
2.5
g