I've always had a soft spot for potatoes and have been on the lookout for easy and tasty recipes to cook them. When I came across these Parmesan Potato Stacks, I knew I had to give them a shot at some point because they're super easy to make and look really impressive. I liked everything about the recipe and decided to add some garlic powder to give it an extra kick of flavor.
These potato stacks are perfect as a side dish or appetizer that your family and guests will absolutely love. They're bursting with flavor thanks to the thyme, garlic, and Parmesan, which I personally enjoy combining with potatoes. But if you're not a fan of thyme, feel free to use other herbs like rosemary, oregano, or basil that you prefer.
Here's a neat trick for slicing the potatoes into thin pieces: try using a mandoline slicer. It makes the process quicker and prevents the potatoes from turning brown. So, you can whip up these Parmesan potato stacks with ease and enjoy their delightful taste and appealing appearance.
How to make Parmesan Potato Stacks
To begin, you'll want to preheat your oven to a temperature of 375°F (190°C). Take 12 muffin cups and generously butter them. Set them aside for now.
Next, take your potato slices and place them in a spacious bowl. Add the melted butter, Parmesan cheese, thyme, garlic, salt, and pepper to the bowl. Give everything a good toss, ensuring that each slice is thoroughly coated with the flavorful mixture.
Now, it's time to assemble the potato stacks. Take the coated slices and layer them one on top of another, creating neat and compact stacks. Place these stacks into the previously prepared muffin cups. As a final touch, sprinkle a pinch of freshly ground black pepper over the stacks, adding an extra burst of flavor.
Allow them to bake until the edges and tops of the potato stacks turn a glorious golden brown, and the centers become tender. This should take approximately 55 minutes to 1 hour, depending on your oven's heat distribution and the desired level of crispiness.
Carefully remove the muffin cups from the oven. Let them rest for about 5 minutes, allowing the flavors to settle and the stacks to firm up slightly. Take the potato stacks out of the muffin cups, and for an elegant finishing touch, garnish them with a sprinkle of Parmesan cheese and a sprig of fresh thyme.
Now, you can savor the mouthwatering aroma and indulge in the delectable Parmesan potato stacks that you've lovingly prepared. They're bound to impress with their crispy exterior, tender interior, and the delightful combination of flavors from the Parmesan, thyme, and garlic. Hope you will try them out. Tag me on Instagram if you do. Enjoy!
Other potato recipes you may like to try
These Crispy Sliced Roasted Potatoes are one of the best-roasted potatoes you can ever make. Potatoes never looked more beautiful than this and they taste as good as they look. Thinly sliced potatoes tossed in olive oil, Parmesan, garlic, breadcrumbs, and thyme are roasted to golden perfection and served with crispy bacon bits.
These Bloomin' Potatoes look so inviting and make such a great dish either for lunch or dinner or for special occasions when you have guests around. They get crispy on the outside while still soft and tender inside, topped with that melted cheese, sour cream and crispy chorizo. They are so good that it is simply hard to resist such a treat.
Indulge in the ultimate comfort food with our irresistible Potato Gratin recipe. Layers of thinly sliced potatoes are bathed in a creamy, cheesy sauce, creating a harmonious blend of flavors and textures. Baked to perfection, this dish is a crowd-pleaser that will leave everyone craving for more.
For more potato recipes check our collection of 25 Best Potato Recipes.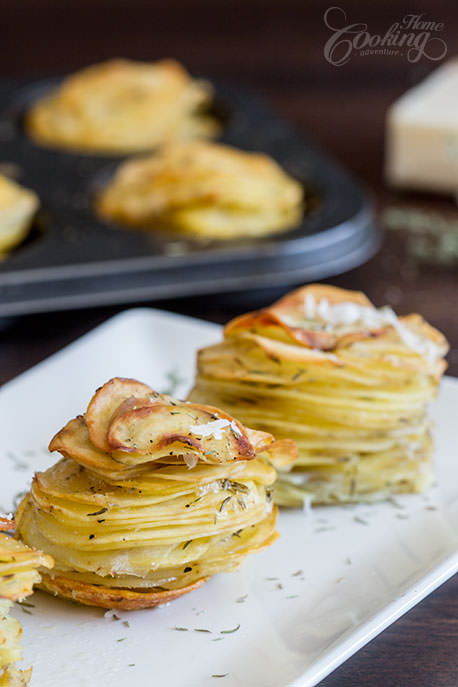 YOU MAY ALSO LIKE:
Potato Crust Quiche
Meat and Potato Skillet
Basic Mashed Potatoes
Sweet Potato Soufflé
Stuffed Sweet Potatoes
Roasted Sweet Potatoes with Goat Cheese and Candied Bacon
Mashed Potato Casserole
Potato Soufflé
Roasted Potato and Cheese Tater Tots
Parmesan Roasted Baby Potatoes
Baked Potato Cheese Balls
Cheese Potato Pancakes
Recipe adapted after whatsgabycooking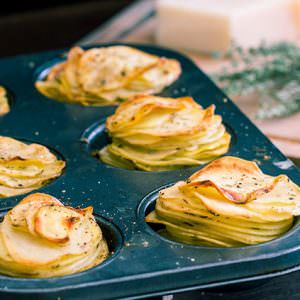 Parmesan Potato Stacks
These Parmesan potato stacks make a great side dish or appetizer that your family and guests will definitely enjoy. They are also very flavorful because of the thyme, garlic and parmesan which I always love to pair when cooking potatoes.
Ingredients
3

tbsp

(45g) butter

, melted

2

tbsp

(25g) Parmesan cheese

1

tsp

(3g) garlic powder

1

tsp

thyme leaves

salt and freshly ground black pepper

8-10

gold potatoes (1.4 kg) sliced thin (about 1/16 inch -1.6 mm thick)
Instructions
Preheat the oven to 375°F (190C). Butter 12 muffin cups and set aside. Cut the potatoes into thin slices.

Place potato slices into a large bowl. Add melted butter, Parmesan cheese, thyme, garlic, salt and pepper. Toss to coat evenly.

Layer the potato slices into stacks and place in the prepared muffin cups. Sprinkle some freshly ground black pepper.

Bake until the edges and tops are golden brown and the centers are tender, 55 minutes to 1 hour.

Remove from the oven, let them rest for 5 minutes then remove from pan and garnish with parmesan cheese and thyme.
Nutrition
Serving:
1
g
Calories:
225
kcal
Carbohydrates:
38
g
Protein:
4.6
g
Fat:
7
g
Saturated Fat:
4.5
g
Cholesterol:
19
mg
Sugar:
3.2
g