I haven't used my bundt cake pan for quite some time and as I had some buttermilk left, a fruit bundt cake seemed the best way to use it. A simple blueberry lemon bundt cake sounded perfect to me, I was craving for some for a couple of weeks.
This recipe is very easy to prepare, takes only few minutes until is ready for baking. I used frozen wild mountain blueberries, which are smaller in size and have a wonderful unique tangy taste and flavor, a bit different from the big sweet ones found on grocery stores. I had the luck to buy a lot of wild blueberries after they were picked on the mountain, and we froze them so we can enjoy their delicious flavor all the months after. Fresh blueberries will work good as well, no doubt about that.
This cake is amazing, soft with a lot of blueberries inside, lemon flavored, definitely one of the best cakes ever. I have always preferred chocolate desserts but this cake is as good as a chocolate one 🙂 You can make a lemon glaze topping though for me it seemed sweet enough and sprinkled only some powdered sugar on top. Feel free to try both toppings and see which one you like best.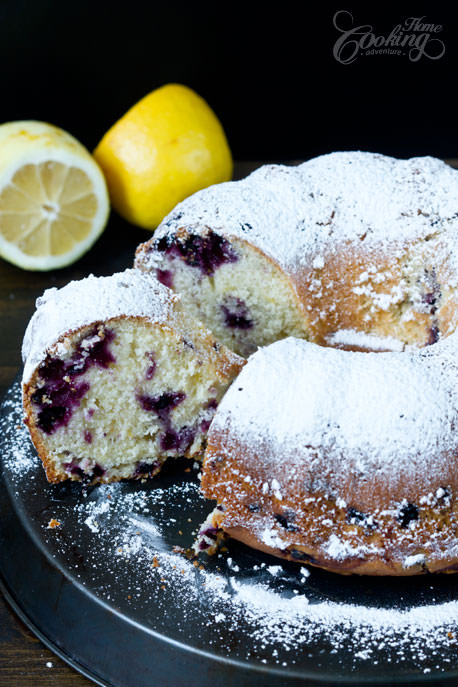 RELATED POSTS:
Blueberry and Mango Parfait
Blueberry Shake
Blueberry and Strawberry Yogurt Ice Cream
Blueberry Cheesecake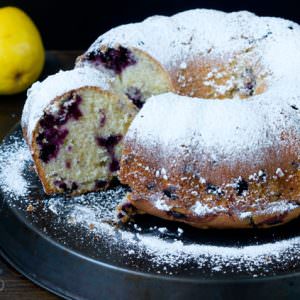 Blueberry Lemon Bundt Cake
This Blueberry Lemon Bundt Cake is amazing, soft with a lot of blueberries inside, lemon flavored, definitely one of the best cakes ever.
Ingredients
2

sticks

(220g) butter

1 ½

cup

(300g) sugar

3

eggs

1

tsp

(5g) vanilla extract

2

tbsp

lemon zest (zest from two lemons)

2

tbsp

(30ml) lemon juice

3

cups

(375g) flour

2

tsp

(8g) baking powder

1

tsp

(5g) salt

1

cup

(240g) buttermilk

2

cups

(200g) frozen blueberries

1

tbsp

(10g) flour

, to add over the blueberries
Topping ideas
Powdered sugar for dusting

or
Lemon Glaze
1

cup

(125g) powdered sugar

2

tbsp

(30ml) lemon juice
Instructions
Preheat oven to 350 F (180C). Butter and dust with flour a 10 inch bundt pan.

In a bowl, whisk the flour with baking powder and salt; set aside until ready to use.

In a large bowl, mix butter with sugar until light and fluffy. Add eggs, one at a time, beating until incorporated.

Add vanilla, lemon zest and lemon juice and mix until well combined. Reduce speed to low alternate adding flour mixture and buttermilk until everything is incorporated.

Only now, take the blueberries out of the freezer, Stir with 1 tbsp of flour. Keep about 1/4 cup of the blueberries for topping and add the rest over the batter.

Gently fold the blueberries into the batter, not too much as you don't want your batter to become blue. Only few folds will be enough.

Pour the batter into the prepared pan and add the reserved 1/4 cup blueberries on top.

Bake for about 70 minutes or until a toothpick inserted into the center of the cake comes out clean.

Remove from the oven and rest in the pan for about 15-20 minutes before inverting it onto a rack. Let cool at room temperature.

Before serving dust the blueberry bundt with powdered sugar or prepare the lemon icing by mixing the powdered sugar with lemon juice. Enjoy!
Nutrition
Serving:
1
g
Calories:
387
kcal
Carbohydrates:
55
g
Protein:
5.7
g
Fat:
17
g
Saturated Fat:
10.2
g
Cholesterol:
82
mg
Sugar:
29.1
g