This Broccoli Cauliflower Salad is the perfect side dish to serve at your Thanksgiving dinner. Not only is it incredibly tasty, but it's also easy to prepare in advance, making it a great option for those who want to spend more time with their loved ones and less time in the kitchen on the big day.
One of the things that makes this salad so special is the delicious, creamy dressing that really brings out the flavors of the fresh, crisp veggies. The combination of the broccoli and cauliflower creates a wonderful texture, and the addition of sweet and salty toppings like bacon and almonds makes it a real crowd-pleaser.
But it's not just the flavors and textures that make this salad so great. It's also incredibly versatile and can be easily adapted to suit your preferences or dietary needs. For example, if you're looking for a vegetarian or vegan option, simply leave out the bacon or replace it with a vegan alternative.
Another great thing about this salad is that it's perfect for leftovers. If you end up with any extra, simply store it in the fridge and enjoy it as a quick and easy meal later on. Just be sure to wait until you're ready to serve it before adding any bacon or almonds, as this will help to ensure that they stay nice and crispy.
How to make broccoli cauliflower salad
Begin by cooking the bacon in the oven until it becomes crispy and then crumble it into small pieces. Cut the broccoli and cauliflower florets into bite-sized pieces and mix them with red onion, dried cranberries, and sliced almonds in a large bowl. Add the crumbled bacon to this mixture and season the entire salad with salt and pepper.
Next, prepare the dressing by combining mayonnaise, sour cream, vinegar, mustard, sugar, salt, and pepper in a small pitcher. Pour the mixture over the broccoli and toss it together.
To finish the dish, sprinkle additional bacon crumbles and almonds on top just before serving. The resulting salad is a perfect combination of textures and flavors, with the creamy dressing providing a wonderful contrast to the crisp vegetables and crunchy toppings.
So if you're looking for a delicious and easy side dish that will impress your guests this Thanksgiving, give this Broccoli Cauliflower Salad a try. With its perfect blend of flavors and textures, it's sure to be a hit at your holiday table. Make sure to share the photos with me on Instagram if you do. Enjoy!
Other similar recipes you may like to try
I like to try various ways of introducing broccoli in our diet and these Broccoli and Cheese Balls is one of them. This recipe not only includes broccoli but also incorporates oats for added nutritional value.
Cauliflower is one of those vegetables that is not only tasty but really healthy too. Beyond the fact that it is rich in vitamins and omega 3 it is also a good source of Vitamin C and manganese both being powerful antioxidants. This Roasted Cauliflower is a great way to include cauliflower in your diet.
I really love this fresh Broccoli and Sweet Potato Salad which features raw broccoli and sweet potatoes for a fresh and crunchy twist on a classic salad.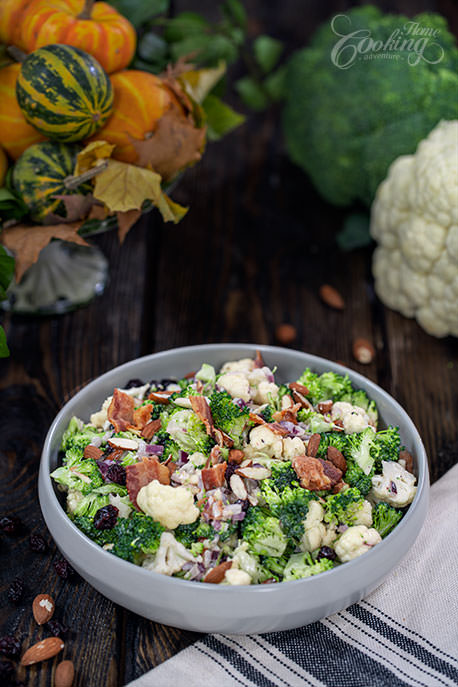 YOU MAY ALSO LIKE:
Skillet Cornbread
Mashed Potato Casserole
Pumpkin Biscuits
Chicken Caesar Pasta Salad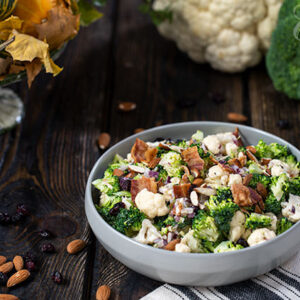 Broccoli Cauliflower Salad
This Broccoli and cauliflower salad is a perfect choice among your other Thanksgiving side dishes. It can be made well in advance, travels easy and if you end up with leftovers (which is unlikely) it can easily be stored for a later meal.
Ingredients
1

medium head (300g) of broccoli

1

small head (200g) of cauliflower

1/2

of a red onion

, finely chopped (approximately 1/4 cup)

1/4

cup

(40g) dried cranberries

4-5

bacon slices

, cooked and crumbled

1/4

cup

(60g) mayonnaise

1/4

cup

(60g) sour cream

1

tbsp

(15ml) apple cider vinegar

1

tbsp

(15g) Dijon mustard

1

tbsp

(15g) sugar

Salt and freshly ground black pepper

1/4

cup

(30g) sliced almonds
Instructions
To cook the bacon preheat the oven to 400F (200C). Line a baking sheet with parchment paper and place bacon strips on it. Bake until bacon is crispy for about 15-20 minutes. Transfer bacon on paper towels to remove the excess fat. Crumble it up in small pieces and reserve for later use.

Separate broccoli and cauliflower florets in bite size pieces, add to a large bowl and add red onion, dried cranberries, bacon crumbles and sliced almonds.

Season with salt and pepper.

Make the salad dressing. In a small pitcher combine mayonnaise, sour cream, vinegar, mustard , sugar, salt and pepper. Taste and adjust based on desired acidity.

Toss broccoli with salad dressing.

Right before serving top with more bacon crumbles and almonds.
Nutrition
Serving:
1
serving out of 4
Calories:
303
kcal
Carbohydrates:
19.9
g
Protein:
12.6
g
Fat:
20.3
g
Saturated Fat:
5.6
g
Cholesterol:
31
mg
Sugar:
8.5
g