Chicken Cordon Bleu is a classic French dish that has been popular for many years. Its name, "Cordon Bleu," comes from the French phrase "Cordon Bleu," which means "blue ribbon." The dish was originally served to members of the Order of the Holy Spirit, which was an exclusive group of knights that were appointed by the French monarchy. Over time, the recipe for Chicken Cordon Bleu has evolved and has become a popular dish in many parts of the world.
One of the things that makes Chicken Cordon Bleu so appealing is the combination of flavors and textures that it offers. The chicken is tender and juicy, while the ham adds a salty and savory taste. The melted cheese inside the chicken adds a creamy and gooey texture that is simply irresistible. The panko breadcrumbs give the dish a satisfying crunch that complements the other flavors and textures perfectly.
Preparing Chicken Cordon Bleu is not complicated at all, and it can be done relatively quickly. The chicken is pounded thin, which helps it cook evenly and allows for the filling to be added easily. Once the chicken is filled with ham and cheese, roll and coat in a mixture of egg and panko breadcrumbs. Then bake or fry until it is crispy and golden brown.
There are many ways to serve Chicken Cordon Bleu. It is delicious on its own, but it can also be served alongside a fresh salad or with your favorite side dish. For an extra special treat, you can serve it with a cheese sauce, which will enhance the flavor of the melted cheese inside the chicken.
How to make Chicken Cordon Bleu
To begin, start by cutting chicken breasts in half lengthwise and pounding them between sheets of plastic wrap until they are ¼ inch (6 mm) thick. After seasoning the slices with salt and pepper, add a teaspoon of Dijon mustard and top with slices of ham and cheese.
Roll the chicken tightly using the plastic sheet and refrigerate for 30 minutes. While the chicken is chilling, prepare three large plates with flour, beaten egg, and a mixture of breadcrumbs and garlic.
Next, dredge the chicken rolls in flour, dip them in the beaten egg, and coat them with the breadcrumb mixture. Fry the chicken rolls in a frying pan with hot oil until they are golden brown and cooked through. Transfer them to a plate lined with a paper towel to remove excess oil.
Finally, serve the chicken rolls alongside a fresh salad or your favorite side dish. This dish is perfect for a special occasion or a weeknight meal and is sure to be a hit with your family and friends. The combination of tender chicken, salty ham, and melted cheese makes for a truly irresistible meal.
If you haven't tried Chicken Cordon Bleu before, you are missing out on one of the most delicious and satisfying dishes around. Give it a try and see for yourself why it has become such a popular dish all over the world. Your family and friends will thank you for it! If you do, make sure to share the photos with me on Instagram. Enjoy!
Other similar chicken recipes you may like to try
This Wiener Schnitzel is probably the most popular dish in Austria, that is dated late 19th century and is very appreciated worldwide.  It is traditionally prepared with veal cutlets that are pounded really thin, breaded and fried until tender and crispy. Serve this Schnitzel with lemon and potato salad for a traditional approach.
Why make fried chicken when the baked one looks and tastes so incredible good? These Baked Cornflake Crusted Chicken Strips are for sure a healthier alternative, the chicken remain moist inside and crispy and crunchy on the outside due to the cornflakes crust. You can add various spices to the cornflakes mixture like garlic or chili powder or various herbs. 
These irresistible Baked Parmesan Chicken Bites are an amazing way of preparing chicken, without needing to deep fry.  Crunchy on the outside while the inside remains tender and soft are simply hard to resist. Serve them with your favorite dipping sauce and  you've got a great lunch or dinner dish that all families will love, especially the kids.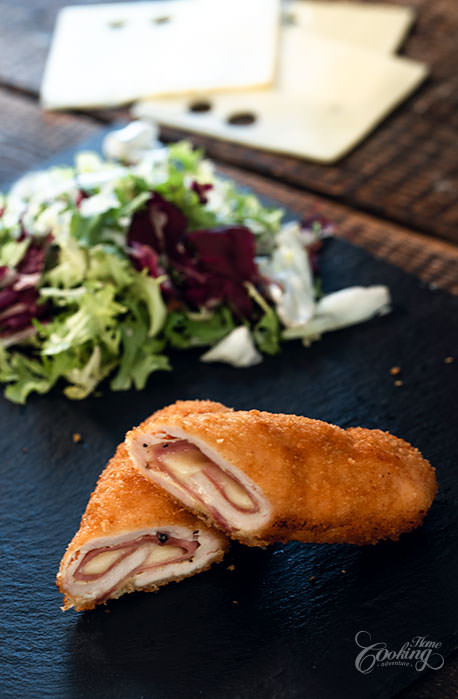 YOU MAY ALSO LIKE:
Stuffed Chicken Breast
Baked Potato Cheese Balls
Chicken and Bean Enchiladas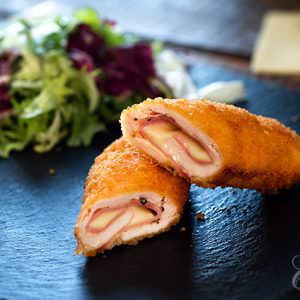 Chicken Cordon Bleu
Chicken Cordon Bleu is an amazing and delightful way of preparing chicken for lunch or dinner. The chicken is pounded until thin, stuffed with ham and melting cheese, rolled, dipped in egg and coated in panko breadcrumbs and then baked or fried until crispy and golden brown.
Ingredients
2

boneless skinless chicken breasts

, about (7 oz-200g) each

4-6

slices Swiss cheese about (4 oz -120 g)

4-6

ham slices (about 4 oz -120g)

4

tsp

(20g) dijon mustard

1

large egg

1/2

cup

(60g) flour

1

cup

(100g) panko breadcrumbs

1/4

tsp

(1g) garlic powder

Salt and freshly ground black pepper
Instructions
Cut the chicken breasts in half lengthwise. Using a flat head mallet, pound each slice between sheets of plastic wrap to ¼ inch (6 mm) thickness, working from the center to the edges.

Remove the top sheet of plastic and season each slice with salt and freshly ground ground pepper. Spread a teaspoon of dijon mustard on each. Add a slice or two of ham (depending on their size) and finish with cheese slices.

Roll the chicken as tight as you can using the plastic sheet from the bottom. Refrigerate the rolled chicken for about 30 minutes.

Meanwhile prepare three large plates, one with flour, one with beaten egg and one with breadcrumb and garlic mixture.

Working one at a time, dredge cutlets in flour, then dip in egg and coat with breadcrumbs.

Heat oil into a frying pan over medium heat.

Place about one or two chicken rolls at a time and fry for about 5 minutes on each side until golden brown and cooked through.

Transfer to a plate lined with paper towel to remove excess oil.

Serve alongside a fresh salad or your favorite side dish.
Nutrition
Serving:
1
serving out of 4
Calories:
449
kcal
Carbohydrates:
21.1
g
Protein:
45.2
g
Fat:
19.7
g
Saturated Fat:
8.5
g
Cholesterol:
172
mg
Sugar:
1
g