Stuffed Shells are a delectable and satisfying Italian dish that has become popular around the world. They are easy to make and perfect for any mealtime, be it lunch or dinner. These easy three cheese stuffed shells are a great choice for entertaining guests, and they always make an impressive presentation. They are perfect for those days when you want to whip up a delicious and easy meal that everyone will love.
The key to making perfect stuffed shells is to use large shells that are carefully filled with a flavorful and rich filling. This filling is made up of three different types of cheese, which are combined with fresh herbs to create a wonderful flavor profile. The shells are then coated with a delicious marinara sauce, which is rich and tangy, and topped with a layer of cheese and breadcrumbs. The dish is then baked to perfection, resulting in a beautifully browned and crispy shell that is simply irresistible.
While the classic version of stuffed shells is made with a cheese filling, you can always experiment with different fillings to create a variety of delicious dishes. For instance, you can add meat, such as ground beef or Italian sausage, to the filling for a heartier meal. You can also add different herbs, vegetables, or spices to create a unique flavor profile that suits your taste buds.
Stuffed Shells are best served alongside a fresh salad and some garlic bread, which complement the dish perfectly. The fresh salad provides a refreshing contrast to the richness of the shells, while the garlic bread adds a delightful crunch and flavor to the meal.
How to make three cheese stuffed shells
To make this dish, first, prepare the marinara sauce by heating olive oil in a skillet over medium-low heat. Add garlic and tomato puree, then add sugar, basil, oregano, salt, and pepper. Simmer for 10-15 minutes until slightly reduced and thickened, then let it cool.
Next, preheat the oven and grease a baking dish. Cook the pasta in salted water for 3-4 minutes less than the package instructions. Mix ricotta cheese with mozzarella, parmesan, herbs, egg, garlic powder, salt, and pepper. Fill each shell with the mixture and place them in the baking dish.
Spread the marinara sauce on the bottom of the dish, arrange the shells, and top with more sauce and mozzarella. Mix breadcrumbs with melted butter and sprinkle over the top. Bake covered for 20 minutes, then uncovered for 15 minutes until golden brown. Decorate with fresh basil and enjoy!
Whether you are hosting a dinner party or just want a quick and easy meal for the family, these Three Cheese Stuffed Shells are sure to impress everyone. Give this easy recipe a try, and enjoy the flavors of Italy in the comfort of your own home. If you do, don't forget to tag me on Instagram. Would love to see how it turns out for you. 
Other pasta recipes you may like to try
If you like pasta recipes you must try these delightful Spaghetti Carbonara. It is a quick and easy dish to prepare, perfect for a cozy night in or a fancy dinner party. This Mediterranean Summer Pasta Salad is a refreshing and healthy salad that is perfect for hot summer days. It is a colorful and flavorful salad that is easy to prepare and can be served as a side dish or a main course.  This Spaghetti Pie is a fun and creative way to use leftover spaghetti pasta. It can be served as a main dish and can be topped with additional cheese or herbs. Also, these comforting recipe for Spaghetti with Baked Meatballs is a hearty and satisfying meal that is perfect for a family dinner or a special occasion.
YOU MAY ALSO LIKE:
Homemade Lasagna
Macaroni and Cheese
Classic Bolognese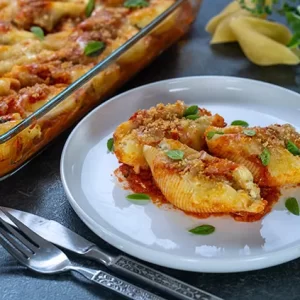 Easy Three Cheese Stuffed Shells
Stuffed Shells are a popular and comforting dish that makes a great lunch or dinner and a perfect dish for whenever you have guests around. The large shells are filled with a three cheese filling mixed with fresh herbs, all covered in marinara sauce, topped with more cheese and breadcrumbs and baked until beautifully browned. These Three Cheese Stuffed Shells are simple, quick and impressive, a dish that everybody will love for sure.
Ingredients
20

jumbo pasta shells (about 7oz - 200g)
Three Cheese Filling
15

oz

(430g) ricotta cheese

2

cups

(200g) shredded mozzarella cheese

, divided

1/2

cup

(50g) grated parmesan cheese

1

egg

, beaten

2

tbsp

fresh basil finely chopped (or 2 tsp dried)

1

tbsp

fresh oregano (or 1 tsp dried)

1/2

tsp

(3g) salt

1/4

tsp

(1g) ground pepper

1/4

tsp

(1g) garlic powder
Marinara Sauce
21

oz

(600g) tomato puree

1

tbsp

(14g) olive oil

1

clove garlic

, minced

1

tsp

(5g) sugar

2

tbsp

fresh basil and oregano

1

tsp

(5g) salt

freshly ground black pepper
For topping
1/2

cup

(30g) breadcrumbs

1

tbsp

(14g) butter

, melted
Instructions
Prepare marinara sauce. In a medium skillet, heat olive-oil over medium-low heat. Add garlic and cook for a few seconds until fragrant. Add tomato puree, sugar, basil, oregano, salt and pepper.

Bring to a simmer and cook for about 10-15 minutes, until slightly reduced and thickened.

When done, remove from heat and let cool slightly.

Preheat the oven to 350 F (180C). Grease a 8 X 12 inch (20x30cm) baking dish with olive oil or melted butter ( 9×13 inch dish works as well).

While you prepare the marinara sauce, cook the pasta in salted water with 3-4 minutes less than package instructions, in my case for 11 minutes.

In a medium bowl mix together ricotta cheese with 1 cup mozzarella cheese, parmesan cheese, fresh basil and oregano, beaten egg, salt, garlic powder and black pepper.

Using a spoon or simply a piping bag fill each shell with the ricotta mixture.

Spread half of the marinara sauce in the bottom of the pan.

Arrange the filled shells over the sauce.

Top the shells with remaining marinara sauce and sprinkle with remaining 1 cup mozzarella cheese.

In a small bowl mix the breadcrumbs with melted butter.

Spread breadcrumbs over the top.

Cover the baking dish with aluminum foil and bake for 20 minutes.

Uncover the pan and bake for 15 minutes more. If necessary, broil for a few minutes until the cheese has the desired golden brown look.

Decorate with fresh basil and enjoy!
Nutrition
Serving:
1
serving out of 5
Calories:
466
kcal
Carbohydrates:
51.7
g
Protein:
25.4
g
Fat:
18.1
g
Saturated Fat:
9.1
g
Cholesterol:
79
mg
Sugar:
9
g